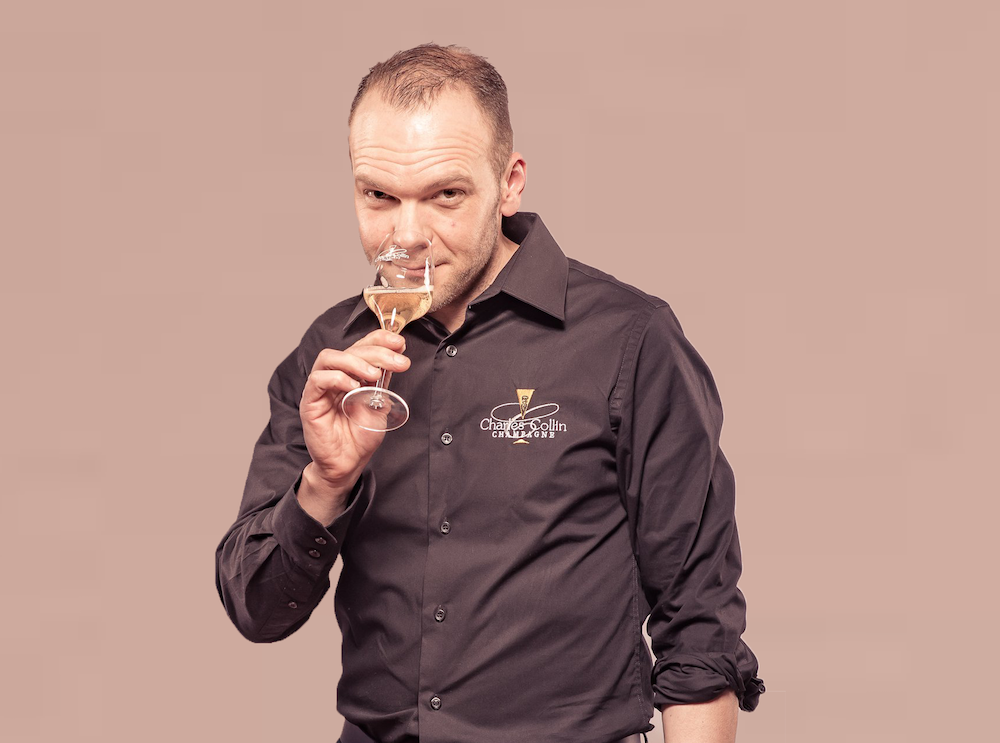 Can you tell us a little about your career and what brought you to your role as Cellar Master at Charles Collin?
After my studies in oenology and several internships in Bordeaux, Burgundy and Champagne, my first job was as lab technician in Reims. At the same time, I was part-time Assistant Winery Manager of a cooperative in the Montagne de Reims area. Quite a difficult and challenging job but with full autonomy. Looking back, that triggered my interest and passion for the role of Cellar Master. After 3 years, I was offered the opportunity at Champagne Charles Collin… A new challenge, a new region – La "Côte des Bar"! And it's been on ever since… Almost 20 years now…
What is your creative vision for Charles Collin?
I don't pretend to be a "creator" as such. One of the values we cultivate at Charles Collin is sharing and teamwork. I cherish that. However, in the long run, I probably infused my touch in blending the wines: crispness, elegance and pleasure! I think those are the 3 key ingredients in the Charles Collin style. Therefore, I am always curious and eager to make the best of our terroir potential in order to achieve that vision. It starts with the quality of the grapes of course, so I am very picky about that. I am also very conscious of climate change. It has and will have an impact on the potential of our wines.
We've just come through such a challenging year, what impact do you think it will it have on your wines in the coming years?
2020 will be remembered as an « exceptional » year in many ways. Champagne sales have been slowing down for several years now. The first impact is that the yields for 2020 have lowered to anticipate stocks regulation. Charles Collin has been no exception of course. The impact on quality? Well… more cellar ageing will do them some good!!! On a more serious tone, I believe we need a strong answer to such an unprecedented crisis. I mean a whole "relaunch" plan. As a region, Champagne has always managed to overcome crises to the best of the Appellation's interests. So, I trust we will once again manage to address this one.
What would be your dream job if you didn't work in Champagne?
With no doubt a musician… Drummer in a famous rock band…
Describe one of your favourite food and Champagne pairings.
Just some parmesan shavings! A wonderful pairing – with Charles Collin Blanc de Blancs for instance.
What's your drink when no one is watching?
A good craft beer!
If you could choose one person (dead or alive) to share a bottle of your champagne with who would it be?
Led Zeppelin's John Bonham. I would ask him for a couple of tricks…
If you were going to seduce someone special with a bottle of champagne what would it be?
Cuvée Charles Blanc de Blancs Vintage or Cuvée Charles Rosé!
What's trending in champagne right now?
More and more "identitarian", niche Champagne. I'm thinking of "vineyard selection" for example, but also the steady trend of organic Champagne. This brings along an interesting diversity on the shelf.
Who is your 'winemaker to watch' at the moment? Someone who is up and coming.
Champagne Devaux's Michel Parisot. He's just been voted International Wine Challenge Best Winemaker of the Year in 2020. Well deserved!
What's the biggest 'faux pas' you have come across with champagne?
I had a very "serious" audience for a tasting. I started opening the first bottle and managed to splash half of it right on the person in front of me! The pressure was too high… As a matter of fact, the incident broke the ice and he confessed he had never been baptised with Champagne before!
Shop Champagne Charles Collin at Emperor.
(Our range from this house will be extended in April 2021.)