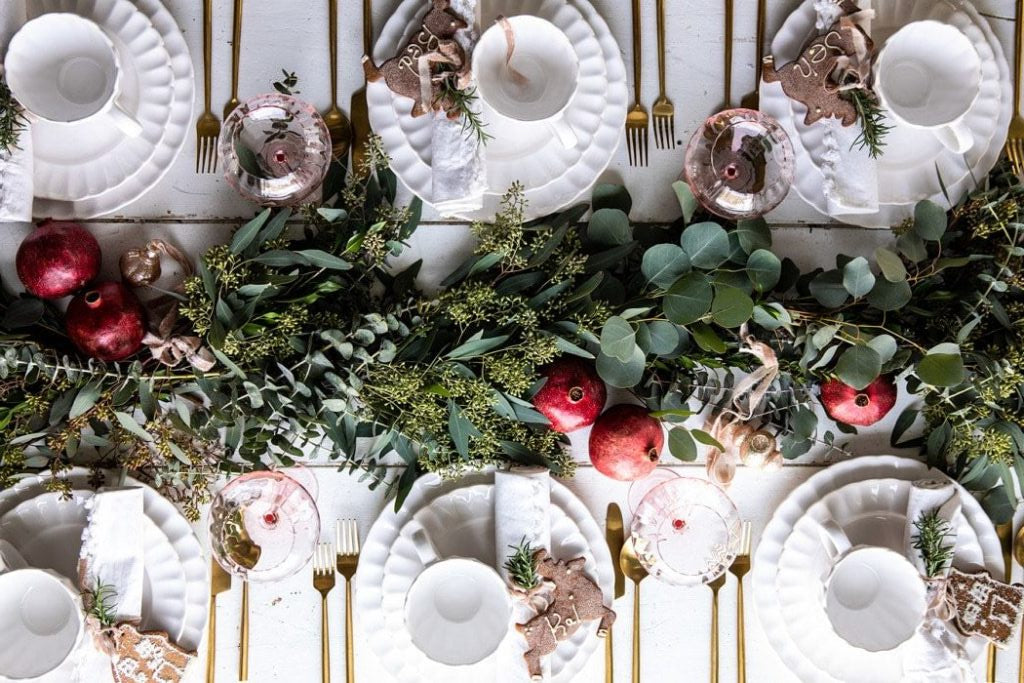 It's the most wonderful time of year, so have you got your festive celebrations sorted yet?
Unlike our Northern Hemisphere friends, Australian Christmas' are full of blue skies, sunshine and warm days . It's normal for us to gather for Christmas Day BBQ's and picnics at the beach and park with loved ones.
This year we've taken the hard work out of deciding what to serve. Make the ultimate Christmas dinner with these festive dishes and champagne pairings. Choose from classic mains, like chargrilled prawns, roast pork or glazed ham, plus try a side of a refreshing summer salad. To finish off, one always needs to indulge in decadent dessert(s!). 
It seems fitting that we start with an Australian icon, the classic Aussie barbecue. Many of us enjoy inviting friends and family around for a backyard barbecue during Summer, and Christmas Day is no exception. Whether you are grilling up sausages, veggie burgers, steaks, lamb cutlets, pork ribs or chicken skewers, you can't go wrong. Just add a selection of fresh salads, bread and dips and you have the perfect combination for a festive celebration.
Emperor's Sommelier recommends pairing your barbecue with a fresh style of rosé. Charles Collin Brut Rosé is an excellent starting point, but if you are looking for something more premium, may we suggest Ernest Remy Rosé de Saignée Mailly-Champagne Grand Cru 2013. For larger gatherings, go big with a Drappier Rosé magnum. All are100% Pinot Noir grapes.
Nothing says summer entertaining quite like a seafood medley. Think barbecued prawns, chargrilled salmon and zucchini skewers, freshly shucked oysters with lemon juice, steamed sea bass and seared lobster drenched in herb butter.
Fresh seafood requires a mineral and textured style of wine, a Blanc de Blancs. Our Sommelier suggests De Sousa 'Avec Le Temps' Blanc de Blancs, or for something pricier, Waris-Larmandier 'Ses Arts' Avize Grand Cru Blanc de Blancs. If you are looking to entertain a group, go for a magnum of De Sousa Réserve Brut Blanc de Blancs, which is the big brother of the 'Avec les Temps'.
Looking for something more traditional? Why not try a classic juicy roast pork and crackling? Serve with golden herb crusted potatoes and pumpkin, steamed greens and buttery corn cobs. Add a side of coleslaw, roasted brussel sprouts or sweet potato mash for a fresh take on a classic dish. And don't forget the gravy!
A dish this hearty deserves a champagne of equal grandeur. Emperor's exclusive import of Alfred Gratien is just that. His use of oak and traditional winemaking methods guarantee an exceptional quality and consistency. You can't go wrong with either Alfred Gratien Brut NV or the Millesime 2009, aged 10 years under cork. To bring an element of theatre to your Christmas festivities, try Cédric Moussé L'Or d'Eugène perpetual reserve in a magnum.
To impress your guests at an upcoming festive celebration, serve up a juicy roast turkey with flavoursome cranberry, pecan and thyme stuffing. For veggies, try golden potatoes, green beans, and a medley of roasted carrots, beetroot and parsnip seasoned with herbs. Add a drizzle of cranberry sauce and gravy to finish.
To complete this dish, we suggest a bold and powerful Blanc de Noirs. Try the pinot noir led Drappier Carte d'Or Brut NV for an excellent entry level, or Sadi Malot 'Les Goisses' Verzy Grand Cru Blanc de noirs 2018 for a more premium option. Or why not go bigger with a bottle of Pol Roger 'White foil' Brut NV to entertain your guests?
For the vegetarians in your life, try a versatile dish. We love a charred cauliflower salad sprinkled with lemony whipped feta, pine nuts, figs and pomegranate. As a side, you could serve this comfortably with sauteed mushrooms, grilled eggplant or roasted broccolini.
With so many competing flavours, this dish requires something that will complement, not overpower. Emperor's Sommelier, Kyri, recommends the vibrant, fresh and textured Yves Ruffin Extra Brut fermented entirely in Acacia oka and 100% organic, or for a pricier option, try grower Chapuy 'Livre Noire' Oger Grand Cru 2012. When used with the right ingredients like in this dish, both champagnes have a melt-in-your-mouth quality that's normally found only in upscale restaurants. Entertaining a group? We suggest reaching for a magnum of Apollonis 'Authentic Meunier' Blanc de noirs Brut.
Every Christmas dinner deserves a grand finale. You might be thinking, perhaps a light lemon cheesecake or freshly whipped cream in brandy snap baskets. But in our opinion it doesn't get more Australian than a classic Pavlova with summer berries and passionfruit syrup drizzled on top. After the foodie marathon that is Christmas dinner, a Pavlova is a light option that will perfectly conclude your festive celebrations.
For desserts it is best to pair with a sweeter style of champagne, such as a Sec or Demi-Sec. Demi-sec or 'half-dry' is a silky champagne style that is sweeter than the normal Brut. We suggest Rémi Leroy Rosé Demi-Sec or Philipponnat 'Sublime Sec' Premier Cru 2009 to complement your Pavlova.