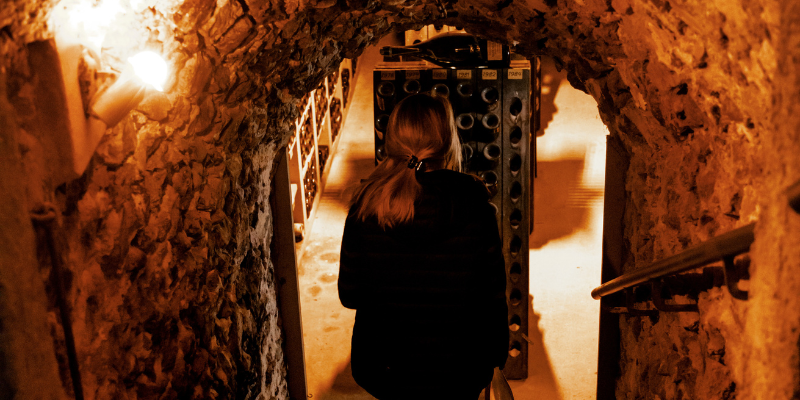 The adventure of this family of winegrowers began with Sadi Malot at the beginning of the 20th century. The son of a Champagne grower with an odd first name was so named because he was born on the day of the assassination of the President of the French Republic, Sadi Carnot (1887-1894). Unfortunately, Sadi Malot was mobilised in the First World War and died at the front. His brother, Socrate Malot, decided to pay tribute to him by naming his eldest son after him. Today Cindy Malot is the fifth generation and she runs the estate with her family.
Cindy grew up and studied in Champagne, undertaking many internships in French wine regions and journeying abroad to complete her wine experiences. Today, together with her family, Cindy devotes herself entirely to the Sadi Malot Champagne House.
Cindy's approach to winemaking is simple: working with nature and a dedicated passion. For Cindy, this starts at the vine, where she ensures that it is in good development in order to obtain high quality grapes that reveal the terroir wholly. Her commitment to working with her environment, provides Cindy the power to capture the relationship between grape varieties, soils, climates and winegrowers. With climate change an ever present concern, each year is different and forces winemakers like Cindy to adapt, she reflected that "it is imperative to accept that not everything can be understood and mastered."
Fifth generation winemaker, Cindy Malot of Champagne Sadi Malot
We have noticed in recent years more and more new generations of winegrowers who have changed their winemaking and cultivation methods in favour of a sustainable approach. Cindy supports this, stating that like herself, many others are taking biodynamic farming actions and even working with animals such as sheep, chickens and horses again. To Cindy it's a "step back that feels good". Cindy is proud to share that in 2024, the entire Sadi Malot estate will be certified in organic viticulture, where they will work with organic wines in oak barrels from old vines and at a low dosage.
In terms of being a female winemaker in a traditionally male dominated industry, Cindy is supported by a loving family and team that trusts her judgement and decisions pertaining to champagne. Cindy says that " being a woman in the wine industry should no longer be an obstacle, it's all about passion and above all doing what you love. Today we no longer speak of women winegrowers, but of simply winegrowers. There are more and more of us in the world of wine".
Florian Villiere & Cindy Malot
As a female owned and operated business, this sentiment resonates deeply with us. We love champagne (obviously!) and the passion the winemakers display, it's truly infectious and makes for high quality wine!
Shop Champagne Sadi Malot here.
All images are courtesy of Champagne Sadi Malot.