Champagne Delivery In Australia
Thank you for considering Emperor for champagne for yourself or a gift. More information on delivery below.
We are proud to ship to every corner of Australia. Feel free to call us on 1800 CHAMPAGNE so we can assist you or write to us on support@emperorchampagne.com.au
_______________________________________
Emperor Champagne aims to process all orders within 2 business days of receipt and then lodge your order with a shipping partner for delivery. Delivery time estimates are provided below for standard delivery. 
We also offer express shipping, for next business day capital city delivery, if you order before 2pm on a business day.
Orders are not processed, dispatched or delivered on weekends or public holidays.
_______________________________________
SHIPPING COSTS
Please note, we no longer offer free shipping due to the rising shipping costs in Australia.
All orders will incur a nominal shipping fee based on your location.
$9.50   - VIC
$12.50 - NSW
$12.50 - ACT
$14.50 - QLD 
$14.50 - SA
$24.50 - NT & TAS
EXPRESS SHIPPING: Express Shipping costs are higher, reflecting the the faster service. This price range is calculated on size and post code and will be quoted in your order separately. More information on Express Shipping via our partner, StarTrack Express is provided below.
SAME DAY SHIPPING MELBOURNE ONLY: Same day shipping is now available on business days if you order before 12:30pm. Simply choose Go People Same Day shipping on check out! Not available on Saturdays, Sundays or Public Holidays. If you select same-day shipping over the weekend or on a public holiday, your order will be shipped via Go People on the next business day. Same day shipping costs for Melbourne vary and are live quotes from couriers. They can range between $22-$60 depending on where you are from the 50km radius from Sandringham.
We always do our best to process your order as swiftly and safely as possible, providing you with a tracking code.
Standard Delivery - All Orders Originate from Melbourne
Please not these timeframes are estimates ONLY and not a guaranteed delivery date. During peak periods, such as Black Friday and Christmas, these timeframes will be extended with little notice.
| | |
| --- | --- |
| Destination | Delivery Time Estimator |
| VIC |  *After it leaves our warehouse |
| Melbourne Metro | 2-5 business days |
| Vic Country | 4-7 business days |
|   |   |
| NSW |   |
| Sydney Metro | 2-5 business days |
| NSW Country | 4-8 business days |
|   |   |
| ACT |   |
| Canberra Metro | 2-5 business days |
|   |   |
| QLD |   |
| Brisbane Metro | 3-7 business days |
| QLD Near Country | 5-10 business days |
|   |   |
| NT |   |
| Darwin City Only | 8-14 business days |
|   |   |
| SA |   |
| Adelaide Metro | 2-5 business days |
| SA Country | 5-7 business days |
|   |   |
| WA |   |
| Perth Metro | 5-8 business days |
| WA Country | 10-21 business days |
|   |   |
| TAS |   |
| Tasmania | 3-6 business days |
StarTrack Express Delivery:
The finest moments in life often come at a moment's notice. A promotion, engagement or other joyous event are really opportunities for celebration, and the perfect bottle of champagne can really help you to put the perfect flavour to an evening.
You can place your order for a beautiful product or bottle of champagne, and you will receive it the next business day, ready to be enjoyed with your loved ones to mark a special and memorable occasion. We work only with the best delivery methods which ensures that the champagne will get to you in the best condition and the fastest time possible.
We have partnered with StarTrack for expedited shipping. Please select this if you need urgent shipping to all major cities. Please note, cut-off for express delivery is 2:00pm for next business day delivery.  All orders after this time will fall on the next business day. Please note that our courier partners are experiencing a high volume of orders currently and cannot guarantee next day delivery.
In times of Extreme Heat 
In the instance of extreme heat or heatwaves, we may call you to assess a preferred delivery time to preserve the contents of the wine.
> We do not deliver to dry zones as classified by the Australian Government or any Australian Islands that are classified as international.
> Unfortunately we do not offer free shipping to Northern Territory.
> Deliveries of 5 cases or more may incur an additional fee.
Unattended Deliveries
If you pay by credit card, you can request that your delivery is left on your doorstep if no-one is home. Our carriers reserve the right to leave a card (instead of your order) even if you request an unattended delivery.

 They may do so if:
There is no clear delivery instruction authorising them to leave the parcel in a safe place
Somebody is home but they cannot provide proof of age
The driver is concerned that minors are present in the vicinity of your premises
Unattended delivery is not available for:

Orders paid for by gift card
Same day delivery
Premises that do not receive daily roadside letter delivery from Australia POST
First time orders
Emperor Champagne Club Members - Frequency and Timing of Your delivery
*Please note shipping is included in your monthly subscription unless the address is in Northern Territory (NT), Tasmania or WA (Perth Metro is included). This is due to the high costs associated with shipping from Melbourne.
Champagnes will be shipped from the 10th of every month (or the next business day if the 10th falls on a weekend or Public Holiday), and videos will be emailed on the 16th of the month. 

Timing of Sending the Champagne after Sign-up
If you sign up after the 8th of the month, you will receive that month's champagnes and welcome pack immediately. You will the fall into cycle and be charged and dispatched on the same day as your fellow Club Members.
If you sign up before the 8th of the month, you will still receive that month's champagnes. However, your welcome pack and first months champagne will be held until the 8th and dispatched with all other Club parcels. 

But don't I miss a month's wines?
Don't worry!! You will receive champagne for each month that you are are member of Emperor Champagne Club.
Any issues, email the team at support@emperorchampagne.com.au
---
Champagne is undoubtedly the world's most luxurious alcoholic drink, and it has been perfected over centuries. To this day there are countless champagne houses around the world contributing their understanding and theories to the direction that the drink should take.
In the past, it was difficult to procure, but modern farming methods have led to higher yields, and there are more incredible champagnes being produced today than ever before. This means that we live in incredibly exciting times to be champagne connoisseurs and the digital age has made things even more interesting. Now, champagne delivery is a reality, and we can sample the best champagnes from around the world by clicking one day and receiving it the next.
At Emperor Champagne, we are the premier online store for champagne home delivery in Australia. We are trusted by countless aficionados across the country to offer next day champagne delivery and to get it right each and every single time. Here is what makes us special and capable of earning the trust of discerning customers across Australia.
Luxurious Packaging With Our Champagne Delivery
Champagne is truly special, and each drop of it needs to be cared for and treated with absolute respect. We know that it is used by many people for special events and that the packaging plays a big role in setting the tone for the wine. All our packages arrive in our award-winning luxury packaging with personalisation available.
Studies have also shown that alongside our sense of smell, our sense of sight also plays a big role in influencing our perception of a taste. Give yourself the best possible champagne experience by shopping with us and enjoying the best packaging out there.
You'll find that each and every product that we ship comes in luxurious packaging as standard and makes a big impression.
Total Product Care During Champagne Delivery
Not only is the packaging important from the perspective of presentation, it is also very important in protecting the products that you have ordered from us. Delivery does have the potential to lead to complicated circumstances, but we mitigate that risk by providing the strongest and most durable packaging possible.
Our packaging protects your products from agitation so that they get to you in the absolute best condition as they were originally packaged by the champagne house.
Champagne Gift Delivery
Champagne makes a wonderful gift, and it truly represents the height of sophistication. When you gift somebody a beautiful bottle of champagne, you can rest assured that it will be received as an incredibly generous and thoughtful gift. As mentioned earlier, the most joyous occasions are often unexpected, and you can send a bottle of champagne at a moment's notice to send your congratulations.

This makes ordering from us the perfect option for a range of events, and you can rest assured that your gift will get there in perfect condition and as quickly as is humanly possible. Place an Express order before 2:00pm M-TH for next day delivery to capital cities (express orders placed Friday will arrive the following Monday/Tuesday).
Expert Insight and Advice
Our company was founded by Kyla Kirkpatrick, also known as the "Dame of Champagne". She is respected as one of Australia's most knowledgeable and influential champagne experts, and she has amassed a wealth of knowledge in her time as an admirer of champagne.
Her vision has shaped Emperor Champagne and her desire for nothing but the very best runs through the way that we work every day. This pursuit of excellence isn't only restricted to the champagnes that we stock but the service that we offer and the way that we work in everything that we do.
The level of knowledge that we have also makes us excited about the prospect of sharing it. This is why we regularly give insights into our activities and industry developments via our social media channels and mailing list which you can join today.
The Best Range of Products
Given our expert level of knowledge of the industry and the range of industry contacts we have, we offer only the very best products to our customers. Each champagne that we offer is verified by our panel of expert tasters, which also includes our founder. This means that you can be confident you're getting the very best every time that you shop with us.
If you are excited about the prospect of discovering new champagne regularly, you should consider joining our champagne subscription club. Each month you will receive rare and interesting wines which are delivered directly to your door.
There are a range of other reasons to join, too. You will receive complimentary emperor crystal glassware while also scoring invites to the hottest and most exclusive champagne events across Australia. We also regularly dispatch educational content and video series for our members.
One of the best reasons to join is also the 5% members discount that you will receive on all purchases made on our website. Contact us today at concierge@emperorchampagne.com.au or 1-800-CHAMPAGNE
Browse Our Website Today
Ready to have champagne sent directly to your door? Visit our website today to learn more about the delivery services that we offer. Or contact us at concierge@emperorchampagne.com.au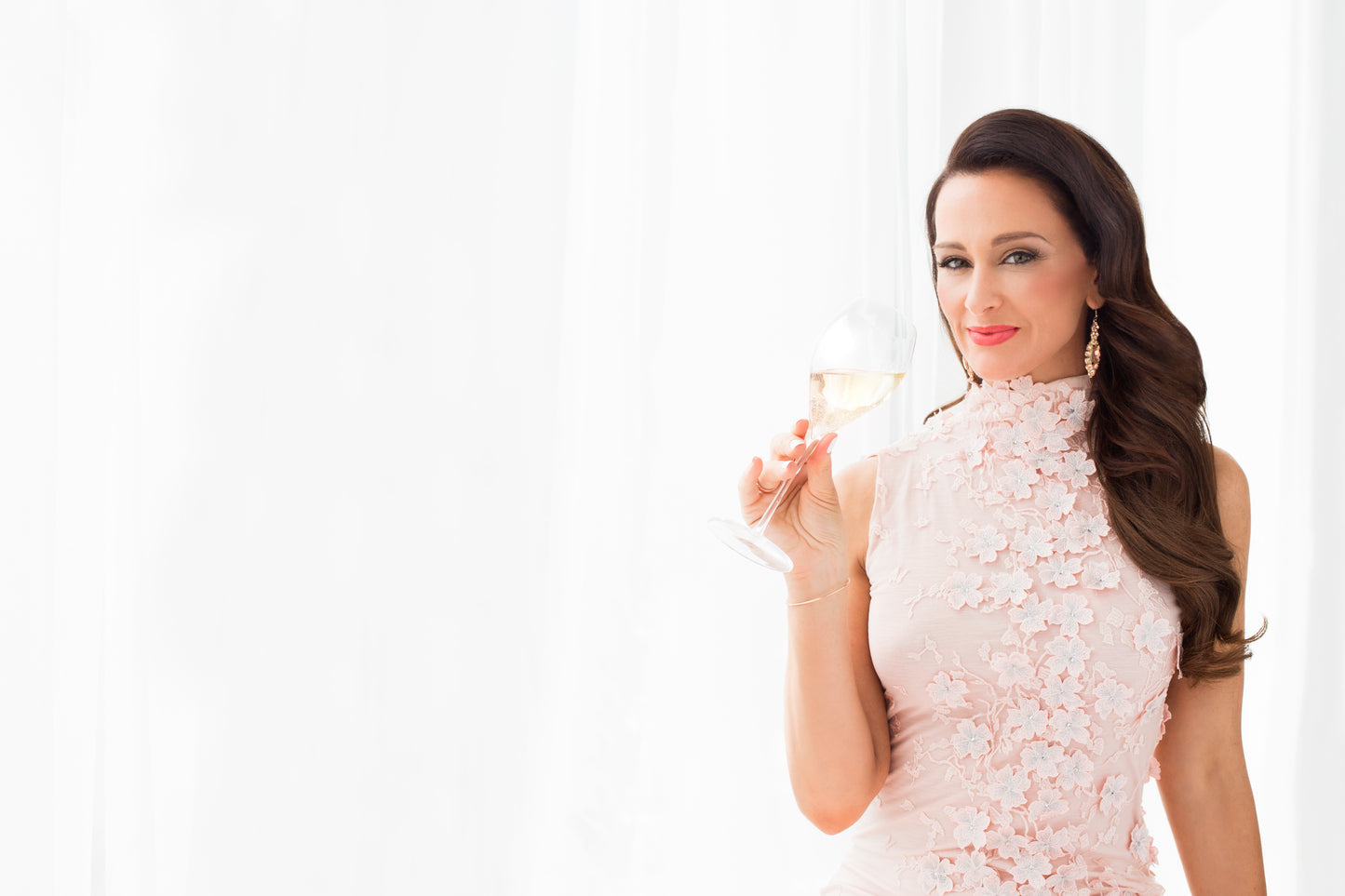 Welcome to Australia's home of champagne - Founded by Kyla Kirkpatrick!
We love champagne! It's one of the most intricate and difficult wines to produce, created painstakingly in one of the most climatically challenging regions in the world. It ages longer than almost all other wines and is rarely understood.

We believe that the wines coming out of the Champagne region of France are the most interesting they have ever been and it's a supremely exciting time for the Champagne lover!