Champagne Corporate Gifting
Emperor is Australia's specialist in corporate champagne gifts.  Whether you want to treat a valuable client or performing team, we can help you organise champagne gifts quickly, and effectively.
To speak to our Corporate Sales Manager, please email support@emperorchampagne.com.au a dedicated team member will reply. 
Gifts for every occasion
With over 300 bottles, Emperor has the most extensive range of champagne in Australia, with something to suit every budget and milestone. Our team will guide you in your gifting journey. Check our champagne gift packs for more ideas.
Complimentary luxury packaging
All bottles are luxury packed in the Emperor Signature gift box or with the champagne brand own luxury gift box. We make it our business to ensure that each of your recipients is thrilled with their champagne gift.
Personalised with your brand
Let our team custom foil a gift box with your company branding for that extra touch of personalisation. Available on 20+ orders only.
Premium nationwide delivery
We offer nationwide delivery with next day delivery to all capital cities and same day delivery in Melbourne. We ship directly to the recipient, gift wrapped to perfection with a hand written card. No invoice attached. 
Contact us now
For any corporate gift enquires please contact us directly on 1800 242 672 between 9am-5pm Monday to Friday or email support@emperorchampagne.com.au 
---
Bespoke corporate champagne gifts from Emperor Champagne
Few things say quality and respect as much as corporate champagne gifts. At Emperor Champagne, we offer the finest corporate champagne gifts for that special, or well-deserving person that you would like to fete or celebrate.
Whether it's a successfully closed deal, a birthday gift to your managing director, or breaking out a bottle to show appreciation for well-done teamwork, champagne gifting has been a way to celebrate corporate victories and special occasions for many decades now.
At Emperor Champagne, we stock an extensive range of cuvées for those special times, and to help you mark those prestigious moments we are certain you will find that perfect bottle of champagne that you are looking for.
Our corporate champagne gifts are carefully selected and vetted
Our collection of sparklers have been carefully selected from well-known to little-known champagne houses, and vetted by our founder and a panel of tasting experts to assure you of the finest quality champagnes. If you do need any assistance with finding the perfect choice for your gift, our customer service team are always ready to help you with any queries or comments you may have.
Furthermore, we endeavour to ensure that your gift selection, wrapping and delivery are tailored to meet your complete approval and satisfaction, to ensure that you're getting the perfect bespoke corporate gift.
Our champagne list is extensive and designed to cater to a wide variety of demands but should you discover that you are unable to find what you had in mind, let us know and we'll look into it for you. For corporate champagne gifts in Australia, we're the people to go to.
One bottle, or several?
We at Emperor Champagne are aware that different occasions call for different gift needs. Whether you want to send just one bottle of champagne or several, we will handle the whole process for you to make your gift giving extra-special.
You will be amazed at the variety of champagnes we have for you, with something that will certainly be suited to whatever taste, occasion and budget you may have. We stock champagne in different sizes too, from small piccolo bottles to large magnum-sized bottles.
We can create custom gift packages containing one bottle or several bottles of champagne, and our corporate gift service is geared to ensure that each recipient will feel extra special from the moment they open their parcel.
Luxury packaging for every corporate gift
One of the nicest things about receiving a gift is the pleasure derived from the packaging, in addition to the gift itself. Unwrapping a luxury packaged gift adds to the feeling of being pampered and well considered.  
At Emperor Champagne,  We also offer luxurious wrapping paper to custom a six-bottle pack, so no matter how large or small your chosen gift, its arrival will be greeted with delight.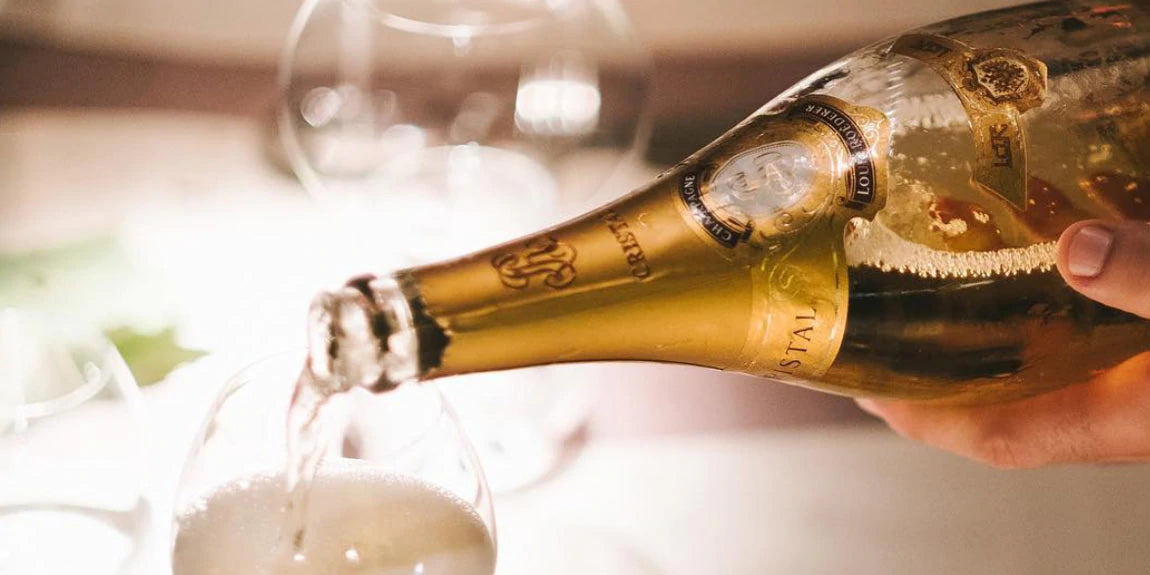 Bulk Orders and Corporate Gifting
Few things say quality and respect as much as corporate champagne gifts. At Emperor Champagne, we offer the finest corporate champagne gifts for that special, or well-deserving person that you would like to fete or celebrate.
If you would like to make a bulk order please download this form here and reach out to our team, attaching your order form here