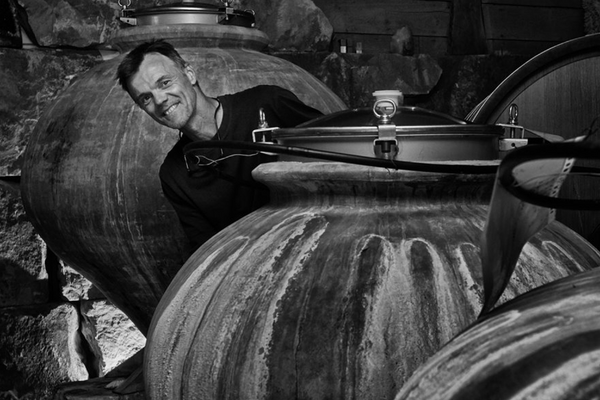 Introducing Emperor's fresh new import, Champagne Agustin. Headed by Marc and Emmanuelle, the husband and wife duo have taken a fresh approach to sustainable winemaking, one we have never seen before. Yes they are certified organic, Demeter and biodynamic, but their philosophy and ideals go so much deeper than that.
Respect for the environment through biodynamics and organic farming is more than just a method for Marc and Emmanuelle, it is a philosophy of life. Biodynamics has become such a highly talked about topic in recent years. We now know that biodynamic practices involve refraining from using pesticides, herbicides or any genetically modified organisms (GMOs), as well as paying more attention to lunar cycles and understanding the vineyard is a living ecosystem. 
The Augustin's take it one step further, describing biodynamics as restoring balance, resilience and vitality to plants and soil which have been harmed by repeated chemical treatments. They believe biodynamics and following the lunar cycle establishes a core relationship between the four elements and four key parts of a plant: earth and roots, water and leaves, air and flowers, and fire and fruits. Respecting these factors, including air and water quality, protects microorganisms found in the vineyard and ensures Marc develops Augustin champagnes that personally reflect the terroir in which they grew.
Marc Augustin
The House welcomes and embraces a spiritual nature, engaging in bio-energetic viticulture, a belief that everyone and everything consists of energy. That energy has a vibration which can be changed when nature is disturbed, essentially positive vibrations attract positivity. To enhance this further, quartz crystals have been buried at the borders of the vineyard for protection and conduction of positive energy, whilst aromatherapy and homeopathy is applied on the vines.  
High doses of copper is rarely good for anyone, especially in champagne. In order to reduce the heavily polluted soil, Marc sees himself as a sort of alchemist and plants a tiny amount of gold and silver to the soil. Now sulphur reduction is another story. Marc telepathically (or manifests) requests the universe to amplify and replace sulphur with oxygen, thus restricting the use of actual sulphur.
In the harvest and wine making processes, Marc places a strong importance on women. He specifically requests that his grapes are only picked by women in order to preserve their fertile energy. He has also made a custom cone shaped barrel that represents a womb where the "baby wine" is growing and being nurtured.
The team behind 2022 Harvest at Champagne Augustin
The Augustin cellar is a special sanctuary where fermentation occurs in all serenity and the House philosophy comes full circle. Walking into the cellar, you are met with painted red walls representing fire, clay baked amphoras grounding the earth and dynamized water all around you. Finally, the old-Greek element aether is represented by the stars adorned to the ceiling with the sun hanging on the front wall. 
Champagne Augustin Cellar
It is no doubt that Marc Augustin and his family are trailblazing a new future of Champagne, one combining the scientific tradition of winemaking with modern, spiritual elements. We are fascinated by Champagne Augustin's approach to winemaking and interested in seeing where they take their ideas next. 
Kyri Christodoulou Tasting Notes
TERRE | Cuvee 291 
Gorgeous fruit filed nose, berries, golden apple, spice, beeswax, honey and marmalade. The palate is a wave of salty sake, apple cider funk, lemon pith and soft elegant acidity. That length goes on for ages and provides much thought and contemplation.
FEU | Cuvee 301
Mature, sultry, salty nose straight away with more cooking spices like nutmeg, cinnamon bark and yellow plum or quince.
The palate has body, depth and lots of salty-savoury plum. Talk about presence and energy, this is not shy in coming forward. Great texture and gentle acidity. This wine is more about mouth feel than fruit. Love it.
AIR | Cuvee 214
Deep golden colour, sweet orange oils, apricot liqueur, fresh peach. Vibrant, acid driven style with heaps of freshness, toasty coconut, golden delicious apple and home made lemonade.
LUNE ROUGE | 100% Pinot Noir
Distinctively earthy, ferrous profile, with juniper berry and pepper berry. The acid on this is on another level, acetic, tart (like fresh raspberries) mixed with rhubarb and cranberries however that silky pinot tannin comes through and softens the finish. The overall impression is pretty intense, full flavoured Pinot with 180 day maceration. Not your average Coteaux.
RATAFIA
Ripe sultana and raisins on the nose with gingerbread, rum and raisin. Exotic palate that's packing some heat and spice. Would work well with Blue cheese or chocolate fondant.
You can shop the entire Champagne Augustin range from Emperor Champagne here.
All images sourced from Champagne Augustin Instagram and Website.