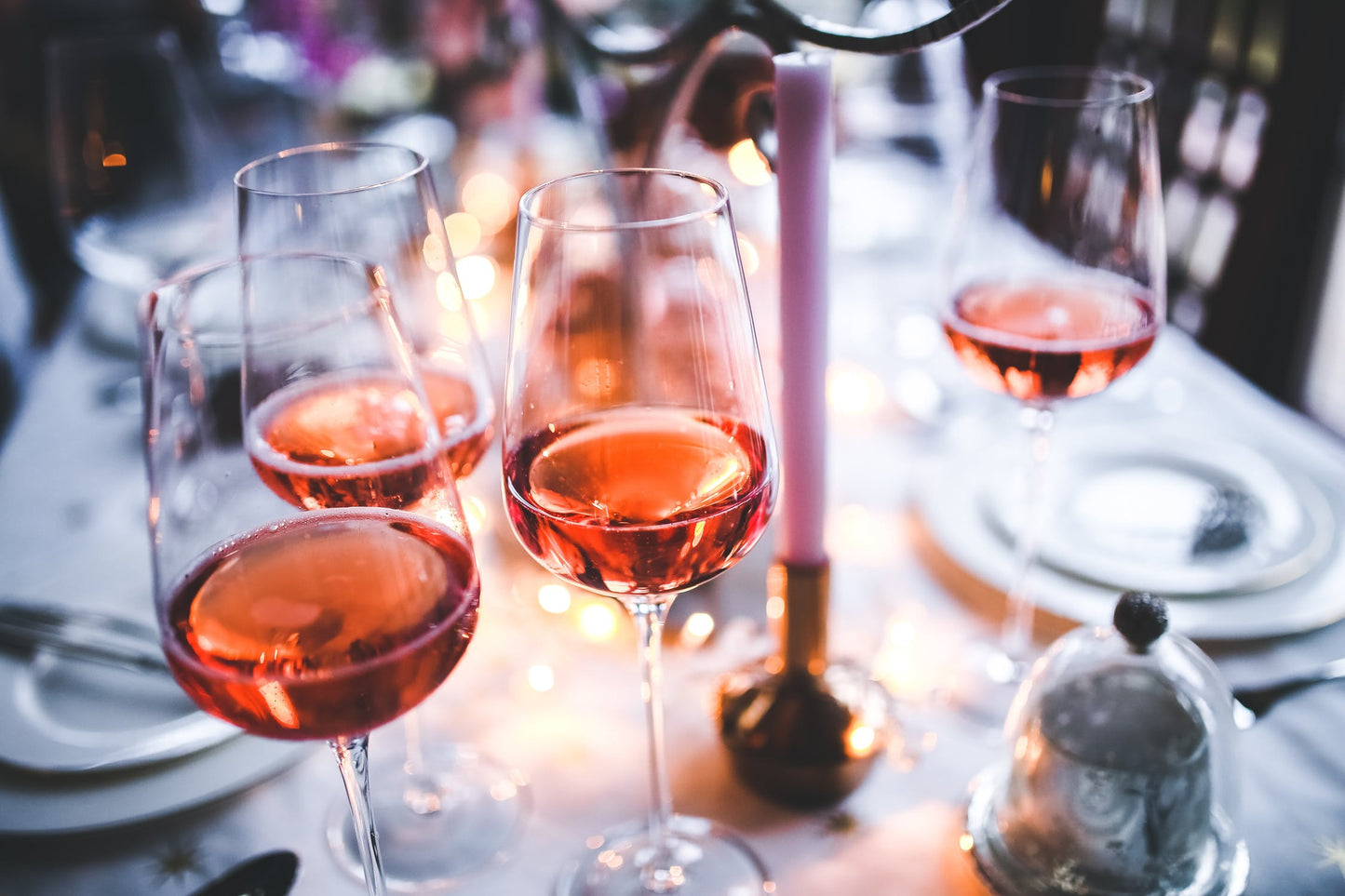 By Monica Sabbatucci
Most people think of rosé as the ultimate summer refreshment. Others also steer clear of it as they think it's too sweet and, well, pink! 
We at Emperor see it a little differently - rosé is perfect for consumption any time of year – and with many different foods! The diversity of this wine is one to behold that accommodates all types of wine lovers. 
The Rosé Process-é
From maison to maison across Champagne, the creation of rosé champagne varies. How does it get that gorgeous rosy hue you ask? There are two methods that determine what 50 shade of pink will be produced in each bottle. Rosé de saignée which means to bleed and rosé d'assemblage - the blending of white and red wine. Neither one is better than the other – they are just different, catering to the different tastes of all wine lovers. 
1. Rosé d'Assemblage
This method requires the 'assembling' of red and white wines. Winemakers will take up to 15% of still red wines – made from pinot noir or meunier – and add it to the champagne before the second fermentation where bubbles are formed! This red wine is the winemaker's chance to use a high-quality still red from either their own village, a neighbouring region or brought in from another red wine region.
2. Rosé de Saignée
Translated from French, saignée means 'to bleed', which is what winemakers do to the red grapes in this process. This maceration of the red grapes – pinot noir and meunier – is the key to the colour extraction and final style of the wine. It is also closer to the method used to produce red wine. So, if you love a bold, full and darker rosé, this style is for you!
Emperor's Ultimate Rosé Food Pairings 
Rosé champagne is currently seeing a resurgence in its popularity – and why shouldn't we be enjoying it now more than ever? Not only does it look fantastic in its range in gorgeous pink hues from pale salmon, honey amber and deep magentas, we at Emperor appreciate its diversity when it comes to wining and dining! Read on below for our food pairing suggestions that will have your tastebuds tickled pink!
Laurent-Perrier Cuvée Rosé
One of the most distinct and iconic rosés in the world was first crafted in over 50 years ago using the boldness and savoir-faire of the Laurent -Perrier brand. 
Shaped by the aromas of red fruit and intense freshness, Cuvée Rosé is known by wine lovers and professionals globally for its consistency and premium quality. Each stage of the winemaking process is meticulously perfected, leading to this rosé being globally acknowledged for its consistency and its premium quality.
In a time when making rosé was considered to be a far-fetched and fanciful affair, Bertrand Denoncourt debunked the mystic surrounding this champagne in 1968 and produced Cuvée Rosé using the traditional saignée method with the addition of still red wine. Today it has withstood the test of time and still remains the go-to rosé champagne – especially when pairing with food!
Pair this rock star rosé with almost anything you desire – we're confident it caters to any food be it breakfast lunch or dinner. 
Food Pairing
We suggest sipping on Cuvée Rosé as you tuck into a plate of grilled prawns or a decadent charcuterie board featuring Italian-style cured meats of salami and prosciutto. 
Bruno Paillard Premier Cru Rosé Extra Brut NV
Have you ever imagined what it would be like to walk on clouds? This is pretty close. Pillowy soft texture, featherlight body and a graceful finish all wrapped up in a stunning ultra-pale salmon hue. The elegant Bruno Paillard will have you floating on air in every sip. 
Food Pairing
The pomegranate, strawberry and watermelon flavours along with its distinct minerality will see this wine best married to a dish of poached salmon, sliced fennel and 'pomme fondant' or mashed potatoes (it always sounds better in French!)
Louis Roederer Vintage Rosé 2012
Emperor is thrilled to have the last remaining bottles of this gorgeous cuvée in the country! Perfect to stash in your cellar or to drink right now! Kudos to those with cellaring restraint!
Made from one of the greatest vintages to ever come out of the region, wine enthusiast and write Ken Gargett describes Louis Roederer Vintage Rosé 2012 as:
"the most gloriously ethereal and elegant champagne one could imagine"
James Suckling, internationally acclaimed wine writer and critic, awarded this champagne 95 points, stating:
"A great vintage for this rosé…this has the structure to support some ageing."
Food Pairing
Emperor suggests complimenting the darker fruit and vanilla notes of this champagne with a spiced duck or quail dish served on a bed of fragrant jasmine rice.
Charles Heidsieck '06 Rosé
Have you ever had a champagne that made you swoon? It certainly feels that this rosé has the potential to hypnotise or completely steal your attention. Revealing layer upon layer of musky forest berries, raspberry, mulberry and blackberry. Add the aromatic notes of pastry and spice and it almost feels like you're about to dig into a fresh cherry pie!
A blend of 63% pinot noir, 37% chardonnay including 8% still red wine make up this delicately copper-hued champagne.
Food Pairing
The depth of flavour, tannin and musky, smoky berries of this wine will partner well with roast duck breast and charred vegetables.
Perrier-Jouët Blason Rosé
This beautifully branded maison has been making rosé since 1959 and they certainly have a winning formula. Their non-vintage rosé is described by wine critic, Tyson Stelzer, as having "an elegant colour and fruity style created with red wine of fruity aromas". 
This full-bodied rosé combines all three grapes – 25% chardonnay, 50% pinot noir and 25% meunier. The luminous rosé possesses aromas of pomegranates, blood oranges and apricots. The cuvée leads with a sharpness on the palate flowing into a supple and complex wine that's rich and gourmet. 
Food Pairing
Perrier-Jouët's gorgeous Blason Rosé is a the perfect example of why we love rosé - it can be matched with so many different meals that makes it a welcome addition at any dinner party. If you want to match the richness of this wine, we suggest a pairing of roast meats like duck breast or lamb. If you love the full fresh brightness and then you can highlight that with a gorgeous salmon sashimi or red snapper dish. Or, if you have more of a sweet tooth, a white chocolate mousse with red berries would go wonderfully as a dessert pairing. 
Pol Roger Brut Rosé Vintage 2009
Style and excellence are the pillars of Pol Roger's philosophy and their vintage rosé is no exception! After the incredible reception the 2008 received, it looked as though it was going to be a tough act to follow. However, the 2009 vintage took on the challenge and stepped up to the plate, bringing with it a warmth, generosity and immediate appeal with fruit richness. 
Only the best fruit has made up this blend, sourced from 20 grand cru and premier cru villages in the Montagne de Reims and Côte des Blancs and consisting of 65% pinot noir, 35% chardonnay and 15% meunier. 
Food Pairing
Fish dishes and sushi make great accompaniments to this vintage rosé as well as fruit desserts like 'tarte aux pommes' (apple pie) or rhubarb compote. 
Billecart-Salmon Brut Rosé
One of the leading families of Champagne, this medium sized, high quality domain is one to be admired. This 'beel-kahr sahl-moh' brut rosé is elegant, classy and sophisticated. The colour is lighter and the flavour leans more on the savoury side with a build of 30% meunier, 40% chardonnay and 30% pinot noir with 7% still red wine. 
Food Pairing
Funnily enough this wine and smoked salmon go extremely well together - perhaps in a blini with a small slice of lemon. Billecart-Salmon Brut Rosé is also very much welcomed as an aperitif, pairing beautifully with cheese boards. 
"This cuvée showcases the mastery and knowledge of balance. It's this subtle delicateness, born from harmony and finesse which I like in the Brut Rosé."
- Pastry Chef, Pierre Hermé
Charles Collin Brut Rosé
Charles Collin Founded in 1952 by its namesake, Monsieur Collin, who was armed with the mission to unite 140 grape growers of the region. Today, the cooperative is one of the largest Maisons in Champagne, which we are proud to import exclusively at Emperor. 
The brut rosé is one of our favourites! Released with the sigh of the cork are the delicious aromas of red fruits and blackcurrants. Taste the delectable fruitiness of fresh strawberries and raspberries of this 100% pinot noir rosé.
Food Pairing
A wonderful all-rounder that would sit beautifully on the lunch, dinner, dessert or even breakfast table! Go on, try this beauty with a perfectly grilled steak and get back to us. 
Vollereaux Rosé de Saignée
Awarded 91 points by Wine Spectator Magazine and a cool 90 points by International Wine Cellar, Vollereaux Rosé is created in the traditional Saignée method is full bodied and subtly sweetened by notes of red berries and crushed strawberries. 
Food Pairing
A tray of gorgeous, sweet petit fours springs to mind when tasting this crimson-copper hued rosé.
Ruinart Brut Rosé
Did you know that Ruinart are credited as being the first house to produce rosé back in March 1764? It was discovered in the Maison's archives that a shipment bound for Germany contained 60 bottles of 'Oeil de Perdrix' or partridge eye which was specifically as a rosé!
This assemblage rosé has an abundance of fragrance released as soon as the bottle is opened. The flavours of the wine angle towards a more tropical feel, with fruits such as guava, lychee and pink grapefruit evident on the palate. 
Food Pairing
Ruinart rosé is so incredibly diverse that it matches well with rich peking duck pancakes or duck rillettes but also transfers to the fresher side with tuna tartare or salmon sashimi. 
Devaux Cuvée D Brut Rosé
Devaux Rosé is predominantly pinot with a 10% addition of still red wine from the Côte des Bar. The rest of the blend is chardonnay from the Côte des Blancs, a region that is 95% planted with chardonnay vines and provides the fruit for many vintage and prestige cuvées for the large Maisons. 
Although sharing the fruit with the Grand Marques, we believe this boutique-produced Devaux rosé is on par (and in some instances, better!)
"This marries strawberry and cherry fruits with subtly complex pastry and grilled nuts to fine effect. The palate has a toast thread that feeds through a long, fleshy and elegant finish. A really polished, great champagne."
-James Suckling
Food Pairing
We're thinking a modern take on a prawn cocktail or if you're feeling for something sweet, some sweet pastries with passionfruit or strawberry. 
Gosset Grand Brut Rosé
A half and half cuvée of pinot noir and chardonnay give this style of rosé a balanced and well defined tannin adding some smoky and savoury notes. The fresh and delicate nose open up floral, redcurrant, strawberry and spice aromas that lead to a tasting of cherry, raspberry and berries.
 This is a great wine to put in the cellar for a few years - if you can resist the temptation! 
"Earthy style with a grippy tannin and chewy red fruit, particularly strawberry and raspberry. A delicious and savoury finish."
Kyla Kirkpatrick, The Champagne Dame. 
Food Pairing
A deliciously devious lobster roll with Kewpie mayo and a buttery brioche roll. Or, if you're feeling for something fancier than a sandwich, try seared pigeon with red currant sauce and mashed potato. 
Hure Frères Insouciance Brut Rosé
Only tiny quantities of this pinot noir dominant rosé are produced from the Maison in Montagne de Reims, with only a small allocation making it to Australia. Emperor is excited to house this family run brand and bring their 'Insouciance' rosé to Australian winelovers nation wide!
A blend of all there grapes is sued to produce this champagne, creating a pretty and savoury style of rosé with a crunchy, tart and juicy profile of pomegranate and redcurrant. 
Food Pairing
This is one for the romantics - match dark chocolate and candied citrus with this cuvée and you're in for the ultimate date night. 
G.H Mumm Brut Rosé NV
This crowd favourite has enough body and savoury characteristics present thanks to the blending of all three grapes - chardonnay for elegance, pinot noir for power and structure and meunier for roundness and balance.
Food Pairing
Think drinking GH Mumm Brut Rosé a beautifully sunny Sunday afternoon, sitting on the deck with friends and nibbling on a charcuterie board of jamon, prosciutto, toasted bread and a selection of hard cheeses. 
Apollonis 'Theodorine' Rosé Brut
One of the best rosés we have tasted in a long time. The energy and freshness of this champagne will leave you thoroughly impressed. Not to mention the fact that it has been aged with music! The winemaker, Michel Loriot, plays music to his vines, stimulating the natural resistance of the vines and aiding them in their defence against disease and pests. Read more about music and champagne here.
Food Pairing
A favourite to go with rosé is a salmon blini and creme fraiche. If that's not your style, try for a melon or grapefruit dessert or some freshly cooked tiger prawns. 
Alfred Gratien Classique Rosé
Hailing from many villages around Champagne, this blend of chardonnay, pinot noir and Meunier has reserve wines from 2009 and 2010 added before ageing 6 months in oak barrels, then a further 5 years on lees. 
This barrel and bottle ageing contribute subtle notes of toast and dried fruits. 
"this medium salmon-tinted style is alive and full with layers of precise red cherry, raspberry, strawberry and watermelon fruit, accented with pink pepper."
-Tyson Stelzer - The Champagne Guide 2018-2019
Food Pairing
We think keeping it simple with the Alfred Gratien Classique Rosé is best to experience its gentle texture. try a fresh ham sandwich with this rosé or other lean cured meats such as andouille sausage or spiced ham.
With dozens of gorgeous and diverse rosés to choose from, we'll have you celebrating spring the best way!
Start your #ROSEALLDAY campaign now! 
Use code ROSEALLDAY at checkout and receive 10% off our entire rosé range.
Hurry, offer ends Sunday 8th September. Stock up today.