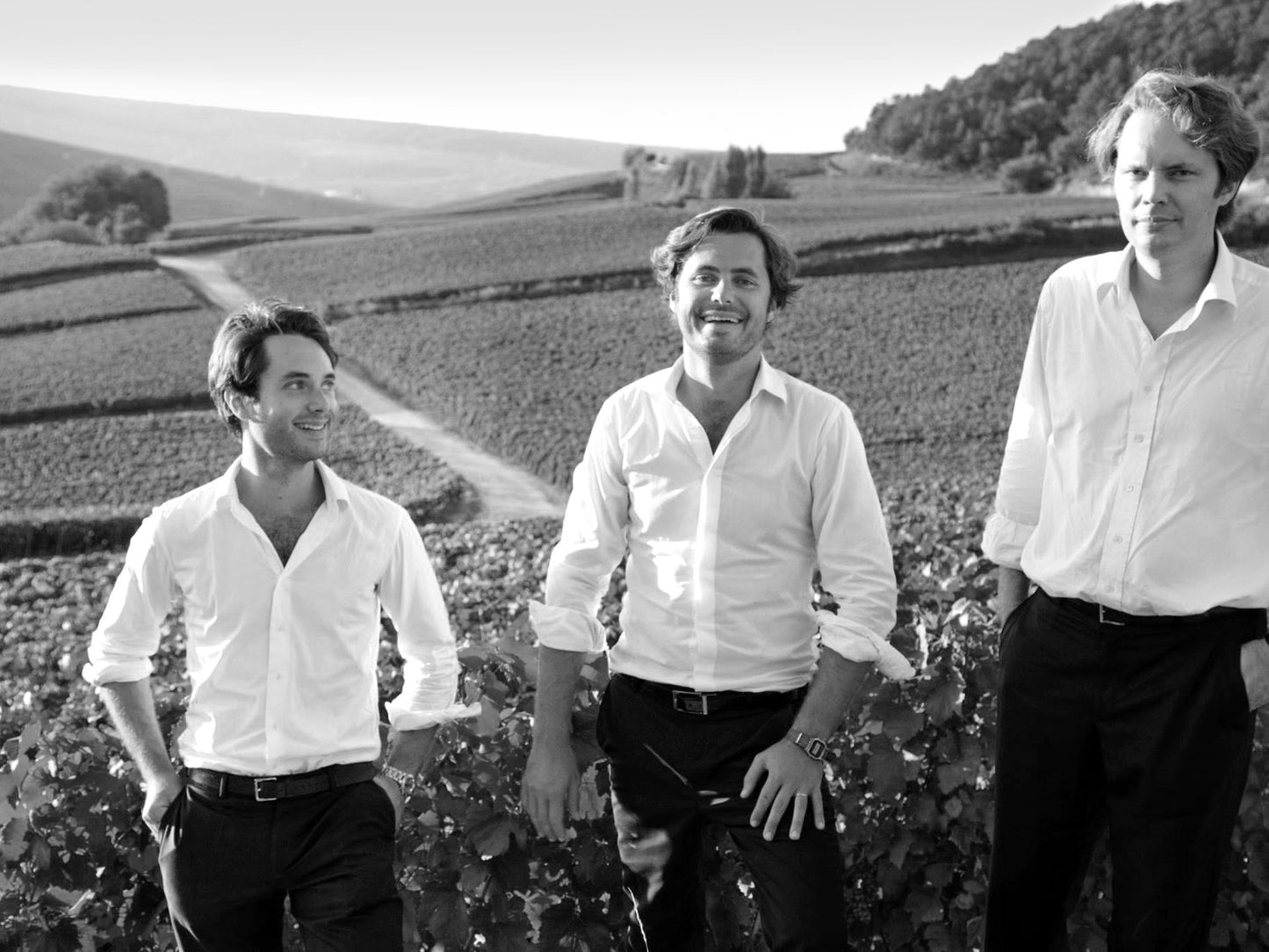 By Monica Sabbatucci
Champagne Frerejean Frères is a house built on fascinating winemaking heritage and a passion for local knowledge. Together with over 30 years of Champagne expertise as well as the embrace of contemporary ideas, Frerejean Frères takes a fresh approach to producing champagne that respects the traditional methods but leaves room for innovation. 

The three founding brothers of the Maison pride themselves on the balance of modern-day craftsmanship with traditional winemaking methods. With a family history involving a long line of historic cannon makers and deep roots in the Champagne region, Guillaume, Richard and Rodolphe Frerejean-Taittinger began their journey with a passion project - making champagne for family and friends. However, word quickly spread of their exceptional wines, leading them to begin honing their talents into Maison Frerejean Frères in 2005. 
Guillaume (left), Richard (middle) and Rodolphe (right) Frerejean-Taittinger. 

This month, Emperor is so excited to launch the event series 'An Ode to Napoleon' with this amazing house, celebrating the 250th birthday of Napoleon Bonaparte. To honour this momentous occasion, our friends at Frerejean Frères have created 'Cuvée de l'Empereur', this special edition champagne which will be showcased at these events held across Australia this October. 

We spent some time with one third of the founding trio, Rodolphe Frerejean-Taittinger, gaining an insight into the house, the history and his own experience growing up in Champagne and being a prominent figure of the industry. 
Interview with Rodolphe Frerejean-Taittinger
Tell us about your parents and family. Where did the love of champagne start?
Since I was born I've been raised in a family of Champagne lovers. At the age of 1, I was baptised with champagne. At 8, I drank my first spoonful of this wonderful wine. I always loved the taste and the energy of this magical drink. Learning with my brothers and with sincere gratitude to our amazing chef de caves, Didier Pierson (5th Generation of Grower from Avize), I discovered the diversity of the terroirs of Champagne.
What was your childhood like?
I had a lovely childhood. My brothers and I grew up riding our bikes through the vines and know every single one in the area.
Did you always know you wanted to run a champagne house?
It was not supposed to become a Champagne House. Frerejean Frères was purely, at the beginning, a quest for passion to make a wonderful wine that focusses on single parcel from the best part of the Côte des Blancs, a champagne for friends and family. We are delighted to see that champagne lovers like our vision and our wines. I personally love developing our champagne house, especially because I love to travel around the world to share the emotions of our cuvées.
What was the motivation for creating Maison Frerejean Frères?
We began making champagne for friends and family. Word spread, and we went into business in 2005. The first motivation was to craft champagnes inspired by the wines from Burgundy, to come back to the identity of the terroir and to make mature champagne with a lot of complexity by ageing a minimum of 5 to 8 years and solely focus on premier cru and grand cru Pinot Noir and Chardonnay.
Where does the Frerejean Frères champagne come from?

 
Champagne Frerejean Frères is a confidential production for lovers of champagne, founded in 2005 by my brothers and I (brothers Frerejean-Taittinger). Together we decided to create our own vision of what should be a great champagne - mature, elegant and complex, by passion, without constraint, in a quest for authenticity and in a desire to return to the origin. To make complex wines with character and with a refocused approach to the earth. The identity of our magnificent terroir showcase the most beautiful parcels of grand cru on the famous Côte des Blancs - Avize, Mesnil-sur-Oger, Chouilly, Cramant etc. Originally it was a production for family and friends, although we do our utmost to remain a confidential production. We are delighted to note that our house is developing strongly throughout the world, especially in haute cuisine and with lovers of champagne. 
Why this name?

 
My ancestors brothers Georges and Louis Frerejean were Masters of Forges, they manufactured magnificent cannons for the Emperor Napoleon Bonaparte, the name of the mark on these guns was Frerejean Brothers, with my brothers we decided naturally to take back the arms proudly of our ancestors as well as the name Frerejean Frères to testify to this glorious past. Our best vintage, Cuvée des Hussards, pays tribute to this Napoleonic epic in which my family contributes. 
What was your initial vision for your champagne when you started the house?

The original idea my brothers and I had in 2005 was to focus on an almost-secret, highest quality production for our family and our friends. This is what we did, storing each year our production until the first bottles were mature enough to be disgorged in 2012. We wanted to forge our own path and in contrast to grand marques, we aspired to focus on quality instead of quantity; to make champagnes with emotions and strong character.

What has changed over time?
As more and more amateurs and connoisseurs tasted our champagnes, we met increasing enthusiasm for our project and hence decided to go into business. We started selling our bottles to a few customers, developing our current house in the heart of the Grand Cru village of Avize.
What are your hopes for the future of Frerejean Frères?
Our hope is for Frerejean Frères wines to improve even more in quality, staying truthful to our identity of human-scale artisanal maison.
What drives you in running a champagne house?
Above all, what motivates me the most is to tell the story of our great terroir to the world through the wines we produce. It is immensely satisfying to see people discovering the fruits of our land and savoir-faire.
We know you love champagne, what other interests or hobbies do you enjoy?
I am fond of jazz, in particular of the rhythms of Ethiopian Jazz. I also very much like to travel with my family.
Where do you see yourself in ten years?
Living in a nice country house in Champagne, with my family around me.
What is your favourite Frerejean Frères cuvée?
It is really hard to choose a favourite wine, each cuvée is like my kid ha ha! Each cuvée has a different personality but if I had to choose, it would probably be the
Cuvée des Hussards 2007
. Its fresh minerality goes magically with seafood.
Any words of wisdom you live by?
Emotions and passion. 
...
Rodolphe is making his way to Australia to kick off the exciting new event series in Melbourne, happening this Thursday night at Bouzy Bar a Vin, Armadale. He will then head to Sydney for 'An Ode to Napoleon' champagne lunch and then onto Brisbane for an exquisite dinner held at the gorgeous Howard Smith Wharves.