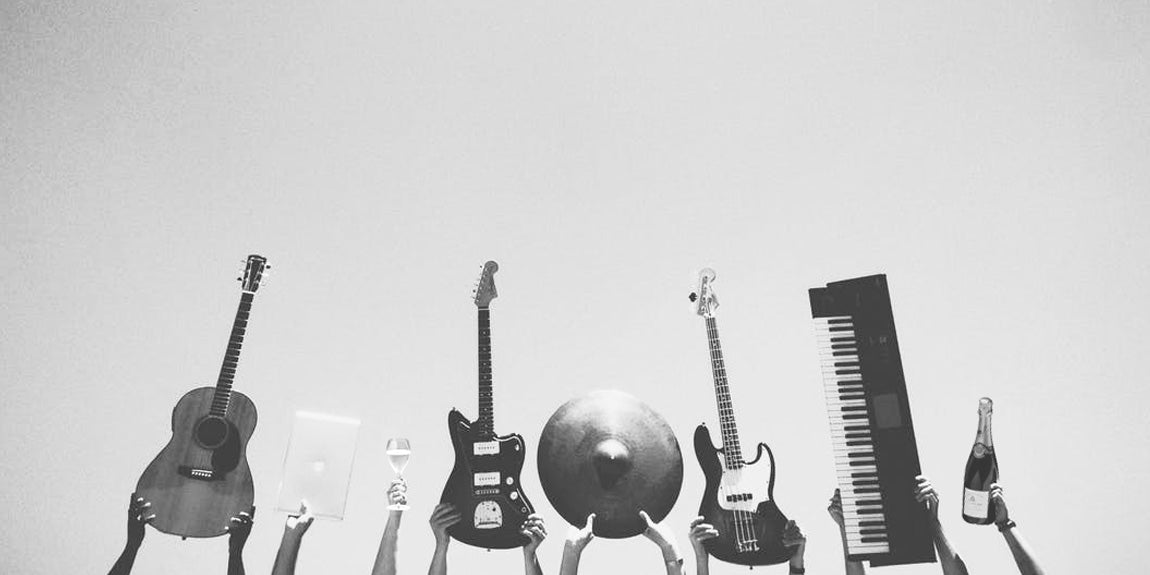 Written by Monica Sabbatucci
Learn how music can influence champagne and wines from around the globe
Discover the best music to sip along to
The science behind music and champagne
Champagne and music – it's not just a catch-cry or the would-be title of a rapper's memoir. If that's what you want to read about then find it here.
It's also more than the ideal situation where you have favourite bubbly in hand as your favourite song floods your ears and takes you to a higher level of euphoria. No, it's so much more than that.
Did you know, music can play a vital role in champagne before it even hits your glass? For years now, music has played an important role in the different stages of winemaking.

Source: https://www.krug.com/krug-lovers/music-experience
Music in the Vineyard
We have recently heard about winemakers who have taken tunes to the vines blasting their vineyards with the sounds of Mozart and other classical composers, to assist in crafting higher quality wines. A number of  producers around the world have found that playing music to the vines boosts their immunity, giving them greater natural resistance to diseases.
Playing music in the wine cellar is also proven to have great benefits in the stages of ageing, inducing the yeasts to greater activity to produce a smoother, more energised wine.
The number of disease outbreaks have also been known to decline due to music exposure to the vineyards, perhaps the bugs who aren't as fond of musical vibes are heading next door to neighbouring vines?
Global Wines, Vines & Music
According to South African vineyard owner, Hylton Appelbaum of DeMorgenzon Estate, it's the vibrations and frequencies in the music that the vines respond to.
Appelbaum's winery is fitted with powerful outdoor speakers placed throughout the vineyard that play Baroque music 24/7 as the grapes grow into season. The DeMorgenzon landform creates a kind of natural amphitheatre which aids the sound in reaching all of the vines.
"Okay, if we accept that plants may have some sort of 'intelligence,' why do we play Baroque music to them? Well, it's the wave that counts. The vibration made, rather than the beautiful music heard."
In an experiment by the estate, there was seen to be more regulated growth patterns in the areas that were directly exposed to the music. The grapes ripened two and a half weeks later and produced wine at a lower alcohol; 12.8% rather than 14%.
Source: https://demorgenzon.com/music/
Tuscan Hills Alive with the Sound of Music
Over in Italy, the sounds of Mozart can be heard throughout Giancarlo Cignozzi's vineyard in Montalcino, Tuscany. Rows and rows of beautiful Sangiovese grapevines cover the hills of Montalcino, but one section stands out from the rest as it is serenaded, day in day out, by Mozart's genius compositions.
What Cignozzi has found is that the vines in the music section of his vineyard, grew towards where the sound was coming from. His grapevines also go undisturbed from unwanted guests who dine on and damage his beloved grapevines.
"Pathogens, parasites and insect are disturbed by the sounds. Wild boars, porcupines and deer don't come here because this sound, which we love because it's Mozart, bothers them."
The music doesn't stop there. Mozart continues his symphony underground in Cignozzi's cellar, where the malolactic fermentation has been occurring consistently ever since he began this method.
"Before, this second phase of fermentation occurred randomly; sometimes in January, sometimes in March. Now with the music, it always occurs in January." Giancarlo Cignozzi
The Science of Sound & Wine
Stefano Mancuso, founder of the study of plant neurobiology, states that plants have a higher sensitivity level than animals.
This sensitivity then causes plants respond to the frequencies and vibrations in the music, resembling running water.
"It's very difficult to say that plants like classical music…What they are able to actually do is perceive sounds and specific frequencies," Mancuso rationalised.
So, if you're a winemaker and not as fond of the classics like Giancarlo, take it from a scientist and play tunes of your choice. Not only will your vines thank you, it will certainly make your work day more interesting!
Apollonis and Music
This is not a new concept for Champagne Apollonis, this house has been playing music in their cellars since 2010. The sounds of the great composer play as bottles of Apollonis champagne age on lees. And since 2012, the house has been serenading their vines with music of the same stature to stimulate the natural resistance of the vines to pathogenic attacks.
Michel Loriot, 10th generation winemaker says he doesn't just listen to music, he feels it. His love of music being passed down from his great grandfather, grandfather and father and now to him.
"Once, when I was in Switzerland in 2009, I was lucky enough to visit a winery where the barrels were flooded with music. It took just a few words to convince me. My decision was made."
Source: http://champagneapollonis.com/fr/Domaine/article/musique 
Although there definitely is science behind the effects of music on plant growth, the specific topic of champagne production and its relationship to music is in its infant stages. It certainly is not without merit, with many winemakers utilising this unique and obscure tool to really harness and bring out everything a harvest has to offer.
Using music to craft incredible champagne is part of the biodynamic belief system that helps see the Champagne region to reduce their carbon footprint by 25% before 2025 and have 100% sustainable viticulture.
The Taste of Music
A study conducted by Oxford University has found that music can affect the way wines taste. Charles Spence, professor of experimental psychology at Oxford, led a team to discover that different aspects of taste can be matched to sound properties like pitch and tempo.
The research team found that the brain is influenced by external surroundings when eating and drinking. Therefore, taste is affected and can be influenced by whether the environmental circumstances are pleasurable.
In simpler terms, the background music is not just an important tool for creating atmosphere at any dinner party. It can determine how you and your guests taste their wine.
Oxford Findings
Spence's team found that there are general resemblances in flavour and taste sensations with certain musical characteristics:
Sweet wines like Riesling, Sec, etc. = piano music with an even rhythm, slow tempo and soft yet high pitch
Sour wines like an Italian red = Brass, syncopated music with a fast tempo and high pitch.
Salty wines and Sherry = brass instruments, staccato
Fruity wines = high pitch
Wines with smokey, dark chocolate or cedar notes = low pitch
Full bodied wine = full symphonic orchestra
High tannin wines = rock guitar
Wines with orange and citrus aroma = bright, staccato and dynamic music
Vanilla and oaky flavours like Chardonnay = soft timbre, legato, even rhythm and slow temp
Krug Music Marketing
Krug Champagne, one of the most prestigious and recognisable champagne brands in the world, is doing something different with its marketing and product experience.
The house conveys its champagne creation as being a musical experience, with "each individual plot and its wine considered to be a fine musician, contributing its own unique character and vitality to the final blends."
Aligning itself with the recent research that recognises the relationship between hearing and tasting, Krug promotes their champagne as a musical experience. Krug weaves many different musicians from across the music industry into their marketing, playing on the studies that tastes of wines can change depending on which music you pair with it.
"Experience what happens when the art of music meets the art of champagne." (Put in name of person who made the quote)
Much like a chef's food pairing, Krug offers the music artist's view on which music should be paired to which cuvée.
Source: https://www.krug.com/krug-lovers/music-pairing/keziah-jones
Nigerian born singer-songwriter and guitarist Keziah Jones suggests listening to the Live at the Blackhawk version of 'Oleo' by Miles Davis whilst sipping on a glass of Krug Grande Cuvée.
"There is an amazing atmosphere when you listen to the music. It is very wide, very broad, a unique recording. It draws you into the music, which is very rich, very bright, very generous; very similar to Krug Grande Cuvée." (Keziah Jones)
Source: https://www.krug.com/krug-lovers/music-pairing/do
French indie pop duo, The Dø recommends pairing Good Times by Aretha Franklin with Krug 2003 Vintage and the Krug Clos du Mesnil with Cherish by Nina Simone.
Interactive Champagne
Krug's most unique selling point would have to be the Krug iD – an app that allows you to discover the story of your own bottle including the year it was produced, precise composition and a playlist of musical pairings. For a house that was founded in 1843, they are certainly creating waves in the historical world of champagne.
Poppin' Champagne Tunes
Champagne lovers, wet your whistle with these bubbly songs that reference the world's greatest sparkling wines.
Champagne Showers - LMFAO
Champagne Supernova – Oasis
Champagne & Wine – Otis Redding
Champagne Kisses – Jessie Ware
Champagne Problems – Nick Jonas
Champagne Life – Ne-Yo
Champagne – E-40, Rick Ross, French Montana
Schumacher the Champagne – The Wombats
Champagne & Sunshine – PLVTINUM, Tarro, Ellusive
Nice for What – Champagnepapi (Drake)
Champagne Rosé - Madonna, Quavo, Cardi B
Next time you pop open a bottle to enjoy, don't just think about your food pairing, think about your surroundings and which music will have your tastebuds dancing along with the bubbles in your glass. It's not a crazy as it sounds.
WIN TICKETS TO THE AUSTRALIAN CHAMBER ORCHESTRA!
Music and Champagne – they go hand in hand. Together with the Australian Chamber Orchestra and Taittinger, we are giving away tickets to see one of two upcoming ACO performances.

To enter, simply purchase any bottle of Taittinger Champagne between now and May 2nd. We have six double passes to giveaway, so don't delay!
Entry is simple:
Purchase any bottle of Taittinger from emperorchampagne.com.au between April 3rd and May 2nd 2019.
Enter your details via Gleam, including a valid email address and order confirmation number for your purchase.
American saxophone virtuoso, Branford Marsalis, will make his ACO debut in May this year. Featuring a range of musical compositions, the concert is set to encapsulate the saxophonist's rich jazz heritage and boundless musicality. 
Music from contemporary icons played alongside its influence. Radiohead's Jonny Greenwood, The National's Bryce Dessner, and American singer-songwriter Sufjan Stevens were all influenced by great composers. The Australian Chamber Orchestra perform the works of these Indie greats alongside their source of inspiration, Polish nationalists Karol Szymanowski and Witold Lutosławski.
Competition closes 2 May 2019 at 11.59 AEST. Full T&Cs available via the Gleam app.