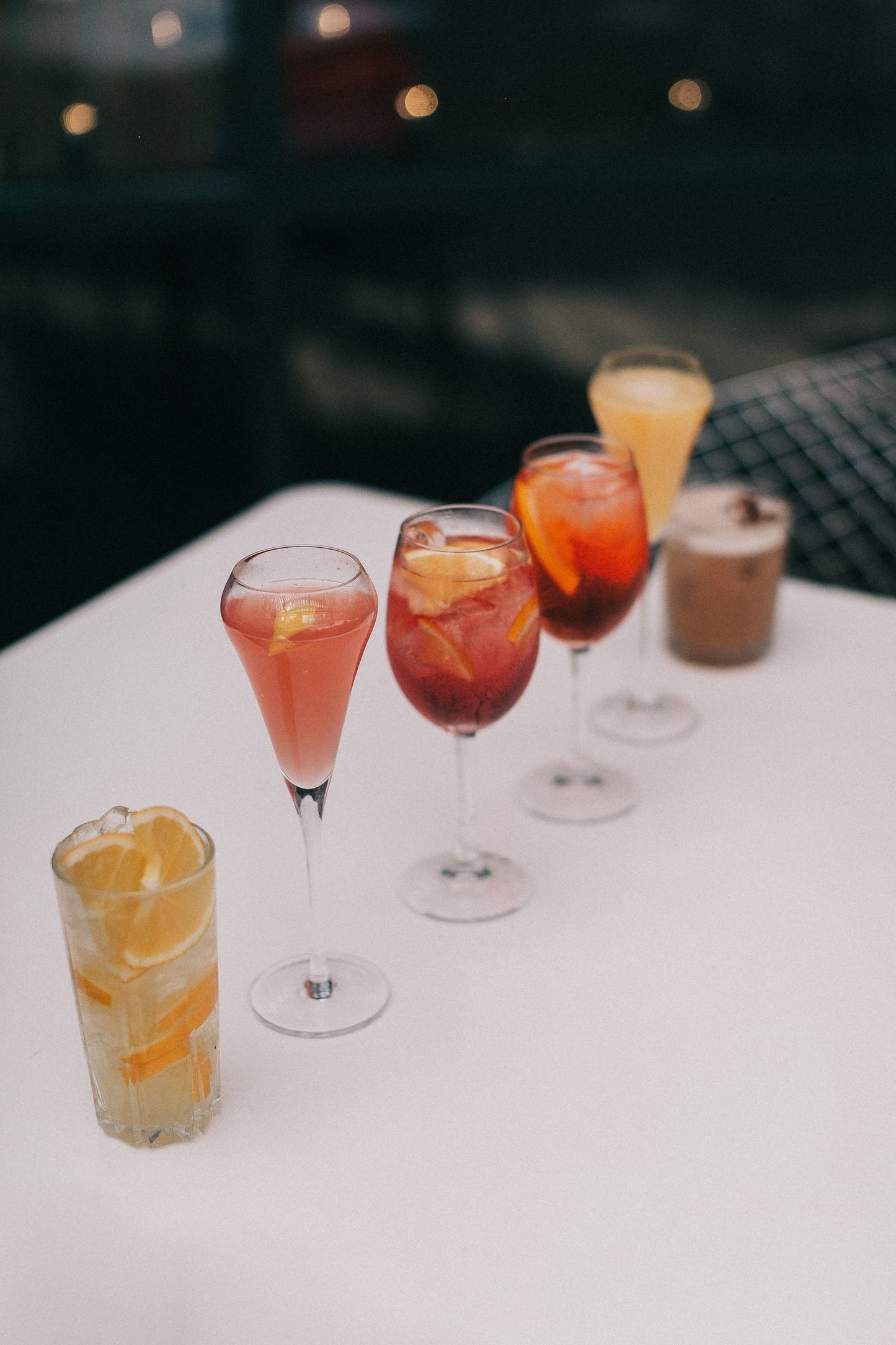 A CHAMPAGNE COCKTAIL FOR EVERY SEASON
By Monica Sabbatucci
Emperor Champagne brings you a specialty cocktail to suit any season
Try each cocktail with our Emperor suggestion - all available online now!
Covering a range of tastes and styles, let us be your guide for the best drinks all year round
Whether you're spending the night in, hosting a fabulous soiree or lounging pool side in a summer far from Australia's freezing temperatures, we've got the perfect champagne cocktail for every season. These easy yet sophisticated recipes are sure to make you a hit with your guests and have you singing karaoke well into the early hours. So, let's pop the champers and explore the perfect Emperor Champagne cocktail you can enjoy throughout the year.
WINTER: Ginger Spice Champagne 
When you think winter warmer, you think mulled wine (we certainly do!). So how about it we kick it up a notch? Let's make it bubbly and add the health benefits of ginger - not all cocktails need to leave you feeling guilty. Although served cold, this cocktail is perfect for warming your insides on those cold winter nights. Goes perfectly with an open fire and winter woolies.
 Ingredients:
1 bottle (750 ml) chilled
A. Margaine 'Le Demi Sec' Premier Cru
1/2 cup chopped fresh ginger
2/3 cup plus 2 tablespoons sugar
1/4 teaspoon Chinese five-spice powder
3 tablespoons chopped crystallized ginger
8 whole star anise
 Method:

Bring ginger, 2/3 cup of sugar and 1/2 cup water to a boil in a small saucepan.
Reduce to a simmer; cook until liquid thickens to maple syrup consistency, about 15 minutes.
Remove from heat; let cool.
Strain syrup; discard ginger.
Combine Chinese five-spice powder and remaining 2 tablespoons sugar on a shallow plate.
Moisten the rim of Champagne flutes with water and dip in sugar.
Drop 1 teaspoon crystallized ginger and 1 star anise into each glass.
Add 1 tablespoon syrup and top with chilled A. Margaine Demi Sec Premier Cru champagne.
Drink and feel your insides glow.
SPRING: Raspberry Champagne Cooler
FINALLY, the Spring Carnival has arrived and whilst fascinators and frocks might be taking up most of your time, we've got your Flemington Fling covered. This cool, refreshing and fragrant cocktail will keep you feeling fine all afternoon long. As seasoned race goers know, this day is very much a marathon not a sprint. So, ladies and gents, let's pace ourselves and leave with our shoes on our feet, not in our hands.
 Ingredients:
1 bottle (750ml) chilled Drappier Rosé de Saignée
120ml limoncello liqueur, chilled (store-bought or homemade)
1 pint fresh raspberries
About 8 sprigs fresh mint
 Method:
At least 15 minutes before serving: Chill four wine/cocktail glasses in the freezer or refrigerator.
Place raspberries on a plate and freeze.
Remove chilled glasses, add limoncello (30ml each) and top off with Drappier Rosé de Saignée champagne.
Add raspberries and mint leaves.
Savour as you watch the races and win $$$ (fingers crossed!)
SUMMER: Summer Champagne Cocktail Pops
The blistering summer heat calls for one thing, a refreshing cool drink and while we're at it let's put a splash of alcohol into the mix. The Champagne Cocktail Pop. It's time to turn the child friendly icy pole into something more dangerous.
We recommend making this cocktail with:
Charles Collin Brut
 Ingredients:
⅓cup passionfruit pulp
1 tsp natural sweetener
400g peeled, coarsely chopped pineapple
 Method:
Combine passionfruit, sweetener and 1/3 cup (80ml) water in a small saucepan over medium heat. Bring to the boil. Remove from heat. Cool. Pour mixture into six ½-cup (125ml) capacity ice-block molds. Freeze for 2 hours or until firm.
Place pineapple and wine in a blender. Blend until smooth. Push mixture through a sieve and discard any solids.
Pour sieved pineapple mixture into ice-block molds. Insert sticks and freeze for 4 hours or until frozen. Dip molds in hot water for 5-10 seconds and gently pull ice-blocks out when serving.
AUTUMN: Blood Orange Champagne Punch
Not only does the colour of this cocktail reflect the falling leaves, the infusion of cinnamon and star anise will also remind you of spiced fruit pies and cozying up from the changing winds of Autumn.
 Ingredients:
1 bottle (750ml) De Sousa Tradition Brut Champagne
3 cups blood orange juice (freshly squeezed or store bought)
3 tablespoons brown sugar
1 cinnamon stick
2 whole star anise
1 cup dry white wine
 Method:
Place the blood orange juice, sugar, cinnamon and star anise in a small pot and bring to a boil, over medium-high heat.
Once the mixture begins to boil, reduce the heat to medium/medium-low and simmer until the liquid has reduced by half, 30 to 40 minutes.
While the mixture is still hot, stir in the white wine until completely combined. Allow to cool before placing in the refrigerator to chill, at least 2 hours.
When ready to serve, place 3 tablespoons of the blood orange mixture into the bottom of each glass and top with chilled De Sousa Tradition champagne (about ½ way to 2/3 of the way full).

Enjoy!
No matter what time of year it may be, Emperor has you covered. From Winter, all through to Summer, these cocktails will surely hit the spot and leave you and your guests seasonally satisfied.
For more champagne suggestions that are especially tailored to your taste, give the Emperor team a call on 1800 CHAMPAGNE.