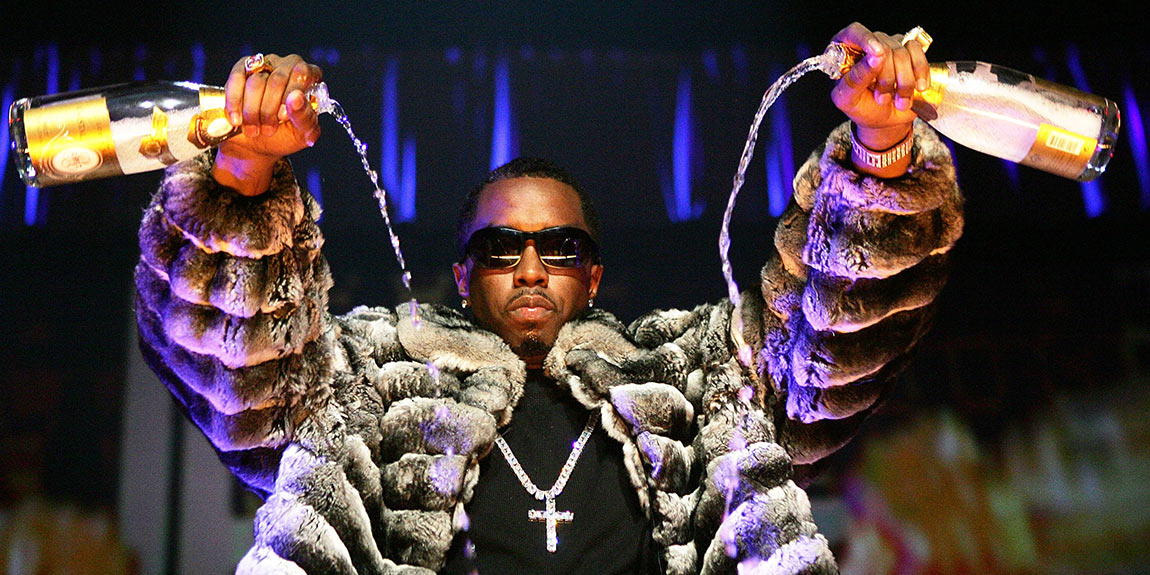 Written and researched by Monica Sabbatucci
Throughout the 1990s, hip-hop became prominent on our radios and televisions and so too did the relationship between it and champagne - one that still stands today. When I looked at how it came to be, I became acquainted with a lesser known name in hip-hop - Branson Belchie who is better known as Branson B. - an early graffiti artist and self-described street entrepreneur.
Growing up in Harlem, Branson B. would see a lot of gentlemen from all walks of life; lawyers, doctors, hustlers and gamblers who would all indulge in champagne as their drink of choice. He stated "It was more of an aspirational thing. You want to do well, and champagne is supposed to be a high-end way to enjoy yourself." It was from the development of his own taste for champagne (we don't blame him!) that he thought this delicious drank should become popular with his friends, who just happened to be the early hip-hop community.
Branson would be seen bringing it along with him to recording studios and sipping on it as he watched and listened to his friends' record tracks on the other side of the glass. Belchie's passion for champagne has since progressed to him owning his own label, developing his own cuvées and going into business with Guy-Charlemagne, a leading grower-producer in the champagne industry. 
Branson B. has been credited by Forbes as "hip-hop's unofficial sommelier" after introducing the beverage to the early east-coast hip-hop pioneers like Biggie Smalls and Puff Daddy. They loved it so much that they would go on to feature it heavily in their work; The Notorious B.I.G. proclaims in his classic 'Juicy'; "the Moet and Alize keep me pissy" whilst P. Diddy brags that he "pops champagne like a championship".
Branson's introduction made the champagne culture of hip-hop what it is today and sparked a trend amongst artists who are now throwing their hats in the ring of the business. P. Diddy has hinted that a champagne of his own could be in the works, and Jay-Z acquiring Armand de Brignac or as it is known by the nickname 'Ace of Spades', after he boycotted his former favourite, Cristal.
Armand de Brignac, a Cattier brand champagne announced that it had been bought by Jay-Z on the 5th of November 2014. Throughout his career, in his music and business, Cristal was young Hova's number one brand. You would see him wielding the $300 bottles in music videos and rapping "drunk off Cris" and "got six model chicks, six bottles of Cris".
However, things turned sour after the managing director, Frederic Rouzaud, made some controversial comments in a 2006 interview that Jay-Z did not like at all. Asked whether the association between the "bling lifestyle" and Cristal could be detrimental, Rouzaud replied "That's a good question, but what can we do? We can't forbid people from buying it. I'm sure Dom Perignon or Krug would be delighted to have their business." A back-handed slap to their major competitors and a subsequent closing of the door to the hip-hop market ensued.
Jay responded with "I view his comments as racist…It has come to my attention that the managing director of the Louis Roederer brand Cristal, Frederic Rouzaud, views the 'hip-hop' culture as 'unwelcome attention'…I view his comments as racist and will no longer support any of his products through any of my various brands". He then went on to boycott Cristal and that was the end of that chapter!
As Jay-Z says, 'Onto the Next One' and he soon found his next love in Armand de Brignac. To further their blossoming relationship, the distinct gold bottle featured in his music video for the track 'Show Me What You Got' (which was released the same year as the Cristal scandal). The infamous Ace of Spaces champagne continues to hold Queen Bee's boys favour and the partnership is still going strong, Jay Z getting serious about their relationship and purchasing the house - the first American rapper to take ownership of a champagne house.
Poppin' bottles is only natural when it comes to hip-hop and we can certainly thank the 'sommelier of hip-hop' Branson B. for bringing them together. He describes champagne as being 'aspirational' and on a wider level, champagne has always been associated with the affluent elite of society. A lot of hip-hop artists 'started from the bottom' now they're here, so why wouldn't they want to celebrate their 'good life' status with some Champagne Showers?