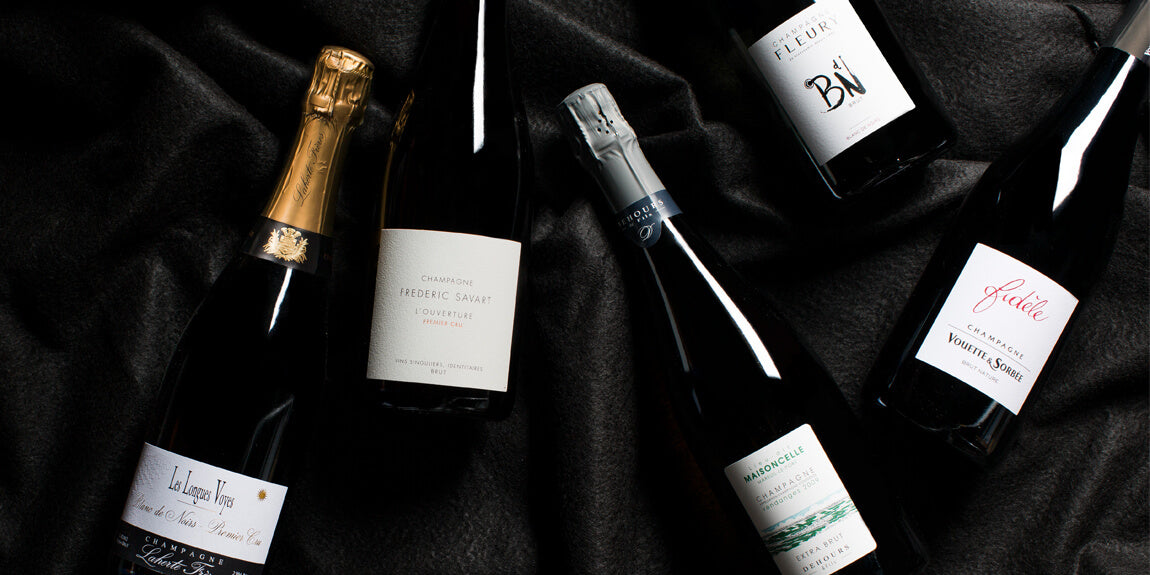 Is it true that many of you champagne lovers have tried an array of different champagne styles but not as many as you would have liked? A style of champagne that is rarely released by the Grand Marques - which is disappointing as it can be mind blowingly good - is a Blanc de Noirs or 'white of blacks.'
A Blanc de Noirs is a white champagne made from either 100% pinot noir or pinot meunier or a blend of both. Both of these grapes are actually black skinned and with clear juice, so its critical that the winemaker must press the grapes incredibly gently at harvest to allow the juice extraction through the pedicel or belly button of the grape and not cause any color exchange with the skin or ideally as minimal as possible. You will still see a slightly deeper, more golden color on these wines compared to a Blanc de Blancs at the other extreme consisting of pure chardonnay.
What sort of flavour profile should I expect from a Blanc de Noirs?
Pinot noir and meunier can bring a vast array of aromatics and textures but commonly you will find juicy red fruit, cherry, strawberry, raspberry, red apple and spice. These wines tend to have a little less acid and more upfront fruit appeal.  
The team at Emperor love this style as the wines can be more exciting for champagne lovers that enjoy fuller and more vinous styles of champagne compared to say the Blanc de Blancs counterpart, which leads with minerality and often citrus and white orchard fruit coupled with pastry and bready notes.
As part of our Emperor Champagne Club July Edition, we feature a 'Blanc de Noirs' theme looking specifically at how they pair with winter inspired dishes. We explored dishes such as mushroom risotto with truffled pecorino, slow cooked beef brisket and red apple coleslaw with our featured wines. As these wines exude more body and vinosity (winey character), they are more like a wine with bubbles making them great pairing wines for a wide array of foods, especially red meat, cured meats and game. Don't be shy in exploring pairings – you could partner up with a Burger, Steak Tartare, San Danielle ham, suckling Pig and Peking Duck. Hello!
Some of our favourite examples of blanc de noirs are Laherte Freres from Chamery in the Montagne de Reims showing blackberry leaf, raspberry and spice; Fleury from the Cote des Bars has pronounced cherry and red fruit notes, as well as their neighbour Vouette et Sorbée with his low bar, unfiltered and biodynamically charged 'Fidele' and the 2009 'Maisoncelle' from Dehours et Fils in the Marne Valley who makes a sophisticated, smoky, leather and dark red fruit scented style. The only exception is Frederic Savart from Ecueil. As this premier cru village is based on sandy soils, compared to the clay, limestone and chalk versions of the aforementioned, sandy soils, in our opinion, yield pinot noir with a little more acidity, yellow fruit profile and less of the red berry and spice characters. Regardless, this is an excellent wine as are the wines from his neighbour, Nicolas Maillart.
From the pinot meunier party, we have Dehours & Fils 'La Croix Joly' Lieu-Dit 2009, Flavien Nowack 'La Fontinette' and Christophe Mignon Pur Meunier.
There is a whole world of dark swarthy bubbles for you to explore. We hope you discover some amazing champagne, click here to view our range.