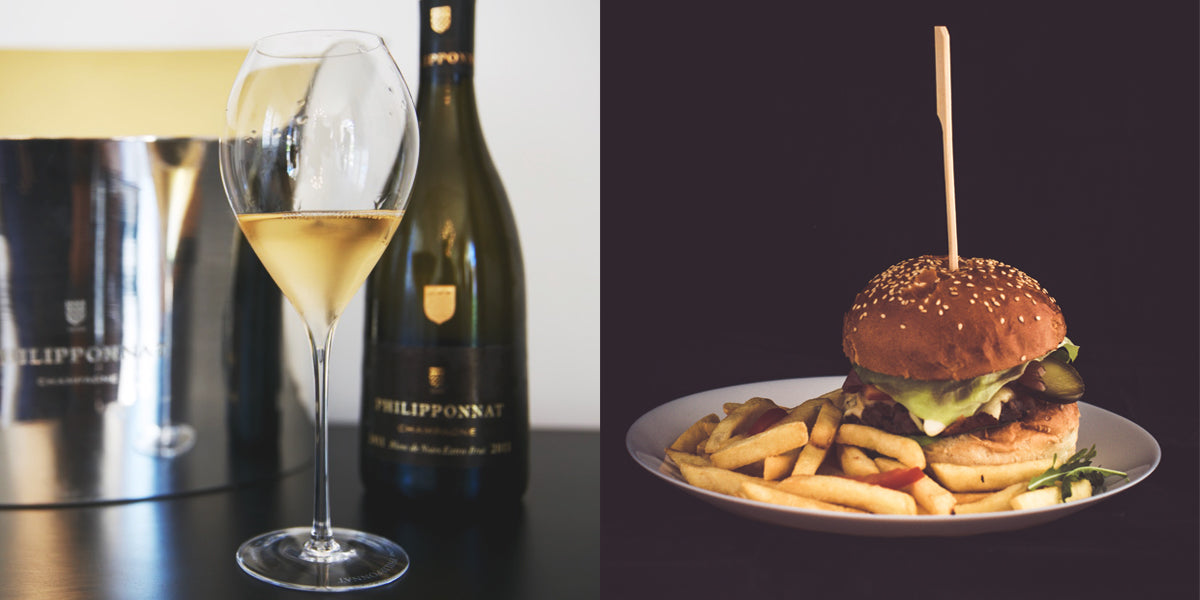 Champagne has long been associated with a life of glitz and glamour. For hundreds of years Champagne campaigns have featured fancy soirees, chandeliers and flamboyant settings. It has for many years been exclusively served in high-end restaurants and at fancy parties. This rather expensive drop, has been savoured by women, dressed to the nines and purchased boldly by our 'men about town'. < < NEWSFLASH people > > Champagne doesn't need to be served only at fancy parties. It's actually a brilliant bedfellow for fast food!
Champagne has a new edge, largely driven by a cult generation of winemakers or grower-producers, who ooze cool and are modernizing their approach whilst respecting their tradition. They make champagne that is natural, crafted with precision and wines that exude loads of character that speak of place. Often, these are low dosage; non-filtered wines designed to show their full character and are interesting to pair well with laid-back street food. After all, their predecessors didn't create them with fancy parties or schmancy food in mind.
The team at Emperor encourages you to keep your food simple and up the ante with your champagne selection. Champagne has a magical ability of making any moment special but keep your best bottles for the quieter moments in life, as you will have a greater chance of remembering and appreciating the subtleties within it.
Saving your best bottle for a big party or significant birthday bash is a wasted opportunity to enjoy your wine. Trust us, you will be so overcome with all the goings on of the party that you will take no notice of the wine. Open your best bottle with just one other person (or no-one, we won't judge you) and keep your food simple. Whether it's a grower-producer champagne or a grand marque at the top of the pops, we encourage you simplify the food and let the champagne do the talking. 
Check out some of our favorite parings below and some restaurants around Australia. You're welcome.  
Emperor Loves
1. Hamburger & Fries 🍔🍟 X Fleury Blanc de Noirs Brut NV
We love a good pattie, especially when it's made with quality beef. A good burger needs a soft brioche bun with pickle, tomato, lettuce plus a dollop of mustard and ketchup. When these are in sync, there is a juicy harmony to the flavour that we simply cannot resist. We would suggest a Blanc de Noirs to pair with a burger, as there are some richer red fruit notes and not so much acid, which would compete with the pickle and tomato. Fleury produces biodynamic, energetic and expressive champagnes with little to no filtration. There is good vibrancy, freshness and enough flavour to support this infamous street food. 
Our top picks are: 8-Bit, Melbourne & Huxtaburger, both in Melbourne & Perth.  
2. Margarita Pizza 🍕X Huré Frères Invitation Brut NV
A classic thin-crust Neapolitan style pizza with quality mozzarella, tomato sauce and fresh basil is what we are dreaming about. From our pizza experience, some of the best we've had go into an incredibly hot brick oven and are done and dusted in 90 seconds. This creates that crust we all know and love. We've chosen a fresh, mineral and textural brut from stand out producer Huré Frères. We love this style of pairing as the acidity plus some fruit and body support from pinot meunier, weaves in with the baked bread base, melted cheese, tomato sauce. We like how the lifted aromatics of this meunier led wine highlight the herbal edge of the basil. Bellissimo accoppiamento 👌🏽
Our top pick is: Lucio's Pizzeria, Darlinghurst, NSW
3. Southern Fried Chicken 🍗 X Andre Jacquart 'Les Mesnil Experience' Brut NV 
Ok. So we really prefer you NOT to run down to your local Kentucky Fried Chicken but if that is your only choice, we understand. A Korean Restaurant will do a mean Fried Chicken so get busy on Uber Eats unless it's BYO? It is well known that champagne and fried foods are excellent pairing partners, from Tempura, Fried Chicken and French fries. With Fried Chicken, as the breadcrumb becomes crispy, golden and oh so crunchy, it begs to have a wine with high acid and bubbles. Combined, these swirl around the palate, cleansing through juicy, fried flavours, leaving you ready for another round. We are salivating at the thought.
A tremendous pairing is Andre Jacquart Les Mesnil Experience, which is Grand Cru goodness sourced from the very best vineyards, notably from Les Mesnil Sur Oger. This also happens to be where Krug source some of their fruit. So if you want to take things up a notch feel free to shell out on a bottle of the grand daddy of champagne to hit food and wine euphoria. Each year, Krug blend approximately 120-150 different wines into this masterpiece from multiple year's harvests for added complexity. The result is power with finesse, freshness with depth and an array of flavours from almond, brioche, barley sugar, lemon, grapefruit and gingerbread.
Our top pick: Seoul Bistro, Brisbane, QLD
4. Dumplings 🍜X Charles Heidsieck Rose Reserve Brut NV
It would be a crime if we did not mention dumplings in our fast food meets champagne suggestions. Our personal favourite is pan-fried pork and ginger dumplings (or pot-stickers) with a touch of soy sauce. You could quite easily have them steamed as well. When pan-frying, it introduces some of that crispy, toasted flavour and adds another dimension to the pairing. We are utterly convinced that the magic of Rosé will enhance and fully realize the potential of flavour with the crispy dumpling, pork, ginger and soy combo. Charles Heidsieck makes excellent saline style Rosé's with notes of Rhubarb, apricot and light spice. Add into the mix up to 8 years of reserve wines and you have a champagne that can dance with any dish. Happy 'chop-sticking'.