Written by Monica Sabbatucci
The latest Emperor Edition presents to you 'The Top 10 Most Expensive Bottles in the World!'
Commemorative champagne fit for a royal wedding
200-year-old champagne discovered in the midst of a shipwreck
Diamond champagne in a million-dollar bottle
Rare vintages kept out of Nazi reach
When we think of champagne, we already think decadence, prestige and high society before even looking at the price tag. The cost doesn't necessarily mean it's the best champagne ever, only the consumer can really make that judgement based on their own tastes. So, if you think that favourite, under-$50 bottle is the best thing you've ever tasted, then lucky for you! (and your bank account!).
However, if you've ever wondered the top dollar amount someone would pay for some especially extraordinary champagne, then look no further than this list.
2013 Gout de Diamants, Taste of Diamonds - $2.1m AUD
Blend of Meunier, Pinot Noir and Grand Cru Chardonnay
Taste: touches of floral, creamy texture, light and elegant finish
Source: https://luxurylaunches.com/featured/worlds-expensive-champagne-worth-1-8-million-ships-diamond-themed-bottle.php
Topping off this prestigious list is the 2013 Gout de Diamants or 'Taste of Diamonds'. Who created this expensive elixir you ask? This unique luxury bottle was designed and created by Nigerian born British entrepreneur and designer Alexander Amosu who notably made the Guinness World Records for wearing the world's most expensive suit. What can we say, the man loves extravagance!
Source: https://www.tailoredbusinesstv.com/alexander-amosu-designer-of-the-worlds-most-expensive-suit/
 Instead of the usual diamond-cut Swarovski crystal sitting amidst a pewter superman-like logo, the collaboration with Amosu sought to replace the pewter with an 18-carat white gold plate. Furthermore, the Swarovski crystal was upgraded to a 19-carat diamond, heightening the indulgence of the label and making this bottle the most expensive in the world. So, what does $2m taste like? A blend of Grand Cru chardonnay, pinot noir and Meunier make up the cuvee, not to mention the notes of
1928 Krug – sold at auction in Hong Kong for $31,266 AUD
Blend of Meunier, Pinot Noir and Grand Cru Chardonnay
Taste: notes of apricot and honey, ample depth and complexity, fresh and lively finish
Source: https://luxatic.com/the-top-10-most-expensive-champagnes-in-the-world/
 Krug regards 1928 along with 1990 and 1996 as its best wine that ever was produced by the house. Back in 1928, Joseph Krug lead the helm as the mastermind behind house Krug, the great-great grandfather of the current director, Olivier Krug. These bottles somehow escaped the clutched of the Nazi regime and the ravages of World War and survives today as one of the "greatest champagnes ever made" as exclaimed by Serena Sutcliffe, Champagne Expert and head of auction house at Sotheby's. Patriarch of the Maison Joseph Krug is noted as saying;
"Krug cuvée champagne is my baby. For vintage champagne I have to share the credit with God."
Source: https://www.krug.com/the-house/heritage
This certainly has merit – the contents of the '28 Krug have been described almost as if God himself crafted the wine.  Critics have scored this drop upwards of 95 points with the auction catalogue stating it's "outstanding colour and condition'.
The hype is real, not to mention that price tag! The bottle was sold in 2009 at Acker Merral & Condit's first Hong Kong auction in 2009.
Moet & Chandon Dom Perignon Charles & Diana 1961 - $7,284 AUD
Blend of chardonnay, meunier & pinot noir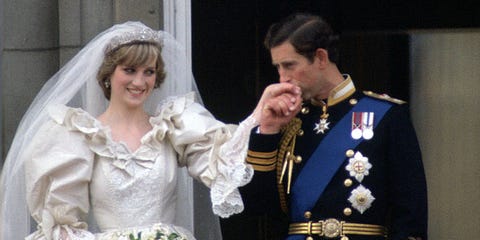 Source: https://www.townandcountrymag.com/society/politics/g9262297/prince-charles-princess-diana-relationship/ 
After thinking all of the champagne was drunk on this momentous wedding occasion, some leftover bottles were discovered!
Dom Perignon was selected in 1981 to be served at the wedding reception of Prince Charles and Diana, Princess of Wales. The 1961 vintage was chosen in honour of Diana's year of birth, and the Champagne house's remaining bottles and magnums were brought over from France for the historic occasion.
A limited amount of the brut champagne was released to memorialise the event and according to Wine Searcher, has an average price of AU$7,284 subject to availability.
Champagne Carbon - $3,284
The motorsport tradition of spraying champagne on the winner's podium began over 50 years ago when Swiss driver Jo Siffert. Upon winning his race, Siffert accidentally sprayed the crowd after a cork shot out of a sun-warmed bottle of Moet & Chandon!
Source: https://www.motorsport.com/f1/news/f1-signs-deal-with-3000-a-bottle-carbon-champagne-brand-936365/936365/
That tradition is upheld these days with help from the 'Official Supplier to Formula One Racing', Champagne Carbon, whose bottles are wrapped in carbon packaging, melding together a family business with the love for racing machinery. Not drinking this champagne proves to be a costly activity with a price tag of over $3,000!
Krug Clos d'Ambonnay 1995 - $4,199 AUD
Blanc de Noirs – 100% pinot noir
1995 was the first produced – then went on to release 1996, 1998, 2000 & 2002 
Created in 1995 as a tribute to the French village Ambonnay and to Pinot Noir. Krug Chef de Caves describes the harvests as a time when;
"grapes gave wines with great level of fruit and expression while having a high level of freshness."
Source: https://www.krug.com/champagne/krug-clos-dambonnay-1995
The grapes harvested for this wine come from a tiny, single plot of pinot noir in the most renowned village for this grape, Ambonnay.
Moet & Chandon Dom Perignon White Gold - $2,590 AUD
50% pinot noir, 50% chardonnay
Produced in Épernay
Encased in a white gold sheath, this bottle of Dom Perignon proves to be one of the most prestigious of the collection.
Source: https://www.thedrinksbusiness.com/2014/03/top-10-most-expensive-champagnes/7/
 Named after a Benedictine monk in the 17thcentury who pioneered many winemaking techniques, Dom Perignon has a long and rich history in Champagne production which began more than a century after Dom Perignon's death.
Krug Brut David Sugar Engraved 'Quail Design in Flowering Tree' - $2,360
This limited edition had its worth added to by the 'Quail Design in Flowering Tree' which can only be found on select Krug brut champagnes. The designer, David Sugar, specialises in engraved art work and has been displayed in many museums and the United Nations permanent art collection.
Krug Private Cuvee – approx. $2,100 AUD
Source: https://food52.com/blog/12220-from-cup-to-coupe-a-history-of-our-favorite-champagne-glass?utm_source=feedburner&utm_medium=feed&utm_campaign=Feed:+food52-TheAandMBlog+(The+A%2BM+Blog)
Another popular blend of chardonnay and pinot noir, this bottle will set you back a fair bit! We would expect nothing less from this highly respected and long-established Maison dating back to 1843. The vintage was released in the 1960s and 70s, so its price tag is only an indication of how good this champagne really is!
Moet & Chandon Dom Perignon by Karl Lagerfeld - $2,050 AUD
This special designer edition of Dom Perignon Champagne Brut was produced with the help of the late Karl Lagerfeld, the German fashion designer and former head designer and creative director of three highly regarded fashion houses; Fendi, Chanel and Lagerfeld's own label.
Source: https://www.comptoirdesmillesimes.com/blog/karl-lagerfeld-etiquette-vin/
The bottle was released in 1998 after a long admiration by the designer and photographer of the Champagne house. "A Bottle Named Desire" is covered in golden studs, with the shape and label remaining unchanged since the champagne's creation in the 17thcentury.
Shipwrecked Champagne – upwards of $4,000
Some people inherit wealth, some people win the lottery and some people are just plain lucky. The latter is certainly the case when a team of divers discovered gold at the bottom of the ocean floor in the Baltic Sea.
168 bottles of 170-year-old Veuve Clicquot were found that day and upon hearing the news, the cellar master, Dominique Demarville believed it was a joke call! This may have been the first shipwrecked champagne discovery but it certainly wasn't the last.
Source: https://www.nbcnews.com/science/weird-science/shipwrecks-170-year-old-veuve-clicquot-reveals-champagne-history-n345176
Many different Maisons throughout the champagne region have actually sought inspiration from these incredible finds of perfectly intact wines and subsequently developed cellars in the sea to age their champagnes. Read more about shipwrecked champagne in our 'Champagne Under the Sea' blog.
____________________________________
Shop the more affordable champagnes at Emperor Champagne!