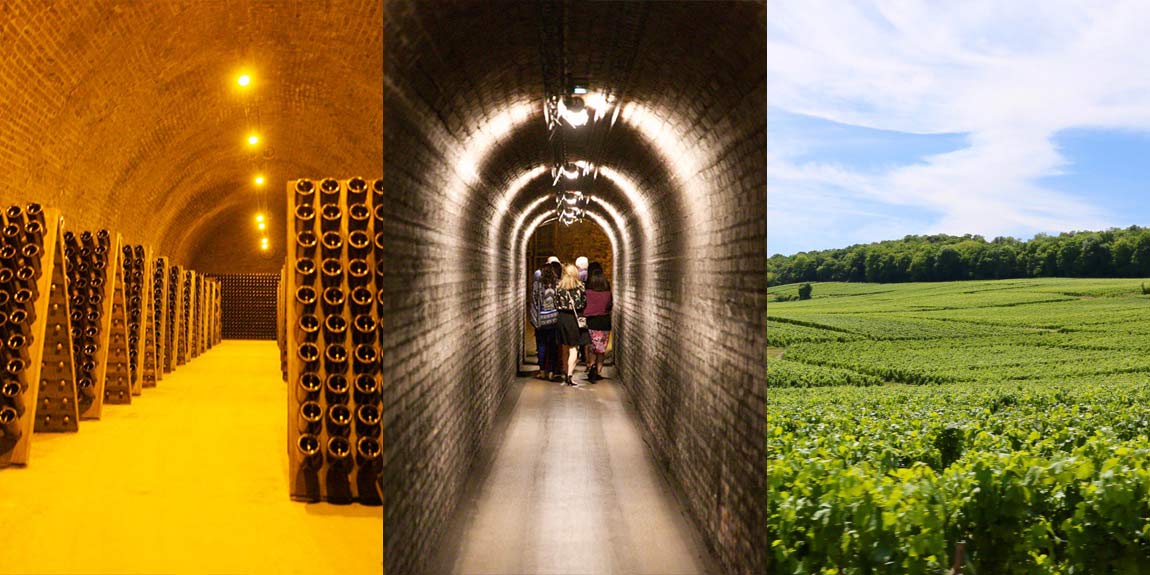 Why go to Champagne? Well, if you're reading this, chances are, that you are already thinking about it and you should be. The obvious choice of activity is to discover and consume as much champagne as you can in it's natural habitat. Champagne is a beautiful wine region above all that is steeped in history from the war and dotted with picturesque villages and rolling hills. All this comes to life with the warm welcome of the Champenois (people of champagne) and delicious foods.
We put our minds together at Emperor HQ and came up our favourite choices to tour, explore and imbibe in Champagne. We want you to get an insider's view of this great region and walk away with a memorable experience.
PLACES TO EAT & DRINK
UPMARKET DINING
Les Crayeres  
This is the pinnacle of pleasure and service so ridiculous and perfectly choreographed, you would think you were watching the dancers at Crazy Horse, well not quite, but you know what we mean.
Le Millenaire
Now, first impressions and you would think, stuffy French restaurant. This isn't that place. Run by father-son team, Laurent and Thibault Laplaige, they create excellent Michelin starred food at an affordable price. Also, they have a well stocked champagne list so you can all go for a fancy meal, spend up on the champagne and have a great night. By the way, a little French here goes a long way. 
Racine
Run by Japanese Chef Kazyuki Tanaka and his wife, these guys take fine dining to a whole new culinary level. This is French Cuisine infused with Japanese know-how and tradition. If you like your food a little lighter (compared to the richer French foods) you will love this Michelin starred gem.
Les Avises in Avize
Owned and operated by Anselme Selosse and his loyal team. This is an intimate 20-seater style restaurant amongst a boutique hotel and is definitely the place to take someone special in your life. It is in the beautiful Grand Cru Village of Avize and if you like venturing out, try this place. The food is excellent and the wine list is off the charts. 
Le Grand Cerf
There is something special about this place. The team is warm and hospitable and the surrounds feel comfortable and decadent and were recently renovated in 2017. It is located just inside the wildlife Park of Reims and right opposite champagne Nicolas Maillart, a mere 20 minute drive from Reims. The food is incredible and the service if fun and professional.
La Domaine du Chalet
Similar to Les Avises in that it is a Hotel first with a restaurant as part of it's first class experience. Owned by the excellent house of Palmer & Co. and if you haven't heard about this house, it's one of the best-kept secrets of the region. We recommend you stay here a couple of night and disappear into this champagne fantasy. They have about 6 rooms and are open from Tuesday-Saturday and are closed on Monday and Tuesday.
CASUAL DINING
Sacre Burger (Reims)
If you want to give the haute cuisine a rest then head in for a delicious burger and pommes frites at this contemporary burger bar. They serve Belgian Beer, organic cider and there is a raft of excellent champagne from the list.  Each Burger is named after the Kings of France from Charlemagne, Louis XVI, Clovis and Francois I. The owners are young, fun and play a range of hip-hop music throughout the day. They also own Sacre Bistro in Epernay which is why they have limited opening hours (check the website).
Le Wine Bar
As simple as the name says, 'the Wine Bar', which is a local favourite and one of ours too. They serve cheese and charcuterie boards and set up tables outside when it's the weather is sunny. The wine list is something to behold and has many great, back-vintage wines. 
Le Crypto
Great Bistro that are the ex-chefs from Les Crayeres. Go there, have a meal and enjoy each other's company.
Au Bon Manger
This is definitely one of our favourite places and it's all about locally sourced goods served with a smile and lovely staff.
The Glue Pot
This is a pub with good grub and a very respectable wine list. This is for more of a casual, relaxed evening. They also serve a mean Guinness just in case you need to reset your palate.
Le Clos
Quite simply, a no frills style wine bar, with a simple selection by the glass and more extensive by the bottle. In the evenings, the kitchen churns out tapas-style dishes that are great with a glass of champagne.
Sacre Bistro (Epernay)
From the owners of Sacre Burger, this was only launched early 2018 and has been a very successful venture. Designed by Planda Architects, this is sleek, modern and refined. This is definitely geared towards the younger, more discerning diner.
Chocolatier Emmanuel Briet (Epernay)
If you are a chocolate lover, you must go to this place. Take in the aroma, experience the hand-made chocolates and let your nose guide you. There are no wrong choices here, none. 
PLACES TO BUY CHAMPAGNE
Les Caves du Forum
An impressive and wondrous little cellar, that descends into two levels. Everything from the modern European wines with spirits and rare wines on the first level to the second level, which is entirely devoted to champagne. You will find magnums, back vintages, limited releases and all the latest young winemakers with the freshest releases. It's like being in a New York Record shop, going through the best vinyl except in Champagne with champagne.
Au Bon Manger
As well as having an afternoon nibble, they have a pretty decent selection of mostly organic, biodynamic and natural grower champagnes from more obscure parts of champagne. You will be excited, you will get giddy and you won't know what to buy! All of this is fine, just tell the lovely owners Aline and Eric what you like and they will guide you. 
Club de Tresors
Translated as "The Treasure Club" this is devoted to the growers that are part of this group. Their magnificent tasting room and wine shop is right in the heart of Reims. 
Le 520
In Epernay now let's start by saying that the name refers to the number of champagnes owner, Pierre-Yves Cainjo started with. He now has some 700 different champagnes to choose from with a great range of Grand Marque to Grower and everything in between. If you think you were overwhelmed in Reims, this is next level. Spend your time, go through the magnum section, pick one and buy something you've always wanted to try and enjoy it. Life is about these moments.
CULTURE AND SIGHTS
Visit a Gallo-Roman 'Crayeres' at 1 of the 5 cellars in Reims.
A trip to champagne without seeing a 'Crayeres' - a subterranean cellar carved out of chalk, it would be like going to Egypt and not seeing the Pyramids. Apart from it's structural beauty and natural cellar-like conditions (sat at a cool 11 degrees all year round), it is an instrumental part of the history of champagne. No spoilers here, we will let you discover what that is. A good option would be the Crayeres at Pommery, which boats a beautiful contemporary art exhibition throughout the Caves. Allow an hour or slightly longer depending on how fast you walk and be prepared for lots of stairs and cool temperature. Rug up and wear comfortable shoes, no heels please.
Notre Dame
A trip to Reims isn't complete until you visit the Architectural-Gothic marvel that is the 'Notre Dame'. Since 987, it is where France held it's coronation of its Kings for hundreds of years and champagne wine (as the wines of the region were still back then) was used at the ceremonies. Engraved on the Eastern side of its walls are the names of the King's. The organ is another spectacle, which towers inside the 81 metre high structure.
Avenue de Champagne Epernay
This is like driving down Rodeo Drive in Hollywood or Kings Road, Chelsea in London. It is the biggest and grandest of champagne houses and definitely worth a look. 
Perching Bar
For a more relaxed pace and to reflect on your champagne adventures, head out to the Verzy Forest to a wine bar aptly named 'Perching Bar – a champagne experience in the trees', and take in the magnificent rolling vineyards over Montagne de Reims. They are open Friday-Sunday 12-8pm and visits are by appointment only. Definitely well worth the visit and only a 15-minute drive from Reims.
Visit the quaint town of Hautvillers and the Tomb of Dom Perignon
Amongst the UNESCO world heritage sites for champagne, the hillsides of Hautvillers are considered part of it and rightly so. Before walking into the village itself, have a look at the vineyards that have produced wine for some 400 years. Once you've soaked this in and some Sun hopefully, have a walk around and gaze at the small-winding cobbled roads, mélange of homes throughout the streets and of course the locals, who are always somewhat bemused when they hear an Aussie accent. Also if you need a top up, pop into the little Wine Bar 'Au 36', which serves lovely local food and of course champagne arranged in order of aroma. Lastly, you can pay a visit to the famous Monk, Dom Perignon at the Abbey of Hautvillers.
CHAMPAGNE HOUSES TO VISIT
Here are a few of our favourite houses that we suggest you visit if you can. Please note that you must contact them in advance and let them know when you and your guests will be arriving. Try to do this at least 3-4 weeks in advance to give them plenty of notice. They greatly appreciate a little French and buying a few bottles won't hurt either!
Geoffroy
in Aÿ – Usually reserved for the wine professional, however winemaker Jean-Baptiste is friendly and welcoming. Their focus is mostly pinot noir and meunier from the surrounding vineyards of Cumieres and Aÿ. We love their Volupte, Expression and Blanc de Rose. 
AR Lenoble
In Damery – Run by brother sister duo Anne and Antoine with their hospitable export manager Christian Holthausen, this domain is right at the forefront of winemaking, making the best examples from their Grand Cru sites in Chouilly, Premier Cru sites in Bisseuil and excellent meunier from Damery. We are fans of the Cuvée Intense, Blanc de Noirs and their single vineyard 'Les Aventures' based in Chouilly coming from multiple vintages
De Sousa
In Avize – This lovely family is based in the Grand village of Avize. Erick De Sousa is known for making bold, rich champagnes that are farmed Biodynamically. He has some of the best sites in Les Mesnil Sur Oger, Aÿ, Ambonnay, Cramant, Chouilly and of course Avize. Our favourites here are the tropically scented 'Tradition', oak-driven and old-vine powerhouse 'Mycorhize', savoury-mineral '3A' and their incredibly rich and juicy 'Cuvee des Caudalies' Rosé.