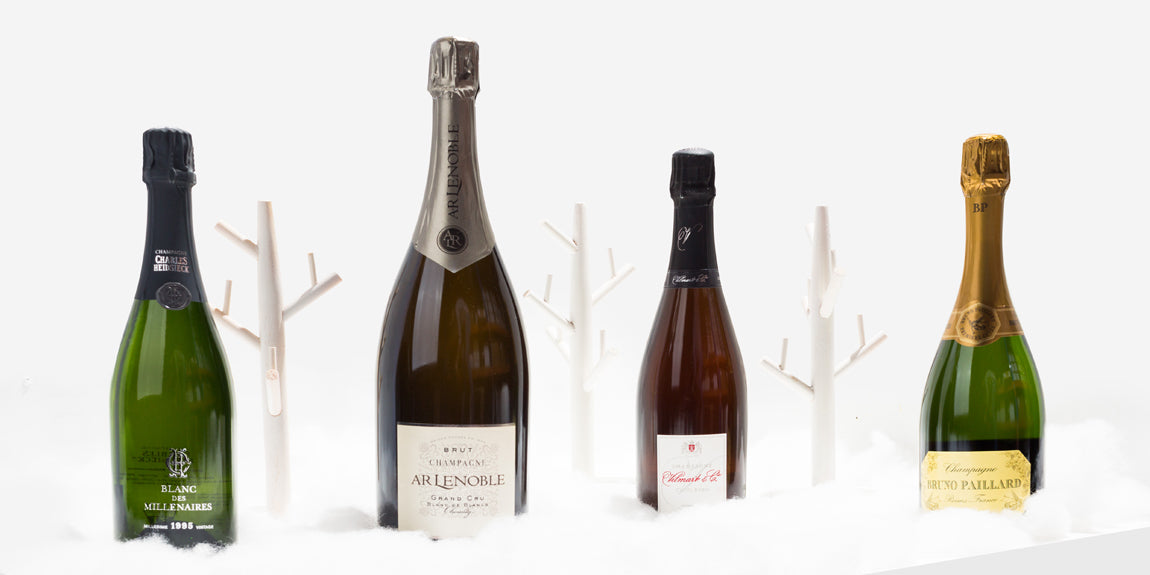 A champagne lover does not pack up ones bat and bottle and disappear for the winter.  A true connoisseur moves from fresh, light and elegant champagne styles to those which are more rich, round and luscious. If you are new to the champagne game and want to learn how to partner champagnes with heartier cuisine and cooler nights in the winter then you have come to the right place.
Emperor has over 160 different champagnes that have all been vetted in quality by our sommelier panel (I bet you wish you were on that little 'research' team?!). There are numerous different champagne styles and different tools available to the winemaker to create his cuvee of choice. Some champagnes focus on freshness and elegance and other champagnes and champagne houses craft wines with volume, body and power.
Here are our top 5 Champagne Styles to Look for which add body to champagne:
1. Adding Extra or Older Reserve Wines
Champagne is unique in the wine world with central idea of crafting the wine being very much centered on the art of blending. We blend not only across three different grape varietals which bring a certain characteristic to the cuvée but the champenois also blend across harvests adding in a portion of previous year's harvests to add more consistency and complexity to the current year's champagne.
How much reserve wine and indeed how old the reserve wines are, will influence the amount of body and complexity the champagne draws from these still wines stored from yester-years. Some champagne houses such as Charles Heidsieck and Bruno Paillard have carefully stored reserve wines of up to 20 years in age which adds considerable weight, texture and richness to new release non vintage champagnes.
Try: Charles Heidsick, DeHours & Fils, Bruno Paillard
2. The Magic of Magnum
Any winemaker or connoisseur of champagne's metaphoric tail starts to wag when a mighty magnum is presented for service. Its not the double of volume of wine that is exciting, it's the magic of what has happened in the bottle when wine is aged under magnum. A Magnum is double a standard 750 ml bottle at 1.5 litres of champagne. All of this liquid gold is sealed into the bottle with a cork which is a natural and porus material. The wine being alive will slowly breath in the oxygen through this cork over time and will subsequently and slowly oxidise with the air ingress. When we have double the volume to air under the cork which have a lower wine to air ratio and the oxidation and deterioration of the wine slows down.  Wine makers will purposely age magnums for longer periods of time in their cellar giving them more time on lees gaining a superior amount of toasty complexity compared to a 750 ml.
Many champenois believe that the magnum is the perfect sized vessel for ageing champagne in. One house in particular, the mighty house of Bollinger believe in the magnum so vehemently that they age many of their base wines in magnum then blend them back into their 750 ml bottles, a painstaking and laborious job which adds a unmistakable body and luxuriance to these champagnes.
Try: AR Lenoble, Andre Jacquart, Billecart Salmon
3. Pinot Noir Dominance
There are three grapes that are grown most commonly within the champagne region; Chardonnay (white grape) being the lightest in body, Pinot Noir (red grape) offering up structure and power and Meunier (Red Grape) providing lifted aromatics, spice and perfume to a youthful champagne.
Pinot Noir gives the champagne power, structure, body and a lovely round profile on the palate. Certain sub-regions of champagne grow Pinot noirs of particular power that provide juicy red fruit to the cuvee. A pinot dominate or 100% pinot noir base (a blanc de noirs) make for wonderful winter wines – white in colour but lovely red, jubey fruits abound.
Try: Veuve Clicquot, Hure Freres, Dehours & Fils, Vilmart & Cie
4. Barrel Ageing
Back in the early days of wine making before the industrial revolution, oak barrel was the only vessel available for the primary fermentation and also for aging of reserve wines. The advent of stainless steel tanks in the 1950s saw most producers of champagne abandon the use of barrel which was harder to clean, smaller in size hence limiting production and harder to regulate the temperature of.
However, a handful of noteworthy producers never stopped using oak barrels and today more and more producers are going back to the partial use of oak barrel to add some texture, softness and approachability to their cuvees. Champagnes that age in barrel have access to oxygen, breathing through the pours of the barrel which slightly oxidises the wine allowing it to open out and not be so driven and uptight. The wine will also be interacting with the fibers of the timber and will show aromas of vanilla, caramel and spice – a perfect winter partner to a more hearty meal.
Contrary to what one might assume a Champagne maker is not looking for a strong influence of oak in his or her wine. Rather the allure of the barrel is the micro-oxygenation they allow between the wine in the barrel and the air outside. The result is a richer, softer texture in the wine and a magnification of its existing character.
Try: Alfred Gratien, Henri Giraud, Bereche et Fils, Flavian Nowak
5. Vintage and Extended Cellaring
Vintage champagnes are only released in great years and are generally aged for an extended period of time in the wine makers cellars. The longer the champagne spends in the wine makers cellar biding its time in peace the more complex the champagne will become. Whilst the champagne is in the wine maker's cellar it has that magic yeast in the bottle which has been injected into the bottle to trigger the all-important secondary fermentation. This yeast not only acts like a life support system keeping the wine alive but its slowly breaking down and imparting richer, more complex aromas in the champagne.
Champagnes that age for extended periods of time in the champenoirs cellar will offer up a cacophony of aromas and layers – look for champagnes aged 7 years or more.
Try: Charles Heidsieck, Henriot, Frerejean Freres, Egly Ouriet
Explore our full selection of Winter Champagnes HERE.