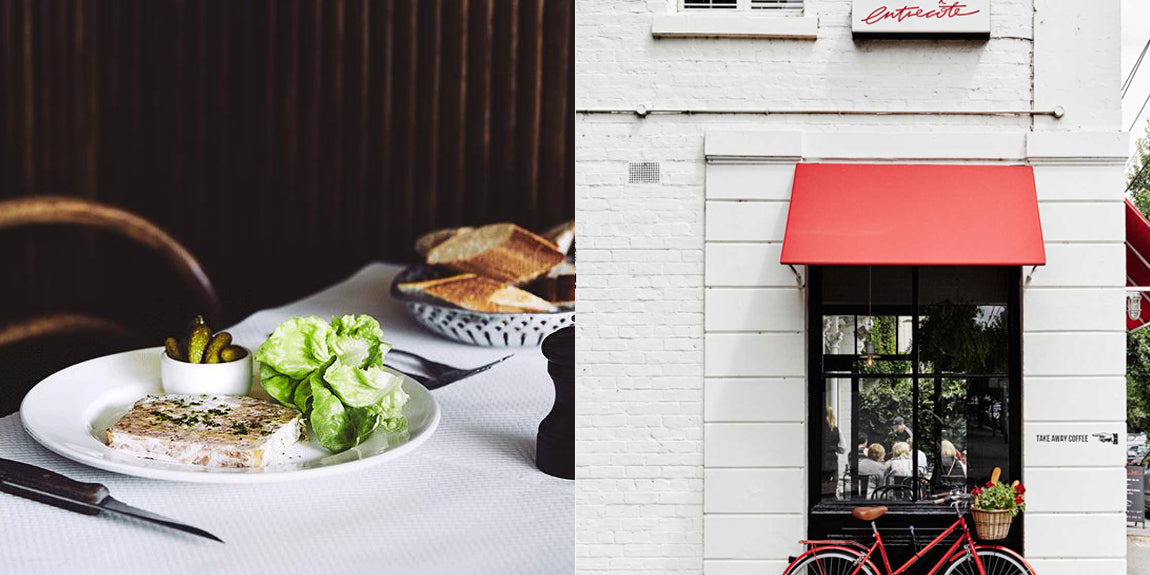 We owe a lot of our culinary terms to the French. Chefs, sommeliers and maître d's? All français.
Almost every chef started off training in classical French cooking, and for good reason: Gallic gastronomic techniques are the cornerstone of modern cookery.
Buttered steaks, foie gras, and of course, champagne, French cuisine is arguably the most mouth-watering and luxurious of all. Transport yourself to the laneways of Paris or the vineyards of Burgundy with our guide to the best French restaurants in Australia.
VICTORIA
France Soir
Full most nights, busy over lunch and a de rigeur dinner spot in certain local circles; bustling, noisy France-Soir has the panache of a Parisian bistro. Wins are celebrated, deals done and rock stars come and go. In this tiny Melbourne restaurant, it's as much about expert service and casual bonhomie from theatrical, French speaking waiters who deftly weave around close-set tables, as it is about the carte that's changed little over 32 years.
Entrecôte
Located in South Yarra on the fringe of the Royal Botanic Gardens, Jason McLaren Jones' Entrecote is an approachable, unstuffy bistro scattered with vintage light fittings, potted plants and burgundy velvet banquettes.
Entrecôte takes a nod from the very original Le Relais De L'Entrecôte - the famous one-dish Steakhouse that opened in 1959 in Porte-Maillot, Paris.
Entrecôte's signature 'Steak Frites' Cape Grim pasture fed Porterhouse, chargrilled and doused in the secret 'sauce au beurre et aux herbes' with bottomless frites and a petite 'friendly' salad for which the Maison has become renowned for.
Jones' Entrecôte works so well, he's replicated the South Yarra concept in the CBD. 
Bistro Thierry
Bistro Thierry was created with a single purpose: to give customers a chance to experience all the ambience, warmth and hospitality of a bistro in Lyon or Paris in Melbourne's suburb of Hawksburn. From its striped black and white awning to the guillotine style bread board awaiting diners at the bar, the décor and lively atmosphere are unmistakably Gallic.
The restaurant was never intended to be a culinary museum. Thierry Cornevin together with Chef Frederic Naud regularly return to France to bring back the latest ideas and techniques in modern French cuisine. This is reflected in more adventurous developments in the daily specials on the blackboard. However, the bistro has built its reputation on the consistently high standards of the entire menu from the foie gras entree to exquisitely simple but perfect le steak frites to the selection of fine French cheeses.
Philippe
Philippe Mouchel is a chef of many talents, a man of many countries, and a strong candidate for Melbourne's favourite French chef.
His latest venture in Melbourne's CBD is a new restaurant and wine bar eponymously titled, PHILIPPE. It showcases traditional yet innovative French cooking that employs high quality seasonal produce and serves refined dishes.
Philippe's clear vision for the restaurant shines through in the well crafted menu. He states, "As a French-trained chef, my cuisine is served with sauces and jus. I want the dishes to be gourmand, generous and affordable".
In true nouveau bistro style, diners are welcomed to the space by a stunning zinc bar. The central rotisserie and charcoal oven are the stars of the kitchen with fish on the bone, roast chicken, meats and vegetables featured as signature dishes.
NEW SOUTH WALES
Molines
You could be forgiven for calling Robert Molines the godfather of Hunter Valley dining. Molines creates sophisticated yet rustic French Provincal dishes for his everchanging menu and continues to amaze with his culinary genius that attracts people from the world over to his little piece of paradise. Robert's menu doesn't stray far from his French roots. You can take le français out of la France but you can never take la France out of le français. And this is never more evident than when Robert prepares the dishes of his native Provence or shows off his passions. Awarded a Sydney Morning Herald Good Guide Chefs Hat consecutively since 2010, Bistro Molines combines the finest food with relaxed friendly service and French influenced serenity.
Hubert
From the masterminds behind Sydney hot-spots Frankie's Pizza, Shady Pines Saloon and The Baxter in, Hubert is an alluring underground parlour reflecting the ambience postwar France.
The philosophy of Hubert is that a fine restaurant is as much about the ambience, good conversation and laughter, as it is the quality of the wine and food. This is reflected by the space's warmth, soft lighting and abundant flow of champagne.
Seven rooms include two bars, dining rooms and a somewhat unexpected old-school theatre, used for talks and masterclasses.
Each room offers slightly different cuisune but expect updated French classics such as terrine, parfait, cassoulet and crème caramel. Head chef Dan Pepperell was inspired by cookbooks such as the 1914 Le Répertoire de la Cuisine.
 
Bistro Moncur
Bistro Moncur French Restaurant is an institution that first opened its doors 25 years ago in Woollahra. Since then, Bistro Moncur has launched a stunning glasshouse in the beautiful leafy suburb of Mosman and have welcomed the addition of Bar Moncur, the perfect spot for post dinner cocktails.
Across both restaurants, Bistro Moncur offers a perennially consistent French bistro menu alongside daily specials which showcase the best of Australia's seasonal produce. To enhance the dining experience, an award winning list of predominantly Australian and French wines has been curated by master of wine, Ned Goodwin.
The experience is classic, sophisticated but humble all the same.
QUEENSLAND
Moutrechet

Montrachet has been delighting guests since 2003, and now with Chef Shannon Kellam and Manager Clare Wallace at the helm, the tradition that was created by Thierry and Carol Galichet is continuing. Montrachet was formerly located in Paddington, and is now enjoying the new King Street precinct, in Bowen Hills. Since moving to Queensland, Moutrechet has become a critically acclaimed institution.
Montrachet's cuisine is approached with a mindset of bringing together the discipline of French gastronomic cooking and showcasing technique with the best produce, most of which is local along with specific lines from acclaimed producers from around our vast country. 
French cooking has evolved immensely in time and continues to do so, this is an aspect shown in the recipes of Montrachet. Whilst we maintain a collection of traditional Montrachet recipes which are rich and decadent, they also bring to the forefront the lighter approach and well balanced meals with great technique and innovation while upholding Montrachet standards of value for money and an honest meal.
Madame Rouge

"Just when you thought Fortitude Valley had become too hip for its own good, along comes Madame Rouge, ­serving French bistro fare with its heart in another age. An unkind observer might dismiss it as a themed restaurant. In truth it is. But it has truckloads of atmosphere and competent cooking, so what's wrong with that? If restaurants were people, ­Madame Rouge would be a can-can girl cartwheeling across the stage like a ­dancer in a smoky Montmartre club immortalised in the paintings of Henri de Toulouse-Lautrec.
Madame Rouge is a sultry dame with dark red carpets and curtains. In a corner, beyond the marble bar, we squeezed into a half-moon banquette and enjoyed the theatre of it all. The room was filled with jazz and Latin rhythms. Hot wax dripped from the candles into a silver tray on our table just as Peggy Lee broke into Fever." -Des Houghton
SOUTH AUSTRALIA
Cliché
Cliché is part art gallery, part boulangerie, and mostly restaurant. It delivers French cuisine in a warm, tongue-in-cheek setting. 
The Wonderful Winkler Gallery blurs the line between gallery, restaurant & bar. Together these elements act as one and in doing so offer a new and unique vehicle for contemporary art. Our first exhibition, Cliché, features 24 local artists that explore the French narrative and Gallic peculiarities whilst a team of kooky chefs, cocktail makers and DJ artists further explore this tale and offer an insight into the extraordinary and magnificent world of the French.
The menu includes classics such as beer tartare; confit duck with ratatouille; and escargot with garlic, butter, white wine and parsley. Steaks are also a drawcard thanks to the big charcoal grill in the kitchen.
WESTERN AUSTRALIA
Bistro Guilaume
Inspired by the most popular neighbourhood bistros of Paris, Bistro Guillaume Perth offers a menu abundant
with French classics and modern, French provincial surroundings with spectacular outdoor views.
Drawing upon Western Australian's renowned climate and open space, Bistro Guillaume Perth features a fresh colour palette and a stunning indoor / outdoor setting overlooking the beautiful resort-style pool below. The dining room is luxe whilst exuding a relaxed holiday feel, encouraging diners to linger long into their day or night whilst enjoying acclaimed chef Guillaume Brahimi's beautiful bistro cuisine. A combination of seating styles offers spaces for both intimate and group dining.
This is the second Bistro Guillaume to open its doors, with Guillaume's original restaurant at Crown Melbourne. Both the Melbourne and Western Australian venues are critically acclaimed.