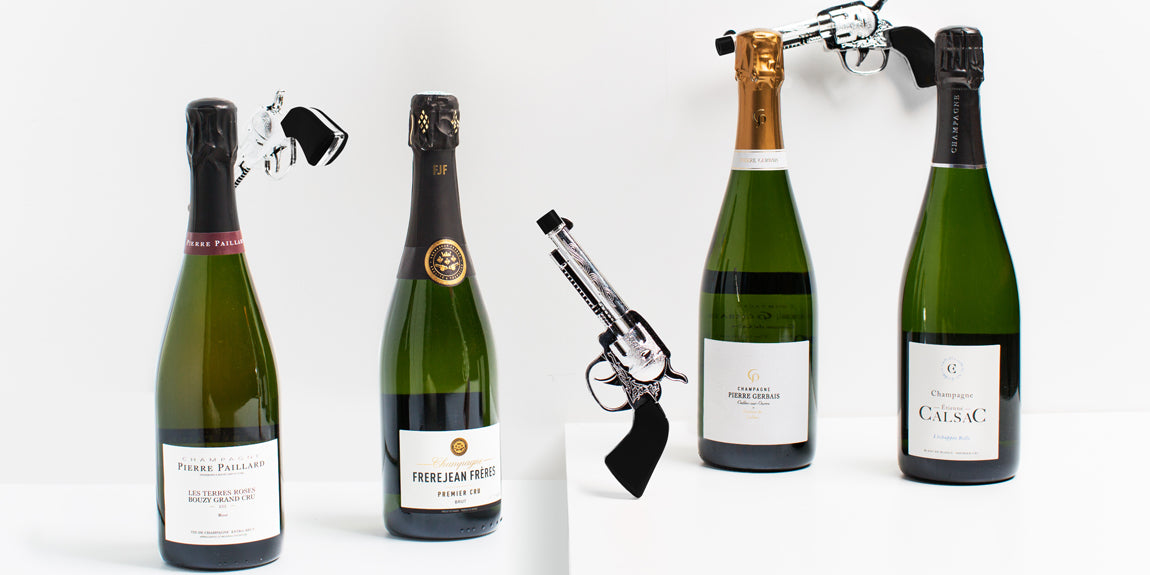 This is a hugely exciting topic in champagne and we are thrilled to be presenting our ideas on this. Let's start with the definition of a 'Young Gun' and how we chose the winemakers featured.  The simplest explanation of a 'Young Gun' is a family member that has succeeded the previous generation of grower and is next in line to manage and run the vineyard and winery operations. However, we think there's more to it than that.
We feel that the combination of travel of overseas study and work, with our infinite means of digital communication, has fast-tracked the rise of the champagne young gun. It has certainly given them a voice where once there was none.
Our choices are;
Antoine & Quentin Paillard from Pierre Paillard,
Rodolphe, Guillaume and Richard Frerejean from Frerejean Freres,
Aurelien Gerbais from Pierre Gerbais 
Etienne Calsac from the Etienne Calsac estate.
Pierre Paillard
Antoine & Quentin represent eighth generation champagne growers with the name paying homage to their grandfather. Based in in the Grand Cru Village of Bouzy, they are carving out some of the best wines in the area. Some of the most effective ideas that they have put into play are:
Clean, modern and informative labeling
Move towards riper grapes and extra brut or low dosage
Managing their vineyards organically
Discover Pierre Paillard
Frerejean Freres
The brothers Frerejean are an emerging new house based in the Grand Cru Village of Avize. Their ancestors used to sell canons to the Napoleon during the First World War, hence the Cannons emblazoned on their label.
When Emperor Champagne visited them in April 2018, they were quite literally building their champagne production facilities and creating the hallmarks of a prestigious champagne house. They own and run a boutique liquor business that stretches to the UK, US, Australia and surrounding European cities and their luxury champagne brand is an excellent addition to the portfolio.
This is one of our most exciting new houses to watch. They have been working away for the last 10 years at making excellent champagne with extended ageing.  
Their contributions are;
To establish, design and build a champagne from scratch
Manage all the vineyard holdings and farms towards organic methods
Use only the best fruit sources and extended cellar ageing 
Discover Frerejean Freres
Pierre Gerbais
The quietly confident Aurelien, has worked alongside his father Pascal Gerbais since 2009, so it is fair to say that he has had time to develop his own style and add his signature to the wines. We have followed Aurelien for the last 6-7 years watching his style mature and each year the wines keep getting better. Aurelien's contribution was to;
Respect the tradition of the house yet incorporate modern practices
Studied in Burgundy and has added more of a Burgundian approach to the wines. He considers his champagne to be wines more so than champagne.
Uses Pinot Blanc and other forgotten varietals in his blends. 'Grain de Celles' is a prime example.
Discover Pierre Gerbais
Etienne Calsac
Etienne is the most recent addition to the young gun crew and in a short time; he has certainly made an impact. He took over from his grandfather in 2010 and inherited 2.8 hectares of vineyards in Grauves (near Avize) and Bisseuil. His approach was to manage these sites organically to improve the health of the soil and fruit quality. By doing so he is creating earthy, juicy and mineral-driven styles of champagne that are served in some of the best restaurants in across New York, Paris, London and in Australia. His vision is to:
Create his own brand from scratch
Develop clean, modern and informative back labels showing the production details.
Moving towards zero dosage and extra brut for all wines.
Discover Etienne Calsac
One of the biggest changes of the Young Gun, is getting to travel a lot more than their parents did. They are studying and working in different winemaking countries in new world as well as the wine mecca – Burgundy. They are exposed to lands and people that enrich their cultural perspective of the world and in that, discover what people (like you and us) are actually looking for. They arrive back home with a newfound energy and willingness to implement these experiences into their family label.
The new generation respects the traditions of the past whilst putting their own stamp to it. They are doing this with a passion and enthusiasm that we have not seen before – they don't feel the burden of tradition like their fathers did but they see a big world of opportunity. We are seeing extraordinary, precise, experimental and daring champagnes come from the region.
What an exciting time to be exploring and producing champagne.