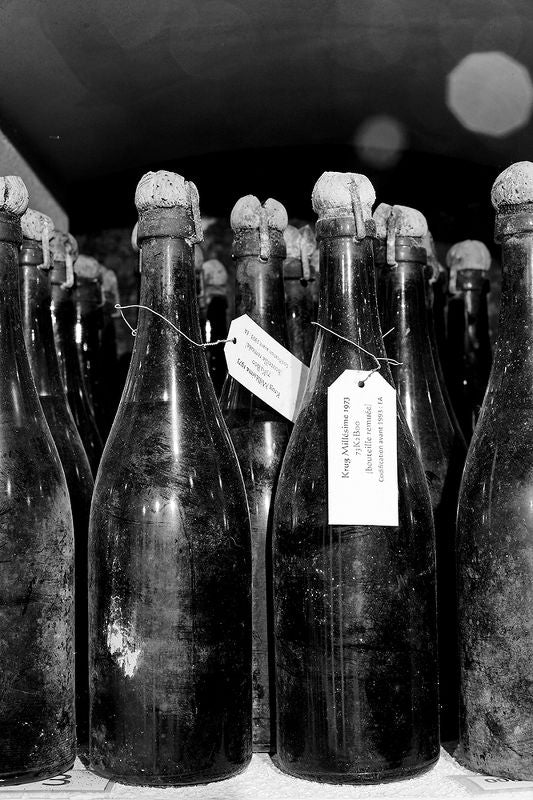 This month we turn our attention to producers who age their champagne under cork instead of a crown seal and look at what this choice in the cellar makes. It is not often you find winemakers who do this, as it is a costly and labour intensive method that is often reserved for more prestige cuvee's or for producers that are doing a trial or experiment to see this development over time. Indeed, the Maison of Ruinart, Pierre Peters have done and are doing trials and Champagne Geoffroy has reserved this method for his top vintage cuvee 'For Alizée'.
We wanted to understand the 'why' of making champagne this way and how this impacts the flavours and ageing potential. Finding them was not easy, but it was rewarding. I was inspired by the first house Bérèche et Fils who do this across all their wines which is a huge undertaking and the results of speak for themselves. The wines are luminous, creamy, textured, rich and filled with minerality and expressive of origin. The ageing under cork is a small but integral part of what they do and it adds to the finished product with a slow ingress of oxygen.
The second producer is Vincent Charlot from Charlot-Tanneux. He is as expressive and organic and natural in his approach to his wines as they come. We feature his 2008 vintage Blanc de blancs 'Cuvée Elia' which invites thought and would partner well with food. This is full of texture and energy of the vintage that demands food.