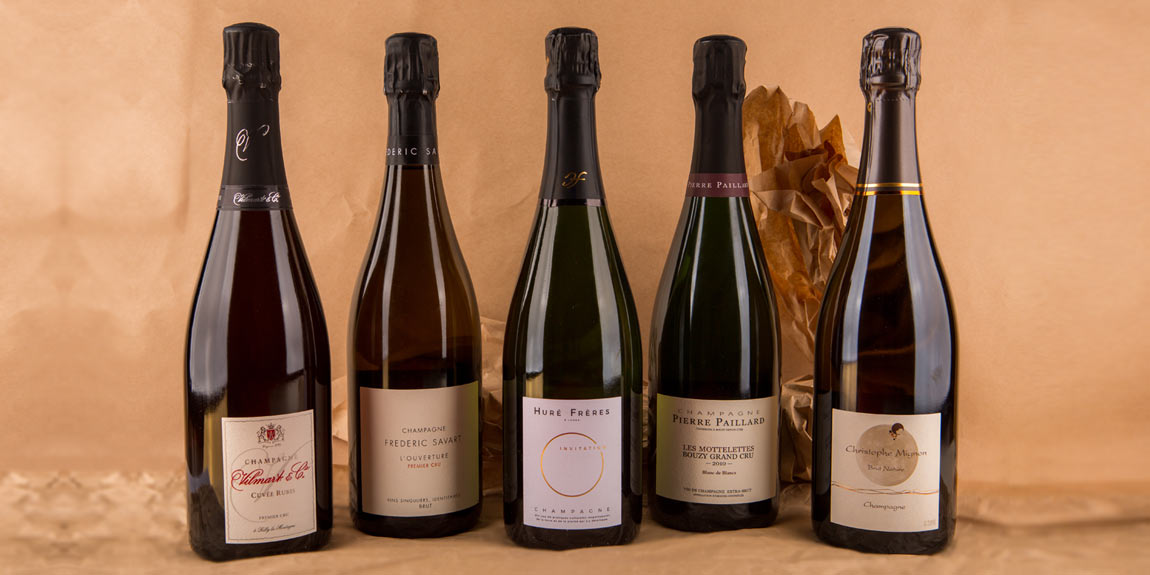 Almost 10 years ago, a group of pioneering champagne growers got together to create a group by the name of 'Artisans du Champagne'. The purpose is to not only showcase their wines, but convey their beliefs and philosophies.
On the 18th March 2018, Kyla Kirkpatrick will be showcasing 7 of the 17 producers that make up the entire group at the Melbourne Food and Wine Festival.
This provides us with a great opportunity to talk a bit more in depth about what makes these individuals so talented and their wines fascinating.
Our first Artisan is the house of Alfred Gratien that was established in Epernay in 1864. At the helm is Chef de Caves - Nicolas Jaeger who is a part of the lineage of Jaeger's producing wine for the last 100 years. The craftsmanship involved in their winemaking is quite traditional with small oak barrels playing a pivotal role in the Alfred Gratien style. The cellars house some 1000 small 225-litre barrels where the musts become wines and spend up to 6 months gathering complexity prior to blending and secondary fermentation. Jaeger explains "Craft for us is the art of dealing with nature, to shape a different material every year by the hand of man, and to reveal it through our know-how."We are excited to introduce you to the wonderful world of Alfred Gratien.
Next in line is the gifted and patient Artisan Christophe Mignon. He is based in the hamlet of Les-Mesnil-le-Huttier that is some 21 kilometres west of Epernay. Mignon comes from a family of farmers and it was his great grand parents who planted the 6.3-hectare vineyard he has today.  This section of champagne is along the Marne Valley and is well known for its pinot meunier that is particularly suited to the deep with clay and chalk soils. Mignon is a master of Meunier and he believes that nature is like a kaleidoscope, constantly offering changes and presents new challenges. This is why he has a unique farming method and uses a combination of organic, biodynamic and phytotherapy (the use of plant-derived medications in the treatment and prevention of disease) to achieve ripe and healthy fruit. As such, his wines are 'brut nature' for the best part and he is not into using sulphur in the finished article either. His words are "As an artisan vintner, I do not reproduce a universal recipe. I develop, as and when, adapting and exchanging each day with the soil, the plant and the cycles of the seasons. I observe ... I am present ... I am patient: a keen eye ... an exerted hand and a wise mind are my tools. My gesture is thoughtful, attentive and respectful." 
Frederic Savart is next up with a smallholding of just three hectares in the Premier Cru village of Eceuil and one in Villiers-aux-Noeuds with mainly pinot noir and a little chardonnay. He took over the reins from his father Daniel in 2005 and focused his efforts on the vineyards and soil using predominantly organic methods to improve vineyard health and consequently fruit quality. This is a similar adage to 'healthy body, healthy mind' you can't have one without the other. From here the wines took on a whole new lease on life, showing purity, clarity and being more expressive. Savart uses mostly stainless steel to preserve freshness however he has increased the use of small oak barrels, which introduces micro amounts of oxygen adding to the overall complexity. Savart says "A true Artisan is the author of his wine, he shapes it to his image to offer him all the facets of his personality, he knows the smallest details of his work. Each bottle bears the identity of the winemaker. It is a unique model of precision and passion that showcases his work and his vision of the terroir."
Huré Frères are brothers Pierre and Francois based in the town of Ludes in the Montagne de Reims. Francois took over the estate in 2008 after extensive travels to other winemaking regions of the world. He studied in Dijon and was besotted by the wines in Burgundy. From here he worked with Jean-Pierre Fleury, who is one of the pioneers of biodynamics in champagne and learnt to appreciate the importance of the lunar phases, preparations in the vineyard and how that influences champagne.  The Hurè brothers say, "We want to elaborate the identity of our champagne wines as they are a living reflection of their geological origin and climate. Each year is followed and is not the same, this is what fascinates us and drives us. To rely on our experience and our observations to better consider the future, the hand of the man is then essential." At Emperor we are fans of the brothers as they represent the new line of conscientious and committed artisans.
Arnaud Margaine is a fourth generation grower-producer and his family have vineyards in Villers Marmery. This town is considered somewhat of an oddity, as it is primarily a chardonnay village amidst a mountain of pinot noir. Why is this special? Well the chardonnay used by Margaine in Villers Marmery is specific to this area and cannot be found anywhere else in champagne. This immediately stands out as an identity that Arnaud wants to preserve which is present in the Margaine cuvées. His approach to making his champagne is to assess each year as it presents itself as opposed to a pre-determined recipe. Using a prescribed approach is restrictive to the true nature of the wine. He is a proponent of blocking malolactic fermentation, as he wants to preserve what he describes as 'fruit freshness' and not just acidity. Lastly, he says of being an Artisan "under the banner "Artisan of Champagne", the human value is predominant and it is the one that unites the group. On this base, there is also the passion of the terroir and the way everyone interprets it." We are excited to feature this wine in the Artisans line-up
Brothers Antoine and Quentin are the 8th generation family to the Pierre Paillard estate based in the Grand Cru terroir of Bouzy. Under the careful watch of father Pierre Paillard, the champagnes from this family owned estate are direct and straight from vine to wine. The Paillard family owns majority pinot noir and about forty per-cent chardonnay grapes, blending champagnes with predominantly pinot noir. With a staunchly organic and natural approach to their winemaking, these are connoisseur's wines and are strictly on allocation. Antoine and Quentin describe their view on being Artisanal producers, "Freedom, learning, questioning, exciting, exhilarating, outspoken, intimate, powerful, vibrant, alive, fragrant. These are all the sensations, the words, the ideas that define and make us Artisans day by day." 
The man behind Vilmart & Cie is the ever-gracious Laurent Champs. He is fifth generation grower-producer and his family's vineyards are based in Rilly-la-Montagne. His Artisanal qualities our outlined where he says "I need to make a wine that has something to tell. I am convinced that our craft is still craft in the face of the great industry of our modern world. To be the Artisan of a House, it is above all to put all his heart and his spirit to give a soul to his wine." Champs is part of the Ampelos organic movement and treats his vineyards with the upmost care and aims for ultra low yields to achieve true expression and energy to the wines. Lastly famous author and expert on champagne – Peter Liem describes Vilmart as "not only one of the greatest grower-estates in Champagne, but one of the finest champagne producers of any type in the region."
The team at Emperor and The Champagne Dame are truly excited to be bringing this exclusive show to champagne lovers.
For tickets to the show follow the link here and don't forget to invite a friend or family.