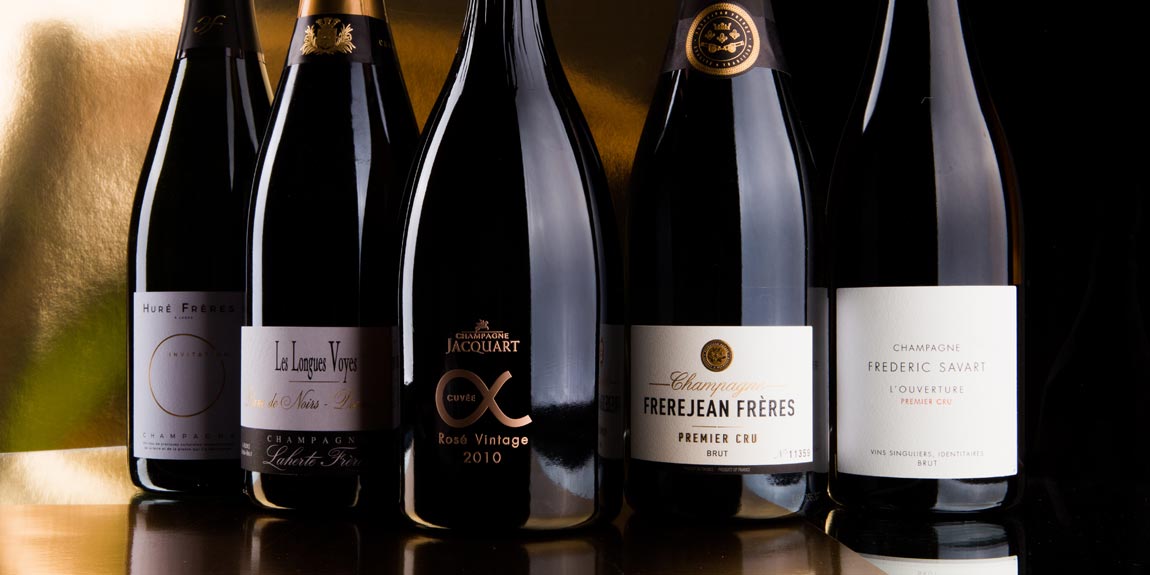 We are thrilled when new champagnes land on our shelves and this month we are excited to bring these fantastic producers to you.
First up we have brothers Francois and Pierre Huré, from Huré Frères and their wine Invitation, sourced from multiple villages that are Ludes and Ville-Dommange in the Montagne de Reims; Serzy and Prin and Vavray Le Grand in Vitriat. This combination of vineyards provides plenty of red fruit flavours and a juicy, approachable brut style at an affordable price point. The Huré brothers are part of the Artisans of Champagne that are a group of growers who have joined forces to promote their wines in a tasting in Champagne every year in April. They advocate the expression of their land and have an organic, sustainable or biodynamic approach in their vineyards and winemaking.
Next up are the all-new Frerejean Frères, note the use of term 'Frères' translating to 'brothers' in French. The brothers are Rodolphe, Richard and Guillaume and they represent the new bloodline of champagne royalty and are paving their way to an excellent line-up of superb quality champagnes primarily from the Grand Cru Village of Avize. The Premier Cru Brut NV is expressive and generous with lots of yellow fruits and warm toasty notes. There are currently three wines available in the country (all on Emperor) and in a recent discussion with CEO Rodolphe, he mentioned a few new exciting projects in the wings including a Rosé Vintage 2009 called 'Rosé Blossom', an 'Extra Brut Vintage 2006' and a very interesting 'La Cuvée VV26 Grand Cru' which is from their oldest vines in the Grand Cru regions of Cramant, Avize and Oger dating back to 1926.
Following on from this are two contrasting styles of Blanc de Noirs. One is from Laherte Frères based in Chavot, their wine is Les Longues Voyes, a 100% pinot noir made using biodynamic farming. If you love wines with intensity, perfume and finesse and aromas filled with dark fruits, blackcurrant and spice, spend up and try this.
At the other end of the flavour spectrum is the Frederic Savart  L'Ouverture Premier Cru filled with red apple, lime blossom, creamy notes and a flinty-mineral accent. Although Savart farms organically, he is not certified organic. He has a small land holding of just 4 hectares, three in Eceuil and one in Villiers-aux-Noeuds and like Hurè Fréres, Savart is a part of the Artisans du Champagne and is widely respected by his peers.
Last but not least is the up and coming champagne house Jacquart with their Prestige champagne offering 'Cuvee Alpha Rosé Vintage 2010'. Jacquart have access to over 1900 growers across champagne and select the very best parcels to craft their wines. They have done just this with the Alpha Rosé with a combination of Premier and Grand Cru villages going into this, including 16% addition of red wine from Vertus. The nose is filled with aromatic berries, pink grapefruit and a distinct mineral edge. The palate provides a wealth of flavour and persistence that delivers a salty-savoury profile amidst the moreish fruit and oak spice. The price is an even $200 and it deserves it for the efforts gone into making this a truly special prestige cuvée.