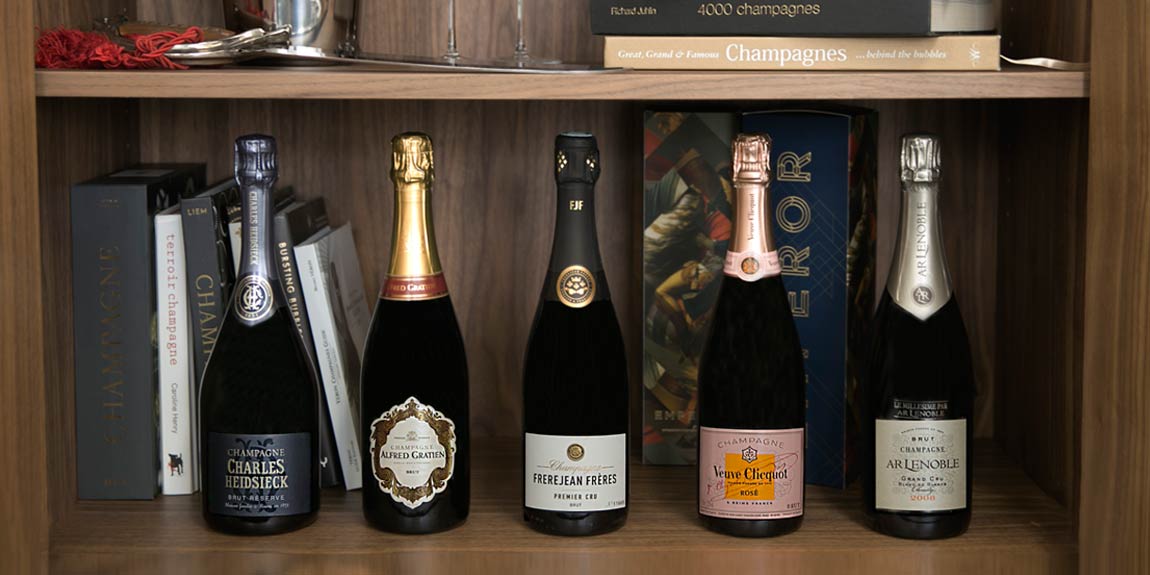 We love what we do at Emperor and we are always seeking new champagnes to bring to our champagne-loving community. So many of you have written in to us asking for advice or simply saying how much you enjoy the customer experience. When we first wrote the Emperor offering, we wanted a mix of everyday champagnes, mixed with artisanal producers and the downright extraordinary champagnes that take your brain into the stratosphere.
This week we present our 5 top-performing champagnes that our customers are enjoying. First in is Alfred Gratien Brut Classique, which has all the hallmarks of a great 'Brut Non-Vintage': consistent, well-made, some oak integration, 5 years on its lees and a blend of roughly all three varieties.
Next of your favourites is the Charles Heidsieck Brut Reserve, providing vintage quality and complexity at Brut Non-Vintage level. The average ageing in the cool dark Crayères cellars for the Brut Reserve is 8 years, with reserve wine being up to 25 years old. If you haven't found your champagne mojo yet, this wine will give you that 'a-ha!' moment. Trust us, we drink heaps of it.
Out of nowhere came the Frerejean Frerès family with the ultra-fresh and stylishly rich Premier Cru Brut. We have only recently listed this wine and included it in The Champagne Dame's line-up. The reception was unanimous and our sales reflected this. We love getting behind new brands and the Frerejean brothers have come to the party with this brilliant cuvée.
When one thinks of a champagne brand, none is stronger in presence than the imitable 'yellow label' by Madame Ponsardin-Clicquot. This famous colour was the very yellow that came from her favourite duck yolk and was her choice for the brand. We look at the Veuve Clicquot Brut Rosé which is identical to the yellow label in terms of what's inside, however with the addition of top-notch red wine from the Grand Cru region of Bouzy. The champagne takes on a whole new level and represents good value from juggernaut of Reims.
Last but not least is the AR Lenoble Blanc de blancs 2008 vintage from. They use 100% Grand Cru fruit from Chouilly backed up by a scintillating vintage, this offers resoundingly good value for what the wine is and our champagne-loving community have been getting in on this. It is filled with vibrant florals, bright orchard and citrus fruit and high-toned mineral expression. Sprinkle on a small amount oak and observe the fruit elevate to another level, conjuring almond and vanilla. We implore you to try this vintage champagne if you haven't already.
We are stocking up our shelves as this is being written and we are looking forward to fulfilling your orders.
N.B: As of 12th March, Emperor offers Next Day Delivery with StarTrack*
*Except weekends and public holidays. Please order on Thursdays by 1:30pm for Friday delivery. Any orders after this time will arrive on Monday.