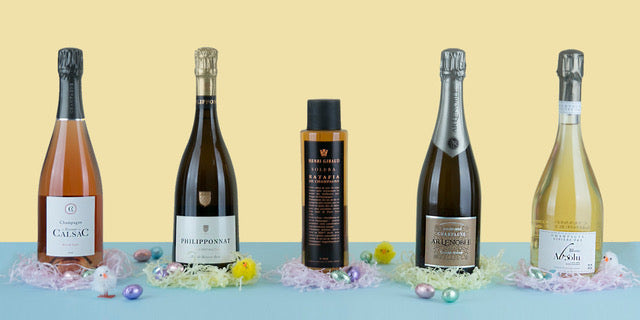 It is true that many of the great milestones of festivity during the year and holidays we now celebrate were once based on religion or moments of repent or humility. Many of these celebrations have been hijacked by big companies and commercialised. At Emperor we don't believe that you must necessarily observe the original religious intention of the celebration, but we do believe that you can still create your own traditions.   
In our busy lives we often don't see our extended family and friends as much as we should. We get caught up with our own immediate families and work responsibilities. This weeked for Easter we encourage you to slow things down, savor your family and friends and enjoy some beautiful home cooking with the best that mother nature has to offer in the wine world – of course a great bottle of champagne.
Why not choose a champagne that is going to partner right the way through your Easter Lunch or Dinner? We have some wonderful options at Emperor to choose from and we have highlighted our pairing favourites.
We also highly recommend choosing a bottle that you will celebrate with each and every year creating a tradition. Creating tradition is the responsibility that we should each take on to create new experiences to look forward too based on our own stories and paths. 
Possible Pairings for Easter Festivities:
F+R Miniere Absolu Blanc de Blancs  
This richer style of blanc de blancs is chardonnay that has been aged in oak barrel to offer some textural complexity. This is a Good Friday champagne that will make a great accompaniment to a fish that is either baked or grilled with fresh herbs and generous squeeze of fresh lemon. Oysters will marry up wonderfully too!
Philipponnat Brut Royale reserve 
Pinot dominant, powerful and deep, still with freshness and easy drinking style. Think spiced apple, lifted pineapple and some crème caramel notes. Serve with charcuterie, cheese and fresh fruit.
The name 'Rosé de Craie' translates to 'rosé of chalk' indicating a style to expect. Delicately aromatic with a slight herbal note surrounded by some cherry kernel. This rosé works well with red meats, such as seared lamb or beef. Alternatively, it would work equally as well with crayfish and lobster.
This cuvée glides onto the palate with stone fruits such as peach and apricot, sweet brioche and fresh almonds. An ideal accompaniment to pavlova, strawberries and cream, pastries or even panettone.
This copper-coloured liquid gold has notes of cocoa, cinnamon, orange peel, poached pear and cherries. Warming on the palate, with dried fruits and Christmas cake coming into play. Supple, smooth and heavenly, an ideal match with hot cross buns, easter eggs or alternatively good quality dark chocolate, with a toffee, caramel or coffee fondant centre.