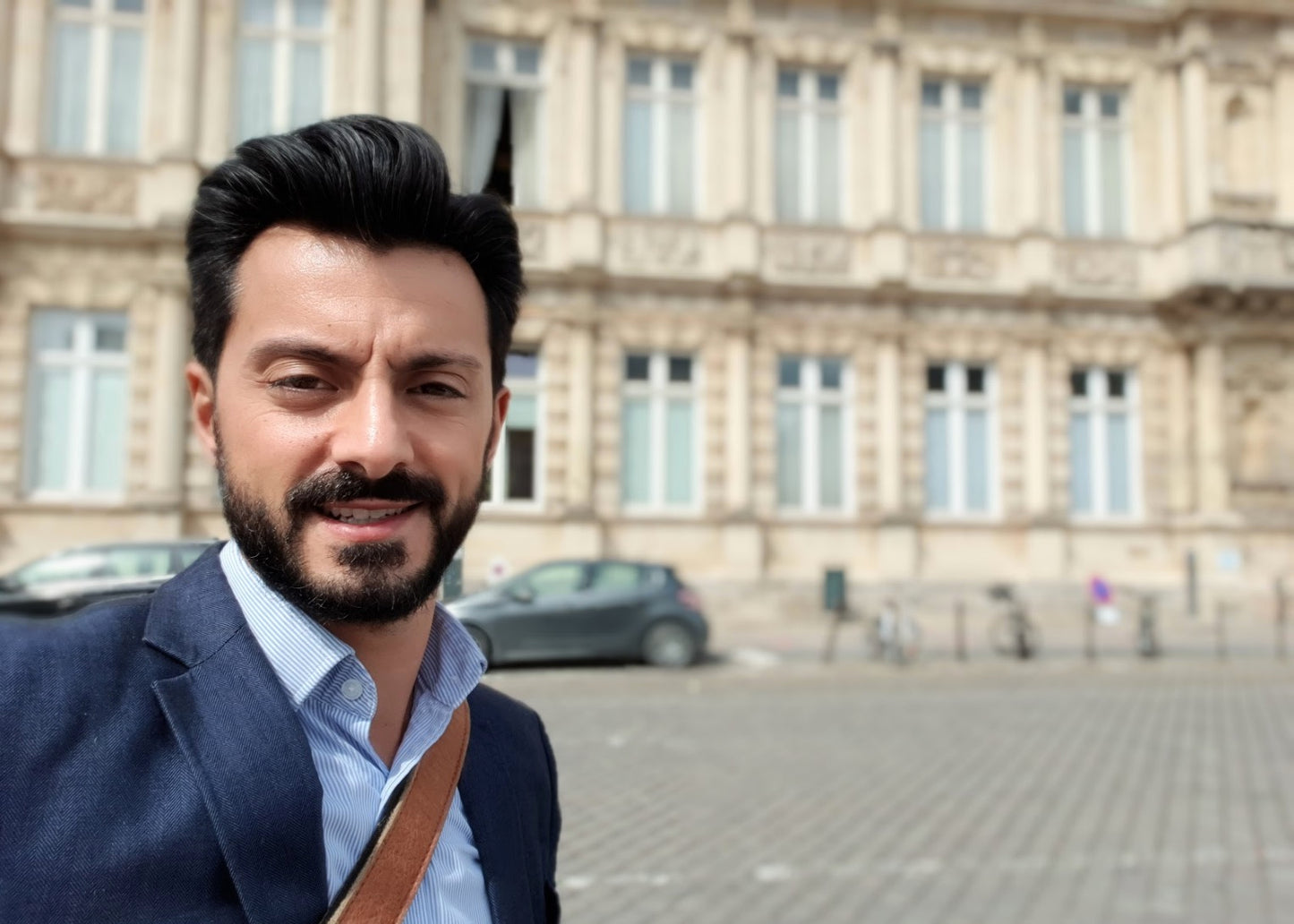 Introducing Kyri - Emperors' Sommelier 
Kyri is the other half of Emperors CEO Kyla Kirkpatrick. Kyri is a certified sommelier who studied winemaking in the UK and has worked as an assistant winemaker in England, Cyprus, New Zealand and Australia. His real skills are writing winelists, having created food pairings with restaurants in London and Melbourne, working for Jamie Oliver, Gordon Ramsay and Ben Shewry . Kyri's passion for wine was ignited by a bottle of Volnay given to him as a gift, he is a huge Francophile and loves the finer things in life. This is his account of the experiences in Champagne in April 2018.
My visit to champagne April 2018 – Printemps des Champagne
Have you ever been to Champagne? When people talk of, 'wine regions you must visit' Champagne ranks alongside Bordeaux, Burgundy, Piemonte & Tuscany (to name a few) as the best in the world and so it should, it's a stunning region.
During mid-April, when spring is just setting in, Champagne producers from across the region come together to collaborate for what is known as 'Printemps des Champagne' – 'The Spring of Champagne'. I had the pleasure of visiting Champagne at this very exciting time of the year. People from all of the world came to see their favourite producers and at one point it did seem like the growers were the rockstars, and we were the fans getting very giddy about having a chance to meet them, taste their champagne AND talk about their wines.
One Finnish lady walked away after meeting the dashing Alexandre Chartogne - wine maker at Chartogne-Taillet (pictured) and was literally beaming with joy as she had a chance to speak with the man that makes one of her favourite champagnes.
It was all a dream… 
Printemps des Champagne began in 2008 by a group of growers who named their gathering - 'Terre et Vins'. It was brought together by brothers Vincent and Raphael Bereche of Bereche et Fils to highlight champagne which has been made with care, conscientiousness and love. The group comprises of 23 growers in total and they celebrated their 10th Birthday whilst I was there.
You can view the complete 'Terre et Vins' producer list here.
The following year, Artisans du Champagne was founded in honour of Terres et Vins, which now has 16 producers. You can view the complete 'Artisans du Champagne producer list here.
In my opinion, Artisans du Champagne & Terres et Vins are the tastings that really got me going. It is rare to meet these guys and girls, let alone in one room. If you go to Champagne and I hope you do, make sure you try and get to these events.  
___________________________________________________________________________________
What's Champagne Week like? What to expect?

 
To give you an idea of what this champagne festival is like, it is very similar to what the Melbourne food and wine Festival does each year (if you have been). However, instead of having satellite food and wine experiences all over the city, they have satellite champagne tastings all across the region!
The focus is mainly in the capital Reims alongside Epernay with 24 official events and dozens of other related events throughout the week. This made for a dizzying array of choices so I had to be selective in where I went and what I tasted. In addition to Artisans du Champagne & Terre et Vins I managed to get to Bulles Bio (Organic & Biodynamic) and Mains du Terroir (Hands of Terroir) equally as exciting but with a different mix of growers, families and producers. View the links to the videos below.
Hands of Terroir at Reims Town Hall
What's a Vin Clair?

 
On show at the tastings were each producers still wines or 'Vin Clair', which is a snapshot of the previous years harvest. The purpose of this is to give you an insight into what each parcel or vineyard produced, be it pinot noir from their parcel in Ambonnay or chardonnay from their hillside in Avize for example.
One of the most interesting visits was to the house we import – AR Lenoble for the Vin Clair tasting. Winemaker Antoine Malassagne (pictured) decided to make their reserve wine in magnum and age it for 4 years prior to blending this into the 2014 harvest. This approach was taken as certain areas in Champagne are experiencing a gradual decline in acidity, which directly affects the freshness of the wines made. This is true as a lot if the Vin Clairs that I tasted this year were actually quite pleasant and easy drinking which shouldn't be the case. They should be sharp, acidic wines that retain the freshness in the finished champagne for many years.
Below: Winemaker Benoit Déhu holds a bottle of his single vineyard pinot noir vinified and fermented in oak barrels
What fascinated me was to see what these wines look like prior to being blended. They are very tart, acidic and are 'pieces of the puzzle' that are skilfully blended by the winemaker, before being sent into the cellar for the secondary fermentation.
Where I spent my money on champagne
My week was filled with tastings, vineyard visits and of course drinking lots of champagne after hours. Reims is where I stayed and they have a good selection of bars notably – 'The Glue Pot' and 'Le Clos' as well 'Le Wine Bar', which was where everyone went to after the tastings and the gorgeous 'Au Bon Manger'.
Yuri is a wine writer based in San Francisco. We shared a bottle of David Leclapart L"Astre Rose
Au Bon Manger has a focused list of amazing organic and biodynamic growers (think Leclerc Briant, David Leclapart, Marie Courtin & Olivier Horiot) along with light food, patê, cheese and meats. They stay open late too, which is rare in Reims and owner Aline, knows all of the growers.
The night we were there, we met and drank with Jerome Prevost (pictured below with his wife) and he even signed one of his champagnes for me. What a lovely guy.
___________________________________________________________________________________
Sacre Burger - Reims
A special mention goes to the newly opened 'Sacre Burger' (yes a burger joint) run by the charismatic Victor and his team. They had the most extensive list and some of the most fantastic wines on offer. I was on my way to meet up with my friend, Dan Roznov and as I enter, they had Kendrick Lamar playing, I love hip-hop, so this was an excellent sign of things to come. I sit down and shortly afterwards, Victor confidently strides up to me and says "Burr-gerr like the others yes?" and I replied, "Of course!" Next I get a glass thrusted at me from fellow taster and champagne lover, Ashtin, saying "you have to try this!" and looking at the bottle I see the word 'Selosse'. So to recap: Burgers + Hip-Hop + Grower Champagne = Very Happy Kyri.
Outside Sacre Burger     
The Airs Champagne Parlour Team from New York
I had my first taste of Selosse here, which was his Rosé (delicious, smoky red fruit and silky palate), with a friendly group from New York who, unbeknownst to me, were the team from Airs Champagne Parlour (nominated for world's best bar). The night proceeded with many more bottles of champagne, and eventually Victor came over and presented us with a magnum and said, "you guys are a lot of fun, this is from me, let's enjoy!" The hospitality was felt and we carried on the frivolities into the evening.
1. Dan Roznov         
 2. Victor – Owner of Sacre Burger offering us a Magnum of Etienne Calsac
  3 .Selosse Rosé
 _________________________________________________________________________________

Outside Le Wine Bar
I was told by my colleague Dan Roznov aka 'the champagne spy' on instagram, that Le Wine Bar wrote a special list just for Champagne Week which included back vintage going back to a Piper-Hiedsieck Rare 1979 for a mere 450 euro or a Louis Roederer Cristal 2002 for 490 euro to a vertical of Jacques Selosse (including; Initial, Rosé, VO, Les Carelles, La Côte Faron, Sous le Mont and the mighty Substance which ranged from 130-350 euro) plus a raft of other Grande Marque and boutique Growers.
They even had the new label from the young and up-and-coming Guillaume Selosse – 'Guillaume S', son of Anselme for 180 euro. He only made 634 bottles, so this is RARE! Download list page 1 and page 2
Thanks for reading.
Follow me on Instagram @champagne_gent