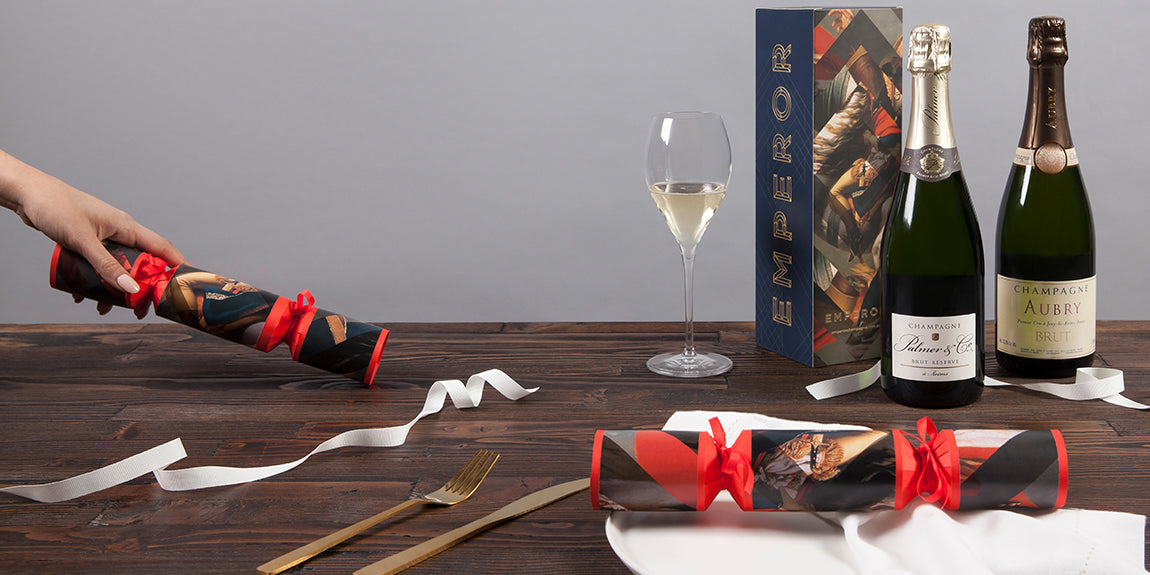 Christmas day is just around the corner and most of us are thinking about what to eat and drink with loved ones. For those of you who are cooking, the team at Emperor has put together a menu with some of our absolute favourite champagne pairings with classic festive dishes.
The champagne doesn't need to stop flowing once you get to the dinner table. Champagne is incredibly versatile and can be continued throughout the meal. Continuing the champagne journey during dinner instead of switching to wine will leave you lighter and fresher at the end of the meal and will ultimately mean no nasty headache on boxing day!
Here are our top pairing tips.
Palmer & Co Brut Reserve
Paired with: Oysters | Salmon Blini's | Antipasto
How can we go past a great selection of Oysters with well-made Brut Champagne?
This is hands-down one of our all-time favourite pairings and this is as simple as it gets. We often talk of minerality in wine especially in champagne. Oysters reflect the environment in which they are farmed and certain producers use a method called 'affinage' which is how you finish the making of an Oyster and leads to its unique style and flavour. At 'Moonlight Flat Oysters' in Batemans Bay, New South Wales, they have several different types from; Clair de Lune to Label Rouge, Rusty Wire and the Angassi.
The Palmer & Co. is mainly Chardonnay with 40% Pinot Noir and some Meunier too. They like to age in the cellar for at least 4.5 years for their NV coupled with some reserve wine going back 20 years. This adds a little richness and weight to the creamy lemon, pear and a very fine bubble, which would marry perfectly with salty and mineral-driven oysters. If you're not into Oysters, some smoked salmon with cream cheese on a blini (mini-pancake) and lemon juice would work just as well.
Aubry Brut Premier Cru Brut NV
Paired with: Prawn Cocktail a la Heston Blumenthal
We love a good Prawn Cocktail, who doesn't? You can style it into something more sophisticated than the 80s version which was all the rage. Take a leaf out of Heston Buthemtals book and add a twist to the tradition prawn cocktail by adding some fresh Basil and Tarragon for extra dimension of flavour. This would tie in nicely with the Aubry Premier Cru.
Jouy-les-Reims is a Premier Cru village in the Marne Valley and all the fruit is sourced from here. Aubry uses what's known as a 'perpetual Solera' as a reserve wine to add some layers of complexity and layers. The depth of the cuvee isn't dense however, the style is fresh, lifted, floral and mineral with some underlying almond, herbal and citrus notes. This would pick up the mint and tarragon and add some lift to the creamy sauce and juicy prawns. We are salivating at the thought.

Besserat de Bellefon 'Cuvée des Moines' Grand Cru Blanc de Noirs Extra Brut NV 
Paired with: Roast Turkey with Cranberry & Walnut Stuffing and all the trimmings
We know this divides families as most of us think this is just going to be a 'dry overcooked bird' however, in the right hands and with a good stuffing (ahem) roast turkey can be a real treat. Add in some Cranberry and Walnut stuffing with all of your favourite trimmings and introduce an excellent bottle of Grand Cru Blanc de Noirs filled with red fruits; red apple, cherry, plum and some hazelnut and spice and the result is no short of a Christmas miracle.
An interesting note is Besserat de Bellefon make all of their wines using low bar pressure, which in short is about a 25% reduction in pressure in the bottle. This leads to a softer and gentler approach on the palate and as such creates a very pleasing food pairing experience.
Besserat de Bellefon 'Cuvée des Moines' SEC 
Paired with: Pavlova with forest berries, mint and fresh cream 
This is an Aussie staple for most families and for good reason, it's simply delicious, light and adds a finishing dose of sugar to the meal. We have chosen the SEC from Besserat to go with this and for those of you who haven't had slightly sweeter champagne, you are in for a treat. Pavlova is soft, creamy and has a little crunch from the meringue and some tartness from the berries. The Sec would be right at home here supporting the lighter, sweet meringue and juicy acidity in the berries.
Very few houses make quality Sec champagne and Besserat de Bellefon's version that sits around 20 grams per litre and has top quality fruit sourced around the vineyards of Epernay. The Sec category is between 17-32g/L.
We wish you all happy holidays from the Team at Emperor.
Salut!