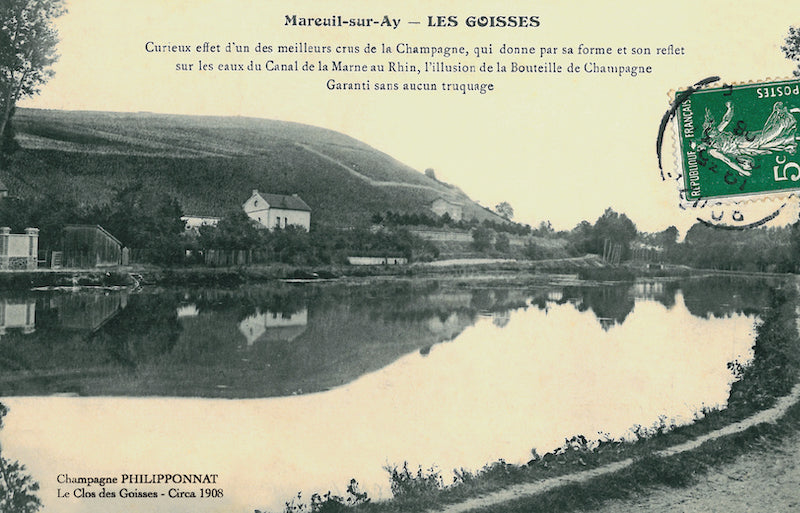 One of our favourite ways of introducing new and exciting producers to you is through our 'Village focus' mini series and in this month our energies align with the 99% rated Premier cru Village of 'Mareuil-Sur-Aÿ. 
Two of the best known producers in this village are Billecart-Salmon and Philipponnat, however we will be looking at fantastic producers of R. Pouillon et Fils and Marc Herbrart (right opposite Philipponnat). 
What makes Mareuil-sur-Aÿ so special in our eyes?
 Well, to start, it has the largest, steepest and most famous enclosed vineyard in champagne, known as the 'Clos des Goisses' pictured in the famous postcard from 1908. It is famed for its pinot noir and producers across the region seek fruit from this village to put in their blends. It is summed up beautifully by the author of 4000 champagnes, Richard Juhlin - "Undeniably, Mareuil should belong to the grand cru villages. Most of the vineyards reach almost the same quality as those of Aÿ. In their youth, what may distinguish a Mareuil wine from an Aÿ wine is a hawthorn-like flowery bouquet. On aging, the wines become practically impossible to tell apart."
Our aim this month is to highlight the importance of this village and the producers that craft the wines from them. This is why we found two wines that are sourced primarily from this village. The first R. Pouillon Brut Reserve is a combination of villages including Mareuil and the second wine, destined for the Connoisseurs, is the Marc Herbrart 'Mes Favourites' Vielles Vignes Brut NV which is all sourced from this village with all fruit coming from multiple parcels of old vines. 
As always, we hope you enjoy these wines as much as we did.