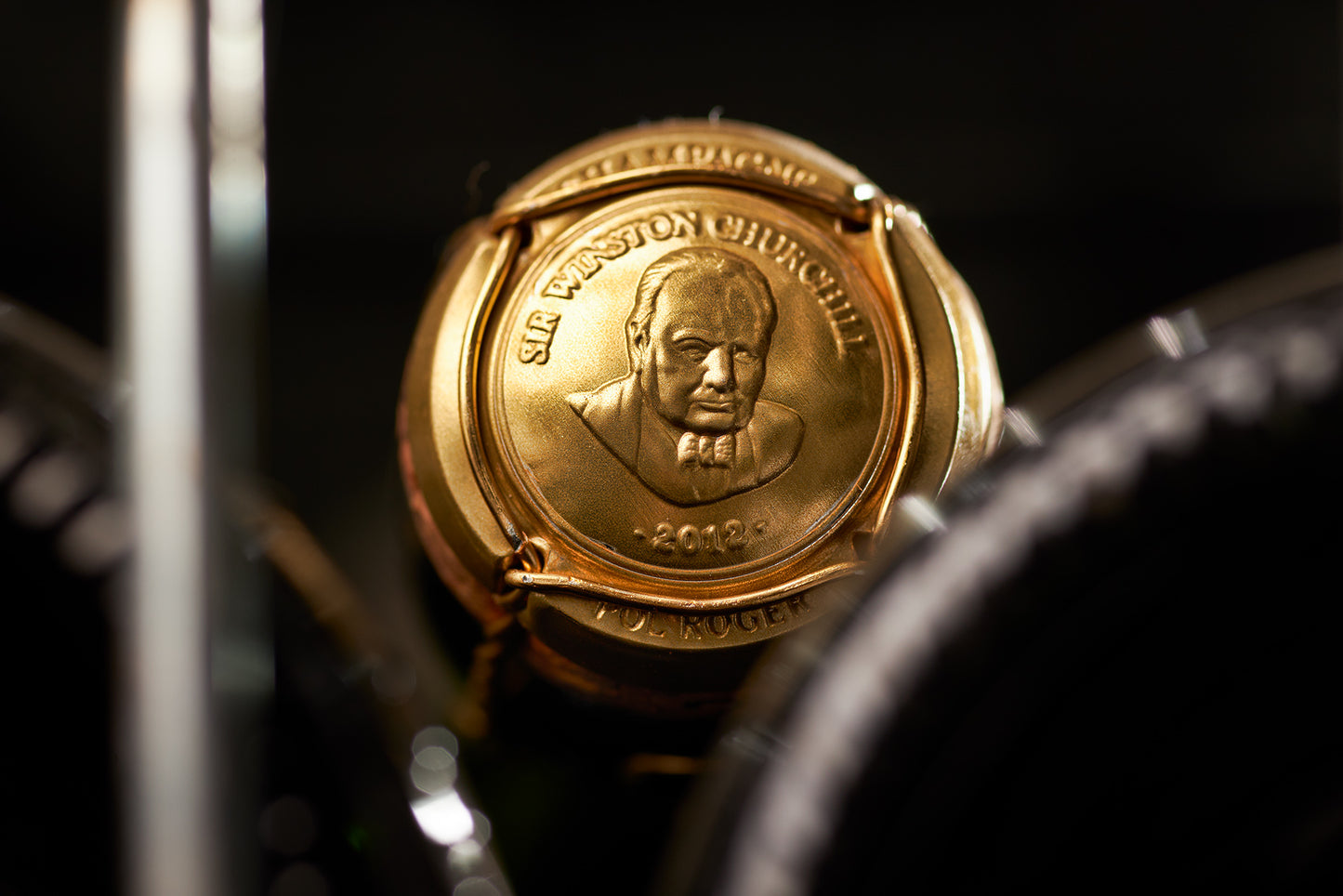 "Remember, gentlemen, it's not just France we are fighting for, it's Champagne." 
Sir Winston Churchill was a fervent lover of champagne, and he never failed to mention it to his fellow friends, family and even soldiers during wartime. Whilst French statesman De Gaulle, who fought besides Churchill during WW2, was fond of Champagne Drappier, Winston Churchill's favourite champagne was Pol Roger. The house estimates at 42,000 the number of Pol Roger bottles drank by Churchill, which equivates to...2 bottles per day. From this love affair was born an iconic prestige champagne: Cuv

é

e Sir Winston Churchill. Here's how it all started. 
The Story
In 1908, Winston Churchill placed his first champagne order with Pol Roger, ordering a dozen bottles of the 1895 vintage. At the time, he was 34 years old, and starting what would be a lifetime love affair with Champagne Pol Roger. 
Following the Armistice commemoration and liberation of Paris in November 1944, Churchill, De Gaulle and fellow statesmen enjoyed lunch at the British Embassy where Pol Roger champagne was served. But it's not until a year later, on the 12 November 1945, that the relationship between Churchill and the House became history. During another official lunch in Paris, Winston Churchill met Odette Pol Roger, along with prestigious guests including the Blums. Odette was married to Jacques Pol Roger, owner of the iconic Champagne house, but was also a former Resistant during the war, which would have certainly gained Churchill's attention and respect. From then on, Winston Churchill's passion for Pol Roger champagne only solidified as his friendship with Odette grew bigger and stronger over the years. 
"Champagne should be dry, cold and free"
As a good friend (the kind of friends you want in your life), Odette would send Churchill a case of champagne every year for his birthday. She also visited him in the UK on multiple occasions. Although Churchill had said he would one day make it to Epernay, he actually never got the chance to visit what he considered "the most drinkable address in the world". Churchill died in 1965, leaving behind him a grieving country, a street named after him in Epernay...and many bottles yet to be opened in his cellars. After attending the funeral at St Paul's Cathedral, Odette declared that Pol Roger's iconic white label should be edged in black by way of a tribute, something that continued for decades.


Churchill and Odette Pol Roger
The Wine
A decade after Churchill's death, Pol Roger felt the need to honour their lifetime friend in a more official and perennial way, and what better than crafting their prestige cuvée in his honour? In 1975, the first Cuvée Sir Winston Churchill was made, modelled on the classic vintage cherished by Churchill: a full-bodied champagne with relative maturity.
Since the British statesman was known to only drink the best vintage champagnes, it was to be expected that the cuvee named after him would only be made in the most exceptional vintages. Indeed, unlike some Champagne houses who release a new vintage every year, Pol Roger have the patience and integrity to hang on to theirs, allowing for depth and volume in their champagne. As a result, Cuvée Winston Churchill is aged for a minimum of 10 years in the Pol Roger's cellars in Epernay. 
"Champagne imparts a feeling of exhilaration. The nerves are braced, the imagination is equally stirred, the wits become more nimble."
Although the blend is a state secret, it is assumed that it is Pinot Noir dominant, following the recipe of the classic vintages at the time of Churchill. Only grand cru fruit is selected to go in the making. Each variety and each village are kept separate during the slow, cool fermentation in stainless steel tanks, before undergoing a full malolactic fermentation prior to the final blending. Second fermentation takes place in Pol Roger's deepest and coldest cellars, 33 meters below sea level. After fermentation, all bottles are hand-riddled (very rare as it is normally done by machines today). 
The special care and commitment of the Pol Roger family in crafting this unique cuvee is a living testament of the admiration, respect and friendship between the House and Churchill. To this date, every new release of Cuvée Winston Churchill must first be approved by Churchill's family and...so far so good!


The just-released Pol Roger Sir Winston Churchill 2012
The reviews
95/100 Essi Avellan March 2021
"Medium-deep lemon-gold colour. Soft and overt nose of spicy, yeasty complexity meeting a lovely charred gunpowdery whiff. Crisp pristine fruitiness of ripe yellow apple, baked pear, candied lemon and vanilla, developing tropical nuances. The palate echoes the 2012 vintage's hallmark vivacity, but is mellow, round and textured, as Winston ought to be. There is instant charm and drinkability to this well-built wine that finishes with a refreshing chalky-mineral bite. A fine Sir Winston vintage."
Nick Baker TFB Founder 9th March 2021
No hesitation a solid 19/20. Like many 2012's the aromatics are powerful and forward, there is a blend of tropical notes, particularly pineapple and a rich zesty lemon sherbet going to buttery pasty. This all suggests there is a reasonable slug of Chardonnay in the 2012 blend! The Pinot Noir element seems more recessive at this point. Grapefruit comes through on the palate and a creamy lemony pastry, bundles of fruit, underlying freshness on the palate and the lees and fruit have given a creamy soft texture. Zingy lemon, grapefruit and twist of raspberry hang on the finish. A stunning 2012, forward and very seductive.
17++/20 Jancis Robinson
Rather open on the nose – a surprise! Looser textured than some and still decidedly embryonic. It does open out rather remarkably on the finish, suggesting that it is very much a long-distance runner. I think I would wait until at least 2022 to take full advantage of that interplay of flavours underneath, where it is positively throbbing!" 
Available on Emperor Champagne.


Collection of vintages of Pol Roger Winston Churchill