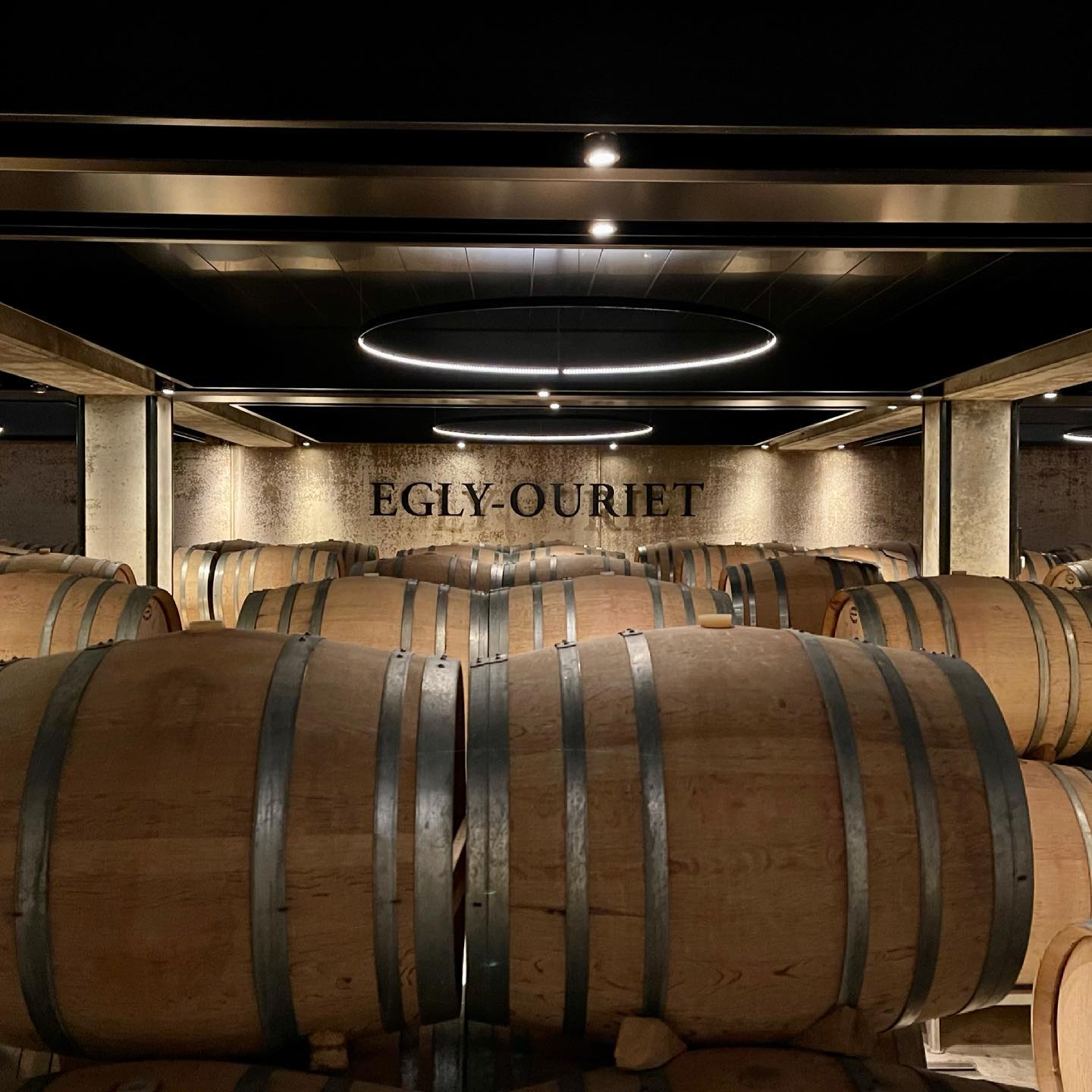 Another producer with an impossible name to pronounce - and another superstar grower! Acclaimed by wine critics around the world, Egly-Ouriet (egg-lee oo-ree-ay) produces the most amazing, terroir-driven and natural wines. Their Grand Cru & Pinot Noir dominant vineyards, the low yields, the ageing in oak barrels and the high percentage of reserve wine used, make the Egly-Ouriet wines taste so different - so fruit-pure, intense, rich and complex. Here's a little bit more about the house and their exceptional wines, including their Brut Grand Cru, Brut Rosé Grand Cru and Les Vignes de Vrigny, now back in stock at Emperor. 
The House
The story begins in the 1940s, when Francis Egly's grandfather bought 3 hectares of wine in the grand cru of Ambonnay. By marrying Madame Ouriet, the descendants acquired another 9 hectares, including a prized plot of 'Les Crayères', where vines are over 60 years old.
Today, their vineyard holdings represent 10 hectares, including the grand crus Ambonnay, Bouzy and Verzenay (a village famous for the Bollinger PNVZ Collection!). Although Egly-Ouriet has built a global reputation for its Pinot Noir production (representing 75% of its vines), they also own beautiful Chardonnay and Pinot meunier vines. The soil is clay-limestone, with a south-east exposure. The average age of their vines is 45 years old and are low-yielding. 
Photo by Egly-Ouriet via 
Instagram

Egly-Ouriet practices biodynamic and organic viticulture methods although feels it's to regimented to become certified. Makes sense with Francis' perfectionist nature, right? They don't use chemical fertilisers, herbicides, pesticides or chemical anti-fungal sprays. They work on very low yields, even smaller than the regional average. They follow a natural winemaking regime with no fining or filtration, minimal sugar additions and low levels of sulphur. This natural viticulture and low yields, as well as a high percentage of reserve wines used is why champagne lovers around the globe are obsessed with this Champagne Grower - it's so mineral-driven, intense, rich and complex.
Egly-Ouriet is also steeped in tradition. Take a visit to their picturesque estate and watch as horse-drawn ploughs operate in the vineyard. Every pruning and harvesting seasons, you will see the same cheery faces working, using their extensive knowledge and past experiences to make the best wine yet!


The Wines
The Egly-Ouriet Brut Grand Cru is the perfect introduction to Egly-Ouriet. Sourced predominantly in Ambonnay (but also Bouzy and Verzenay), the Brut provides excellent depth and length with an intense exotic nose of deep red fruit and some spice. The palate comes right into focus with a juicy core of acidity surrounded by poached pear, spice, red apple and hazelnut. Vinous, powerful and vibrant. A very impressive champagne.
Photo by @imperialgastronhub via Instagram 

Francis makes a rare 100% old-vine Pinot Meunier from a small plot in Vrigny, which has been acknowledged Premier Cru status since 2003. This style of champagne always brings a plethora of delicious fruits that make for easy drinking and enjoyable food pairing, and Egly-Ouriet's Les Vignes de Vrigny Premier Cru champagne is no exception. This is an intense, vinous champagne filled with yellow stone fruit, lemon peel with a delicate, creamy, slightly herbal finish. We highly recommend try this.
Egly-Ouriet's Brut Grand Cru Rosé is arguably one of the greatest rosé wines ever produced in Champagne. A blend of 65% Pinot noir and 35% Chardonnay, the wine explodes in a sensational perfume of rose hip, red cherries and mixed spice. Light, refreshing and breathtakingly energetic, Francis's genius is on display here.
The vineyards are immaculate, the grapes deliciously intense that you could happily drink glass after glass. The champagnes that are produced are incredibly powerful and terroir-expressive. A masterpiece. This is all due to Francis' charismatic and strong-willed nature to achieve perfectionism from vine to wine.
As Michel Bettane of The World's Greatest Wines said "few producers can equal Francis Egly in skill and experience, and larger houses cannot hope to emulate the cultivation norms…"
We are excited to announce this exceptional House is now back in stock at Emperor Champagne. There are limited quantities of Egly-Ouriet Brut Grand Cru Tradition, Brut Grand Cru Rosé and Les Vignes de Vrigny Premier Cru now available. 
Photo by @tailsofthecountry via 

Instagram
Available now at Emperor Champagne.