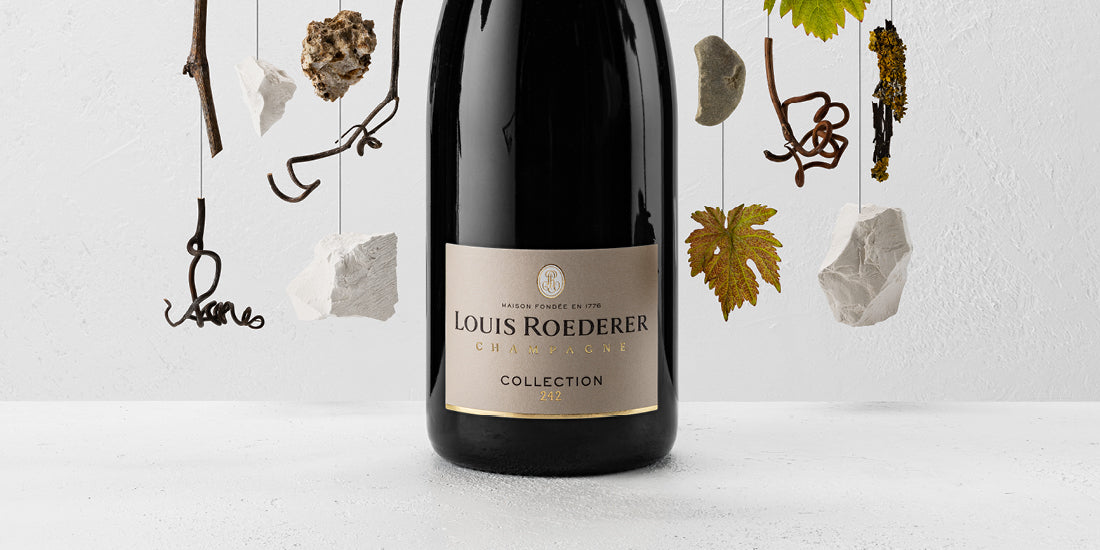 One of the most progressive houses in Champagne, the esteemed maison of Louis Roederer, led by the eponymous Chef de Caves Jean-Baptiste Lécaillon, has just released a new cuvée. Named Collection 242, it's a revolutionary move in the world of champagne, phasing out their iconic Brut Premier to lead with their new Collection Series instead. Ahead of its time, the house has now incorporated climate change in its core winemaking, paving the way for other Grandes Marques to follow its lead. Here's all you need to know about this new exciting champagne - and where to find it!
Louis Roederer: an Innovative House
Louis Roederer is one of the largest family-run houses in Champagne, with over 242 hectares of vineyards, selling over 3 millions bottles of champagne per year. Since its establishment in 1776, Louis Roederer has had a reputation for innovating, blurring the lines between growers and Grandes Marques. Firstly, by purchasing some of Champagne's grand cru parcels in 1883 and focusing on nurturing their wines - when most houses, at the time, were only purchasing their grapes from other growers. Later in the 1870s, Louis Roederer II created the first Cuvée de Prestige, their now globally famous "Cristal", designed especially for the Tsar of Russia's enjoyment. A revolution at the time!
But more importantly, the house is known to be one of the first Grandes Marques to have incorporated the impact of climate change on his wine practices, introducing biodynamic principles in the early 2000s. Today, almost half of the domain is certified organic and biodynamic, and their Cristal is 100% biodynamic - unusual for a prestige cuvée. With their new Collection Series, Louis Roederer is once again making a lot of noise in Champagne.
Collection 242: the New Signature Blend
The Origins of Collection 242
Collection 242 is the result of years of adaptation to the changing environment. It is the bottle that embodies climate change at its core. 
In 1986, with the release of the first Brut Premier, the climate was temperate and cool, and the efforts of the winemaker were focused on ensuring consistency across the blends. Now, with a warmer climate and riper fruits, the winemaker must ensure the wine still holds its freshness and tension. This is why for the last decade, Jean-Baptiste Lécaillon and his team have been making necessary changes to their iconic Brut Premier, such as reducing the dosage. They slowly came to the realisation that the new cuvée they were crafting was quite different from the original blend, and that it needed its own name, its own identity. Collection 242 was born, and with it, an entirely new champagne philosophy. 



Collection 242: A Revolution
For centuries, champagne houses have crafted their own signature blend, their non-vintage flagship cuvée, which would remain consistently the same over the years e.g. the Yellow Label of Veuve Clicquot. It's their house style embodied in a bottle. But the new NV champagne of Louis Roederer will be different from one year to another, as the house decided to use 56% of base wine in this new cuvée - ground-breaking! 
Each year, the house will release a new multi-vintage blend, with a different base wine and a new name. This year, Collection 242, the 242nd blend of the House since its establishment, is based on a 2017 vintage, whilst next year's Collection 243 will incorporate a 2018 base wine.
By making this move, Louis Roederer blurs the lines between vintage champagne and non-vintage champagne. Although each cuvée will include a perpetual blend of previous vintages, the base wine will be different from one year to another, reflecting a specific year in the blend. The first lucky tasters have even said it...it is the closest thing to a vintage champagne they've ever tasted. 
Bold you say? Recrafting and renaming its multi-awarded flagship cuvée is a risk no Champagne House has taken before. But it aligns perfectly with the spirit of Louis Roederer: disrupting their industry, innovating with their time and setting the trend. It also opens a new conversation around the impact of climate change on champagne growers and houses, and on the new opportunities for them to reinvent their winemaking, just like Louis Roederer did.
What's Inside the Bottle?
Brut Premier lovers, there is no reason to panic. This new cuvée will still be a blend of our favourite three grapes: 42% Chardonnay from the Côte des Blancs, 36% Pinot Noir from the Montagne de Reims and 22% Pinot Meunier from the Vallée de la Marne. 
As mentioned prior, the major change to this cuvée is its base wine predominance, representing 56% of the blend. An additional 10% of the wine is a Roederer reserve wine, from young vines planted on chalky soil, used to make their Cristal. Aged in large oak foudres, the signature of the house, this reserve wine will ensure the spirit of Roederer still resides in this new cuvée throughout the years. This reserve wine includes the 2009, 2011, 2013, 2014, 2015 and 2016 vintages.
Combining previous vintages (stored reductively, without any malolactic fermentation) in a stainless steel tank, this method ensures consistency over the years, and gives freshness and nuance to the wine. More of a grower approach, the perpetual blend is not commonly associated with the Grandes Marques, but again, Louis Roederer stands out from its peers. In Collection 242, you will find a 2017 base wine with perpetuelle reserve wines from 2012, 2013, 2014, 2015 and 2016.
Collection 242 is aged for three to three years and a half on lees. Last edit: the dosage dropped to 8g/L. 


Emperor's Tasting Notes
The Emperor team was blown away by the new Collection 242. 
By adding 34% of perpetual reserve and 10% of Roederer reserve wine aged in oak, the house is able to maintain freshness that is reminiscent of the vintage Blanc de blancs. The wine displays vividly fresh fruit and is highly expressive on the nose. There is a defined minerality showing the Côte des Blancs and Montagne de Reims terroirs combined with white florals, citrus zest and a distinct chalkiness.
The palate is both generous and bracing, with Chardonnay taking the lead in profile. We love the interplay between ripe lemon, Williams pear and red apple, amidst that chalky-toasty backdrop of reserve wines. The flavours persist long after the first sip. Quality speaks for itself.
Where to find the new Collection 242?
Emperor Champagne has partnered with the Louis Roederer team in Australia to give you first access to Collection 242! And as one will not be enough, we've decided to extend a special offer to you: until the 4th August, get 10% OFF 6+ bottles with code LR242.
Emperor will be hosting a special Louis Roederer Champagne Dinner at Chancery Lane on the 13th September, introducing Collection 242 to our champagne lovers in Melbourne. Tickets are available here.