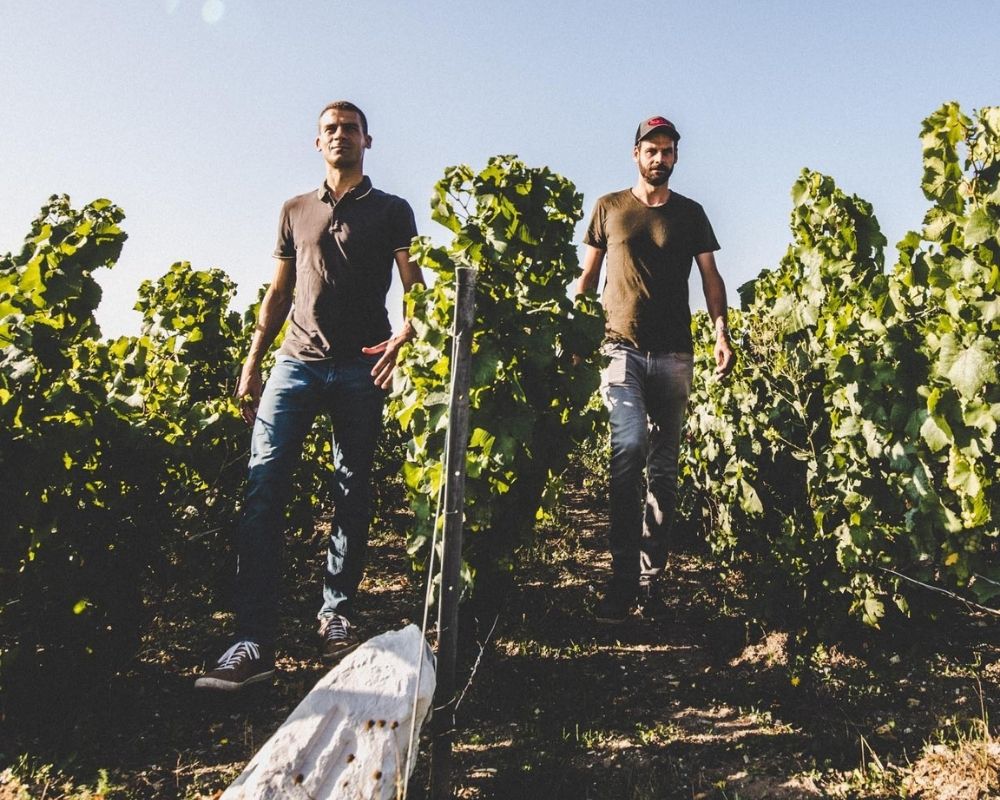 At Emperor we are suckers for superstar champagne growers with an interesting backstory, and Pertois-Lebrun does not disappoint. A tale of two brothers, Clément and Antoine Bouret are fifth generation winemakers continuing the champagne legacy their family established decades ago. They're fresh, modern and taking the Champagne world by storm!
History of Pertois-Lebrun Champagne
Pertois-Lebrun dates back to the early 1900's, however, it wasn't until the union of Paul Pertois and Françoise Lebrun in 1955 where the House became what we know it as today. After spending some time away from the family business and forging their own career paths, the brothers returned, believing it to be their responsibility to reinvigorate the business and bring a fresh, new perspective. Unlike many other producers, Pertois-Lebrun is home to Grand Cru plots of the Chardonnay grape across five villages in the prestigious Côte des Blancs region: Cramant, Le Mesnil-sur-Oger, Chouilly, Oiry and Oger.
Photo by Pertois-Lebrun via Instagram
Sustainable Work Practices
Today Clément and Antoine are committed to honouring their families legacy, whilst introducing innovative measures to protect their estate for future generations to enjoy. Their approach is to treat the vines with respect, humility and with the utmost care. By taking these precautionary measures, the brothers produce an elegant Chardonnay that reveals the variety and individuality of the plot it originated from, as well as representing each of Pertois-Lebrun's terroirs.
The brothers are fully committed to sustainable vinification and winemaking practices. Currently, they restrict the use of synthetic products and harmful pesticides, experiment with aromatherapy and biological treatments and work the soil manually to encourage natural grass and weed growing. Winemaking and maturation occurs through a minimal intervention approach to allow the terroir to be exposed and the soul of the wine be revealed.
Photo by Pertois-Lebrun via Instagram
Have you had the pleasure of taking a look at their Houses' branding? It's incredibly clean, minimalistic and oh so modern. The tagline proudly displayed on their Champagne bottles, social media and website, "2 Frères à Cramant" ("two brothers in Cramant") perfectly encompasses the Pertois-Lebrun philosophy and represents the business as it stands today.
Photo by Pertois-Lebrun via Instagram
The Future of Champagne
The brothers are innovators, always looking towards the next big thing in Champagne. 2022 is expected to be a huge year for the young winemakers, with the release of two new cuvées. Early in the new year, Pertois-Lebrun will be releasing an entirely new single vineyard wine, 'Les Chetillons' from Le Mesnil-sur-Oger, as well as a cuvée that is a blend of different parcels from the Cramant terroir later in the year. The brothers felt it important to produce a Champagne based in Cramant, as this is their home. While we don't know what to expect yet, we do know that they will be of the highest quality and be an excellent representation of a Grand Cru Chardonnay.
Pertois-Lebrun is taking over Champagne! The brothers have wine lovers around the world talking with their fresh, modern approach to champagne. Emperor Champagne is proud to be the exclusive importer of this illustrious House, with two cuvées available now. It's time to step up your champagne game and take a chance on the young, talented brothers from Cramant. Try Pertois-Lebrun Blanc de Blancs L'Extravertie or L'Égoïste for a truly transformative Grand Cru Chardonnay experience.