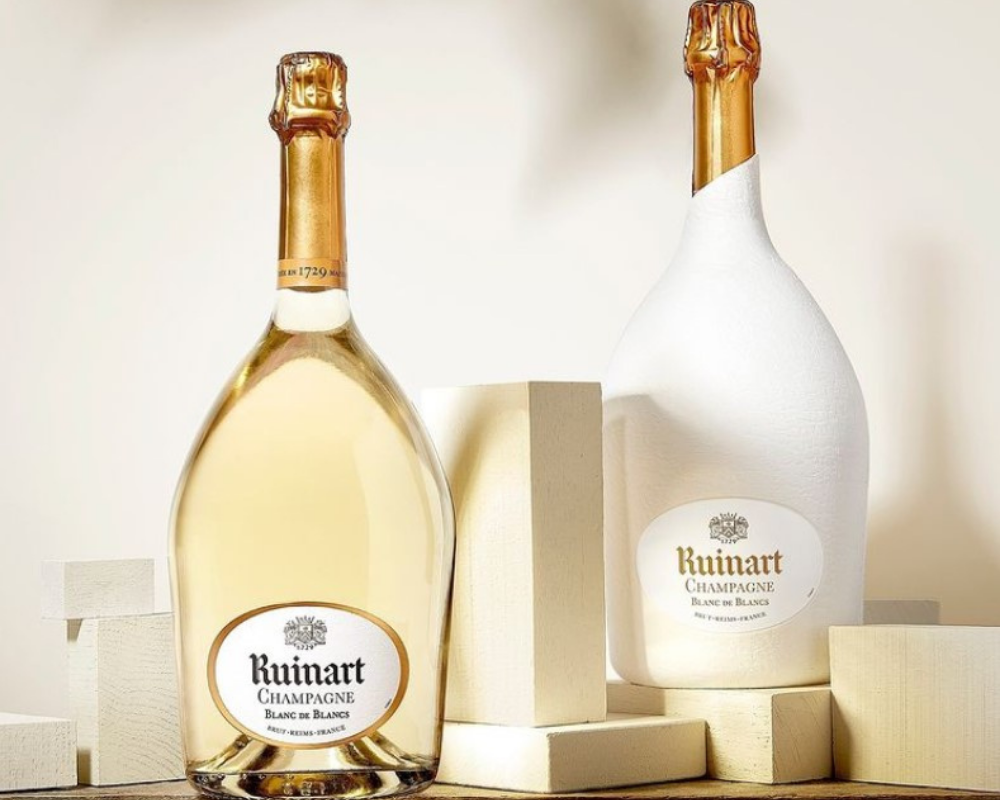 Ruinart Blanc de Blancs is possibly the most sought after Champagne in recent memory. People can't get enough of it. As soon as we receive a small allocation of the golden cuvée, we sell out in a matter of minutes.

So what exactly makes Ruinart Blanc de Blancs so special? Chardonnay is at the very soul of Ruinart. The grape variety, mainly harvested from the Côte des Blancs and Montagne de Reims terroirs, is at the heart of all Ruinart cuvées.

The combination of limited stock availability, price, pedigree, packaging (hello second skin) and most importantly palette, fuse together to create one of the most exciting and delicious champagnes to exist.

Alas, everyone's favourite champagne is no longer available in Australia - and won't be for some time. We wish we could say that Ruinart Blanc de Blancs will be back in a few months, but it's more likely to be YEARS!

It's time to stop begging us for Ruinart and move on to something of equal prestige, some might even say more delicious and awe-inspiring. (I know, is that even possible? The answer is yes!)

Let's dive into the top five alternatives to Ruinart Blanc de Blancs.


1. Perrier-Jouët Blanc de Blancs NV
This exceptional Chardonnay is the true and unadulterated expression of the emblematic grape variety at the very heart of the Perrier-Jouët House style. It is made by selecting and blending Chardonnay grapes from the best terroirs across the Côte des Blancs, with a small addition of reserve wines. This champagne features a special vibrance and freshness, the Perrier-Jouët signature.

In recent years the House have reinvented the art of champagne gifting, introducing a sleek new eco-designed gift box that is both beautiful and sustainable. Made from 100% natural fibers and free from mineral oils, the gift box is fully recyclable. It features a minimalist design and reduces the impact on the environment, this champagne and gift box combo make for an gorgeous pair.

"Sharp, juicy, and ripe: That's this wine in three words. It has angles for edges with a grippy palate for fruit, along with very present perlage (bubbles). In that sharpness is the round juiciness of Chardonnay that comes through nice and ripe." - Keith Beavers, 93 Points
Buy Perrier-Jouët Blanc de Blancs NV here.
Image by Perrier-Jouët  via Instagram
2. Frerejean Frères Blanc de Blancs Premier Cru NV
This is a true Premier Blanc de Blancs with all the fruit sourced from Premier Cru vineyards along the Côte des Blancs. When we tasted this with House co-founder Rodolphe late 2017, we were quietly impressed with the sheer expressive nature of this champagne. The nose presents aromas of acacia, apricot, hazelnut followed by warm butter on toast. We know this sounds fanciful, but there is a LOT going on here. Flavours of pear and apple, this Blanc de Blancs shows a richness and creamy mousse, with a soft texture.

"Fresh, creamy and full of white fruits, this wine is crisp and well balanced. The texture shows attractive tautness, with great swathes of acidity giving the wine a delicate, perfumed character. Drink this bottling now." - Roger Voss, 91 Points
Buy Frerejean Frères Blanc de blancs Premier Cru NV here.
Image by Frerejean Frères via Instagram
3. Philipponnat Grand Blanc de Blancs 2010
For a House focused on the powerful Pinot Noir grape variety, it was surprising, yet pleasing to see a Blanc de Blancs elaborated from Chardonnay only. What makes this champagne even more special is the fact that the fruit comes exclusively from Premier and Grand Cru terroirs. This is a beautifully elegant champagne that has developed a delicate balance between freshness, floral notes and vinosity.

"Aromas of citrus oil, buttered toast, fresh apricot, orange confit and musky peach introduce the 2010 Extra Brut Grand Blanc, a medium to full-bodied, fleshy and charming wine that's round gourmand, with ripe acids and a sapid finish. It was disgorged in 2020 with 4.5 grams per litre dosage. Given its generous style, this is a vintage that will drink quite well young." - William Kelley, 93 Points
Buy Philipponnat Grand Blanc de Blancs 2010 here.
Image by Philipponnat via Instagram
4. Henriot Blanc de Blancs NV
Initially lively, generous and powerful on the palate. The hint of fresh lemon lingers and dissolves into butter-laced brioche notes, extended further by quince paste and acacia honey. Lovely, fresh and quite delicious length on the finish. The house sources from a mixture of grand and premier cru villages within Les Mesnil-Sur Oger, Chouilly, Avize, as well as other great villages like Vertus; Ville-Dommange and Trepail.

"A bright, medium-straw hue herals a cuvée that strikes a compelling accord between the radian lemon and white peach definition of the Côte des Blancs and the honeyed, nougat and biscuity appeal of long lees maturity and a touch of compelling stuck-flint reductive complexity. Age builds a wonderfully creamy moutfeel, while emphasising the fina chalk mineral texture of great terroirs." - Tyson Stelzer, 93 Points
Buy Henriot Blanc de Blancs NV here.
Image by Henriot via Instagram
5. Gosset Grand Blanc de Blancs NV
If you are a seasoned champagne drinker and like your champagne elegant, but in possession of tension and freshness, this is the Blanc de Blancs for you. A luminescent yellow with the slightest tinge of green hints at this 100% chardonnay cuvee which is mineral, citrus and full of energy. The oldest wine house in Champagne, Gosset has a distinct style and method of production with no malolactic fermentation and Grand Cru fruit which results in wines with clean fruit profiles, lovely lines of acidity and full vigour.

"The most subtle lemony cloud hovers above a certain chalkiness on the nose. Utter subtlety also characterises the super-svelte palate that is as light as a feather, yet conveys great depth and creamy softness. The freshness seems buffered by chalk, the mousse serves to remind you that this is actually Champagne, so breezy, so light, so elegant is this. A wonderful combination of depth and weightlessness." - Anne Krebiehl MW, 95 Points

Buy Gosset Grand Blanc de Blancs NV here.
Image by Gosset via Instagram
See, I believe we've just proven there's plenty of other fantastic Blanc de Blancs champagne out there. No need to sit around, waiting for the day Ruinart will return to Australia, because trust us, it's going to be a while.

If this hasn't persuaded you, give us a call or email and a member of our friendly team will be more than happy to assist you in discovering a delicious alternative to Ruinart.