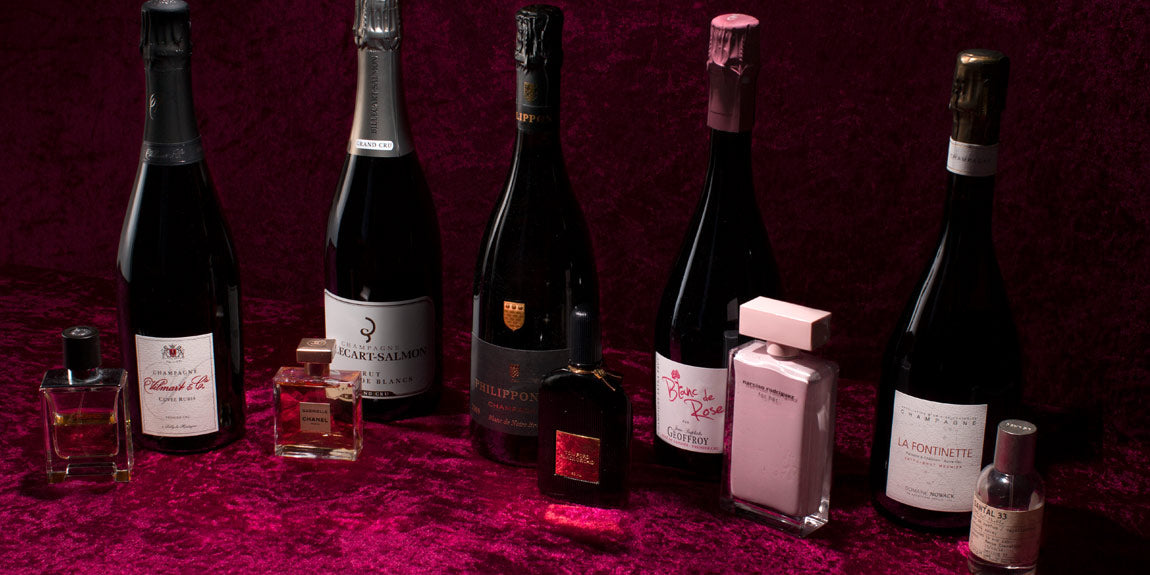 There is more than one connection between two of life's greatest sensory pleasures, champagne and perfume. Naturally both of these liquid beauties are recognised for their elite status and are widely acknowledged as being luxury goods, but they also share similarities in how they are made and how they can elicit memory and enjoyment through smell.  
The sense of smell is very closely linked with memory due to the position of the olfactory bulb in the brain. An aroma can bring back a flood of memories and even influence people's moods. The olfactory bulb is part of the brain's limbic system (an area closely associated with memory and feeling) and is sometimes called the 'emotional brain'. Because of this, the sense of smell can call up memories and powerful responses almost instantaneously. The aroma of a champagne can also have this effect. 
Another primary link between the two products is the careful construction of the finished piece. Champagne is all about the art of blending. Being located at the highest northern latitude possible for ripening a grape, not one but three grapes are blended together so that the cuvée is more complex and more consistent in quality. The cool-climate and (often bitter) northerly latitude of Champagne can mean grapes are underwhelming in certain years. However, blending across the three grape varietals (chardonnay, pinot noir and meunier) as well as blending across multiple vintages provides for a far more dynamic and consistent champagne. Perfume is also all about the art of blending with a careful selection and masterful mixing of flavours and unique aromas.
Blending in the winery is where the skills of the chef de cave (winemaker) truly come into play. The most similar profession of a champagne maker is in fact a 'perfumer'. The production of perfume and the creation of champagne are both complicated arts that require years of training. Champagne and perfume are often created by memory and sensory skill rather than a prescribed formula for blending.
When we taste champagne, or any wine, it is multi-sensory. We admire the champagne with our eyes, then with our nose and finally with our palate. But it is our nose, which has the ability to pick many hundreds, if not thousands of scents. Without the sensational aromas of the champagne coming through you would simply would not have the same enjoyment of the wine that you would with your palate. Both champagne and perfume have the ability of being able to transport us to another place in time, to another moment and to another feeling – no doubt one of happiness.
We have partnered our favourite perfumes this month with champagnes we love.
TOM FORD BLACK ORCHID
with PHILIPPONNAT BLANC DE NOIRS BRUT 2009
The heady, exotic and outright hedonistic scent is filled with sandalwood, French jasmine, black truffle, ylang-ylang, blackcurrant and effervescent citrus. There were a few runners-up in this category however we felt that the Philipponnat Blanc de Noirs is in pure harmony with this perfume.  
Being all powerful pinot noir from the steep slopes of Mareuil-Sur-Aÿ, the palate is seductive, layered and displays spiced orchard fruits. Looking at the package design, you cannot help but think that these two were meant to be together. Adorned in black and highlighted in gold, these make for a striking couple.
Shop Philipponnat Blanc de Noirs 2009
LE LABO SANTAL 
33
with FLAVIEN NOWACK LA FONTINETTE BRUT MEUNIER
German Perfumer - Frank Voelkl was the nose behind this scent. Based in New York, Voelkl and the co-founder of Le Labo, Fabrice Penet worked for many years on a project that was to become Santal 33. The fragrance features sandalwood, Virginia cedar, cardamom, violet, leather and amber.
Being a boutique perfumer we chose an excellent grower by the name of Flavien Nowack who is producing single parcel, single variety and single vintage champagne that is no short of mind-blowing. His 'La Fontinette' is a masterful expression of pinot meunier and has all the hallmarks of great grower champagne. There is an intensity and energy to the wine followed by complexity and freshness. The mousse is creamy and filled with rich yellow fruit, spice and baked apple.  
Shop Flavian Nowak La Fontinette Brut Meunier
CHANEL
 GABRIELLE 
with
 BILLECART-SALMON BLANC DE BLANCS GRAND CRU BRUT
The talented perfumer Olivier Polge was the nose behind this perfume. He is the son of Jacques Polge who was the master perfumer of Chanel until he retired in 2013 and Olivier took over. 
Chanel Gabrielle was created as an imaginary flower - a radiant and sparkling, purely feminine Chanel blossom, based on the combined scents of four white flowers: Jasmine, Ylang-Ylang, Orange Blossom and Tuberose (native to Agave) from the town of Grasse which is coincidentally also the home of Polge.
Chanel is a well-known luxury brand, as is the infamous house of Billecart-Salmon. We have chosen their excellent Blanc de Blancs Grand Cru with Gabrielle as there is a softness and delicacy present in both blends. Just as Polge blends the four flowers, Antoine-Roland Billecart uses four villages to make the wine; Avize, Cramant, Mesnil-Sur-Oger and Chouilly all famed for their fragrant, mineral, full-bodied and citrus-driven chardonnays.
Shop Billecart Salmon Blac de Blancs Grand Cru Brut
TERRES DE HERMES

 

with VILMART AND CIE 'CUVÉE 

RUBIS' PREMIER CRU ROSÉ
Terre d'Hermès is a firm favourite of ours and the veteran perfumer with over 50 years experience – Jean-Claude Ellena, is the nose behind the scent. When asked what his favourite creation is to wear, he said 'Terre d'Hermes'. "I discover new elements to it every time I wear it." He only uses it 3 times a year though, as he must remain neutral for his work.
This scent is based on notes of wood, orange, grapefruit, pepper and of fresh spices. We like the flinty aspect to it and the herbal note of vetiver, with cedar and the intensity of resin and musk.
For a fragrance of class and distinction, we suggest the Cuvée Rubis made by the distinguished gentleman, Laurent Champs. Like Ellena, Champs is a master of his work and his wines are classy, sophisticated and modern. The Rubis shares a commonality with Terre d'Hermes, notably pink grapefruit, and warm cooking spice like cinnamon and nutmeg. Embark on whole new sensory journey with these two dapper characters.
Shop Vilmart and Cie 'Cuvée Rubis' Premier Cru Rosé 
NARCISO RODRIGUEZ 'FOR HER' 
with GEOFFROY BLANC DE ROSÉ
Narciso is designer based in New York and is of Cuban descent. This was his debut scent and was inspired by the Egyptian musk oil that a friend gave to him when he was a teenager and which he's been obsessed with ever since. 
Narciso says, "when I create, it's for a woman's pleasure, to bring her joy. It's to give her something that makes her happy, something that makes her feel good." We like Narciso, be more like him. 
This is a complex and sensuous blend of rose petals, white peach, amber, patchouli (related to the mint family) and sandalwood.
 For a scent so intoxicating and 'head-turning' we had to select a special type of champagne made by a humble, charming and gifted winemaker. Blanc de Rosé is made in an unusual way (co-maceration - which ferments chardonnay and pinot noir together). This technique culminates in a beguiling, complex and thrilling wine. We love the rose pastille, spice, red fruit and mineral-toasty wave that keeps you on the edge, pushing your senses and asking more of you sip after sip. This is similar to the sensation Narsico brings, invoking a mist of deep sensuality.