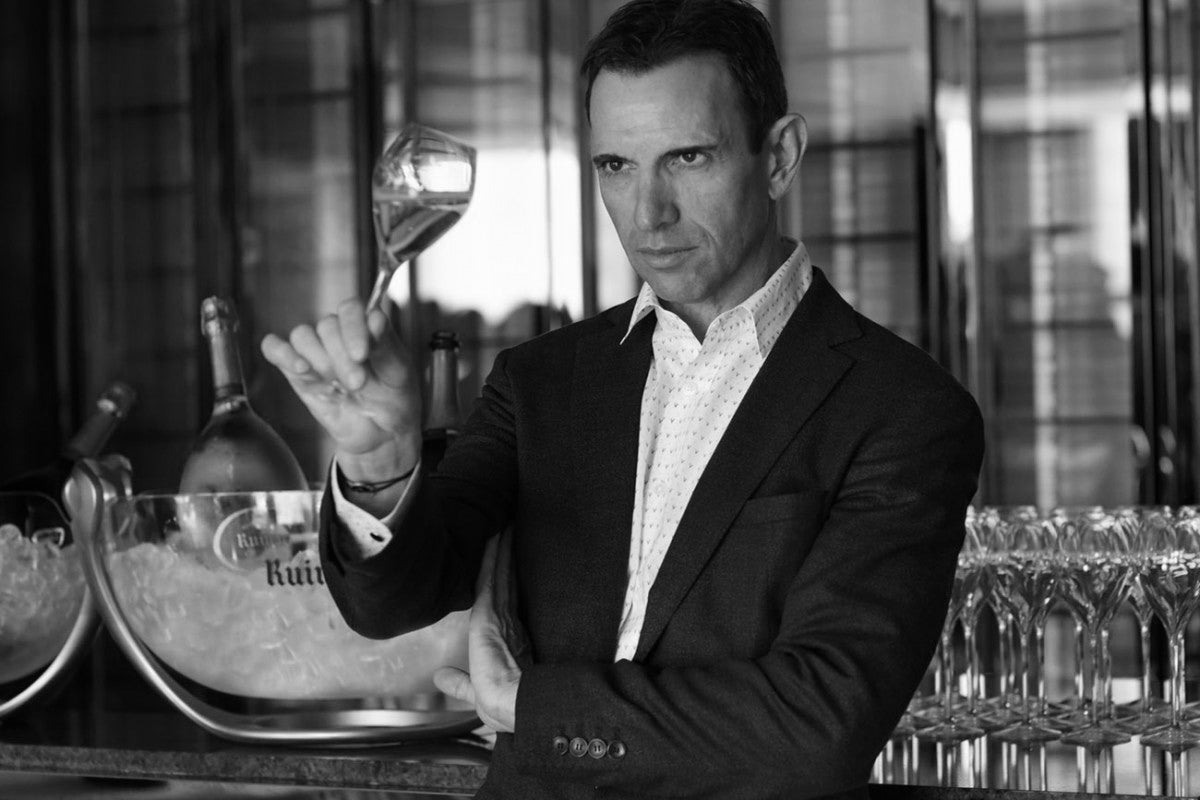 Chef de Caves of Ruinart Champagne
Panaiotis enters the room with an energy and an air not matched by many. Of course we are standing on the imposing and wildly impressive estate of Ruinart in Reims and he is the King of the Castle – Chef Wine Maker. Regardless of his role or his title, he owns his space and not only does he excel in his true role of creating Champagnes of elegance and finesse he is as perfectly poised leading a dinner full of journalists as he is in the cellars crafting his masterpiece.
Dom Ruinart Blancs de Blancs and Rose producéd by Frederic are two of the world's best Prestige Cuvees and we aren't biased. These cuvees continue to win awards and are unanimously ranked by wine critics as some of the most ethereal wines coming from the Champagne Region. Ruinart is the jewel in the LVMH crown and is enjoying success with Monsieur Panaiotis in the chef wine making role.
We honour Frederic as our feature winemaker this month on the Emperor Edition.
What would be your dream job if you didn't work in Champagne?
Freediving instructor ! But when I was younger, my dream was to become a zoo veterinary
Describe one of your favourite food and Champagne pairings.
White fish sashimi and Ruinart Blanc de Blancs
What's your drink when no one is watching?
Green Chartreuse VEP - or sometime Yellow ;)
If you could choose one person (dead or alive) to share a bottle of your champagne with who would it be?
James Ellroy. I love his novels
What is your favorite restaurant or bar for drinking champagne in?
La Rotonde, the Bar of Les Crayeres hotel in Reims.
If you were going to seduce someone special with a bottle of champagne what would it be?
Dom Ruinart Rosé 2002. But the talk is probably more important than the champagne itself ..
What's trending in champagne right now?
Using white wine glasses instead of flutes... i couldn't agree more!
Who is your 'winemaker to watch' at the moment? Someone who is up and coming.
Laurent Champs at Champagne Vilmart. No sure he's "coming" but he's up for sure.
What's the biggest 'faux pas' you have come across with champagne?
Opening a magnum of Ruinart Rosé that had been - unbeknownst to me - stored in a freezer. Upon opening, the liquid suddenly turned into an unstoppable fountain of pink granité, to my (and a few "sprayed" guests ;) greatest embarrassment.
Where is your favourite place to be in the world?
So many of them. Work related, definitely somewhere in Japan. Non work, Dahab's Blue Hole in Egypt