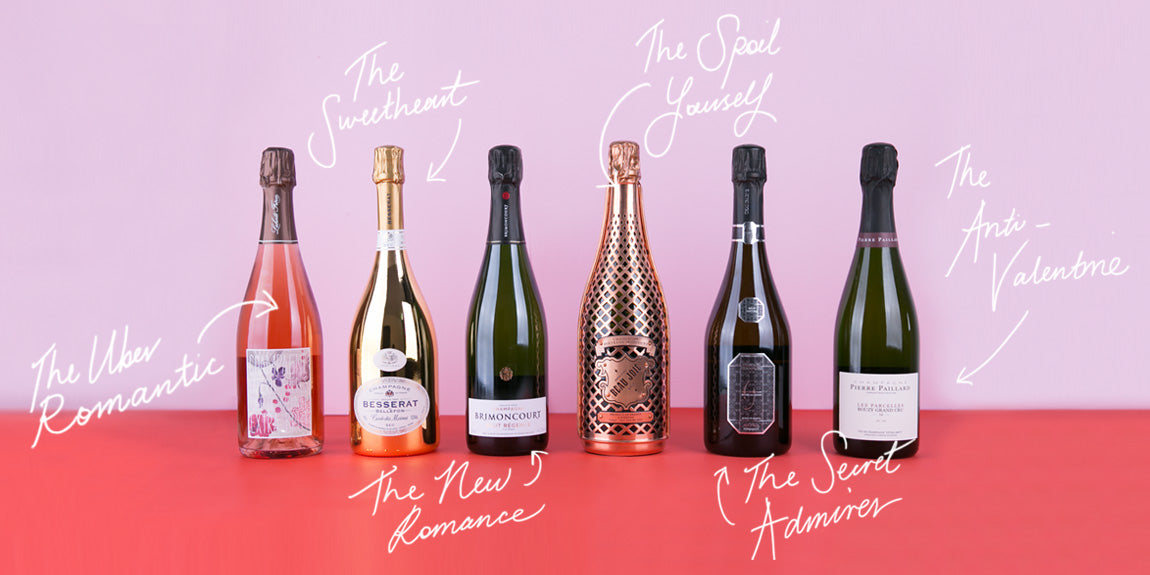 Whether your lover is Uber Romantic or Anti Valentine's, or even if you don't have a lover at all... Emperor has every base covered this Valentine's Day. 
Champagne's for Every Valentine
The Uber Romantic : Laherte Freres Rosé
Is your partner the ultimate romancer?!
Trump them at their own love game with a bottle of Laherte Freres Rosé with the most romantic label. This amazing producer uses a unique method of production for this stunning rose. 
 
The Sweetheart : Besserat de Bellefon Sec
Is your partner an angel with a heart of gold?
Then match that sweetness with a stunning bottle of Besserat Sec. Not just a pretty bottle but a delightful cuvée that has plenty of cuisine pairing options. 

The New Romance : Brimoncourt Regence Brut
Is there a new love on the horizon?
This is exciting and so is this producer! A team of chic team of gentleman have created this super cool new champagne house. The branding and contents are equally fabulous.  
The Spoil Yourself : Beau Joie 'Special Cuvée'
No Valentine? No Worries!
Spoil yourself with this stately bottle of Beau Joie which is wrapped in a copper armour. Rich, powerful and striking - no this is not a tinder profile ;)
The Secret Admirer : Andre Jacquart Les Misnel Experience
Got your eyes on a prize?
Woo them with amazing grower producer that uses some of the best fruit in the region in this pedigree champagne which will leave a last impression. 
The Anti Valentine : Pierre Piallard Les Parcelles
Some of us just aren't swayed by cupid's bow but there is no reason you can't share a great bottle of champagne with your loved one just because you don't get all doey-eyed on St Valentine's Day. Pierre Paillard is super dry, sophisticated and well crafted.