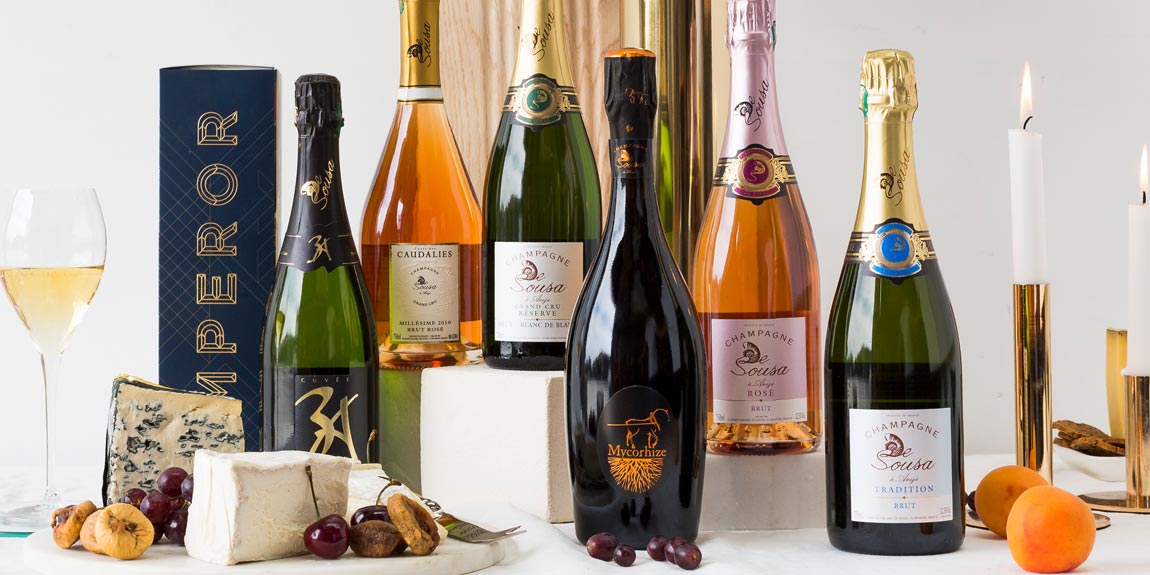 By Mon Sabbatucci
De Sousa Champagne is a house encapsulated by family, history and overcoming adversity. War stories, widows and viticultural crises lay the foundations of this incredible maison that has withstood the test of time, all the while producing amazing wines using innovative and sustainable methods. 
Today the business is run by Erick de Sousa with the help of his wife Michelle and their eldest daughter Charlotte. When looking at the beginnings of De Sousa, we must cast our minds back to the times of the First World War. Erick's grandfather, Manuel, came to France to fight from Porto in Portugal. When the war concluded and left a ruinous France, Manuel returned to Champagne to find work and thus began helping to rebuild the country to its former glory.

At just the young age of 29, Manuel passed away, leaving behind a widow and four sons. Antoine, the eldest son, married a local girl and started being educated in grape growing. When the terrors of war returned and captured Antoine as prisoner in Germany, there was a significant pause on the family business, fuelled further by the thousands of troops marching through the region day in day out.

When Antoine returned home to Avize 2 years later, he set up De Sousa. Fast forward over 30 years to when Erick took over the family business in 1988. At just 25 years of age, Erick assumed the responsibilities of running a champagne house, a task so daunting to many generational business owners. However, De Sousa Champagne has only flourished since the change in hand, proving Erick to be an extremely successful and intelligent winemaker and businessman who hailed from humble, historic beginnings.

Since 1988, the family's estate has grown from a mere 3 hectares to 12 and sales have cultivated from 30,000 bottles to a mammoth 100,000 bottles with over half of those being exports. This has not come so easy as it may seem, Erick and the family have not grown their business exponentially without ruffling a few feathers of the champagne industry. When most houses dig up their vines when they have ripened over 30 years, the De Sousa method involves leaving the vines until they are 50 or even 70 years old.

This is just one of the champagne house's secrets of success. Furthermore, when Erick began employing other organic and biodynamic methods in his winemaking process, he recalls being looked at as though he were an alien in the champagne industry. One of these innovative methods Erick lead the charge on was putting a huge crystal in the vat rooms in order to diffuse its beneficial vibes to the wine. Another unique shift he made was switching from tractor to horse to plough the fields – a technique that gaining popularity in the region!


"I like to think I'm measured in what I do. For me the most important things are looking after the environment and producing great wines." - Erick de Sousa, oenologist.com


Ingrained values of respect, loving work well done and optimism has driven the house through three generations of winemaking in the famous Côte des Blancs region, producing exceptional wines at bargain prices. Erick and his next generation of winemakers are always looking to push the boundaries in such a traditional trade. The ambition of the De Sousa brand continues to inspire us here at Emperor, which is why we love supporting so many grower champagne houses and bringing them to our loyal customers.