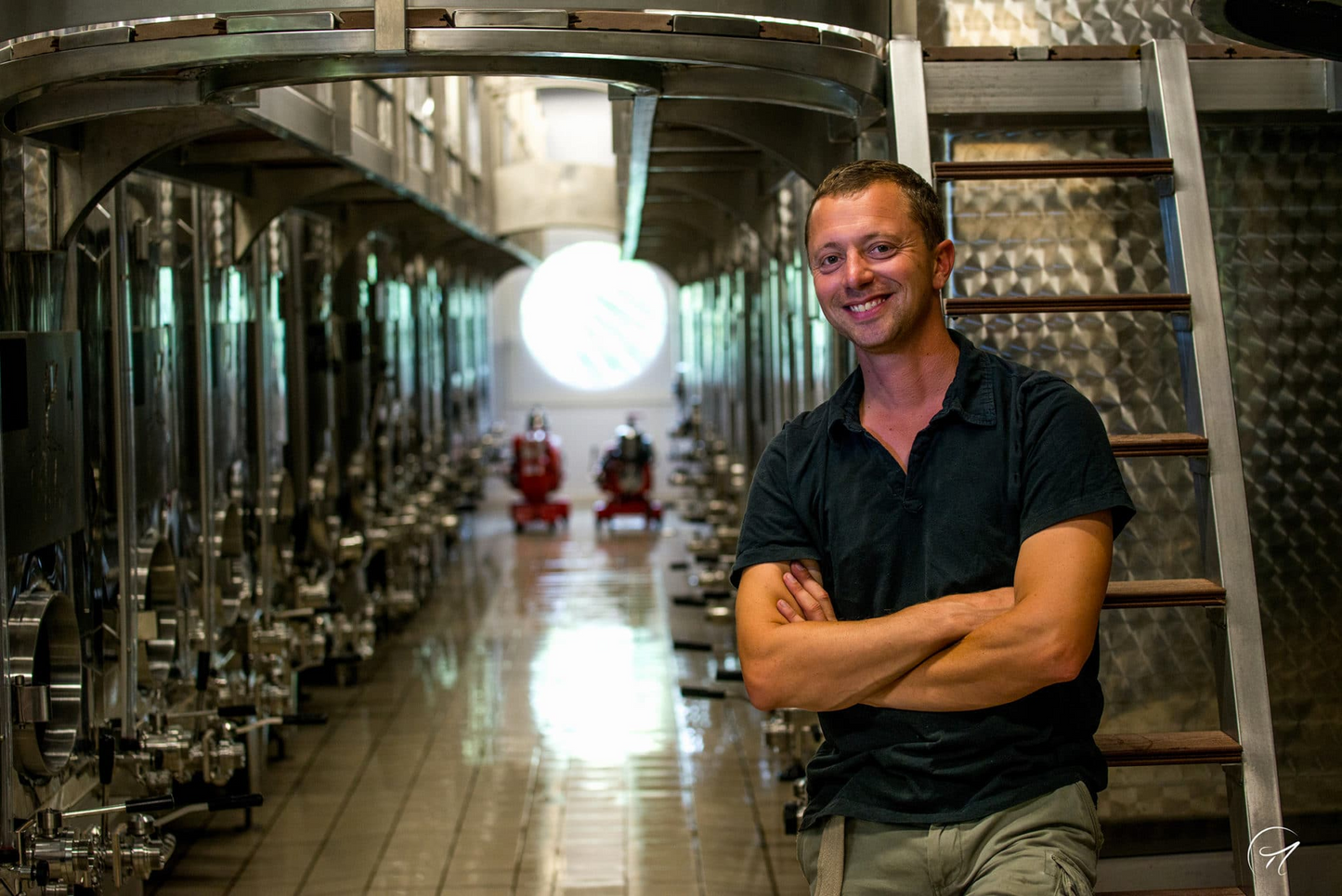 The Emperor team is excited to bring a new House to Australia, Moussé Fils, headed up by the talented and passionate Cédric Moussé. We recently interviewed him for the Emperor Blog.
I discovered Cédric's wines a few months ago. It's Friday afternoon a.k.a. Champagne O'Clock. Kyri opens a bottle from this new guy that he can't stop talking about, that his friend Francois from La Rogerie showed him in Champagne. We are all blown away by the wine.
A Meunier-dominant champagne, with a perfect balance between freshness, acidity and fruit. We open a second bottle from him, and it's the same result. We absolutely love the wines. Six bottles of Moussé later, Kyri writes an email to Cédric, and it is the start of a new adventure.
In the last couple of weeks, we went to some of the best venues in Melbourne, such as Lumé, Omnia and the Prince Hotel. The result is unanimous from all sommeliers: it's a hit! No doubt you will start seeing these wines on restaurant wine lists very soon, in Melbourne and in the rest of Australia.
The Mouss
é

story

Cédric comes from 12 generations of winemakers, but it was his great grandfather, Eugène Moussé, who started making champagne in 1923. Since then, all Moussé sons have succeeded one another at the head of the house: Eugène's son Edmond Moussé worked with his son Jean-Marc, father of Cédric. Meanwhile, after completing his viticulture degree in Avize in 2000, Cedric went in search of new horizons, new experiences, beyond the borders of Champagne. Traveling the world all the way to California, he continued working in the wine industry and learnt from all different kinds of producers. Back in Cuisles, he worked alongside his father Jean-Marc for a number of years, who insisted that Cédric worked in the vineyards before even entering the cellars! "Cuisles and the neighbouring villages are unique and I needed time to get to know all the different terroirs" says Cédric. Over time, father and son had the idea of building an 'Eco-responsible' winery, one that wouldn't impact the environment so much but instead let nature take its course.

 
The Mouss
é

 philosophy
Celebrating Meunier
Cédric Moussé is proud to be a Meunier lover, just like his father was. Whenever anyone asked Jean-Marc his view on whether Meunier was a lesser quality grape than Pinot Noir or Chardonnay, he would reply: "I couldn't disagree more. I understand that it suits the big houses to say that because it allows them to buy lots of grapes at low prices, but it's not true. You can make superb wines from Meunier. It has aromas that you just don't find in other varietals. Yes, Pinot Noir is more complete and powerful, but it doesn't have the fruitiness of Meunier. We absolutely love Meunier here."
Cédric Moussé continues to produce a Meunier-dominant signature champagne, with 80% of the vines planted in Pinot Meunier. "Our real luck, it's our soil" says Cédric. The varietal thrives on the fertile soils made of green clay, a rarity in Champagne, giving wines another layer of complexity. With a low-dosage approach and stainless steel fermentation, the grape is allowed to truly shine. All cuvées also undergo malolactic fermentation.
The Moussé champagnes are complex wines, with the perfect balance of fruit ripeness and acidity, and a consistent freshness staying on your palate even after finishing your sip. A savoury style of champagne with little to no sugar, that is asking for a dish to be paired with!
Embracing Nature
In the vineyards, Cédric Moussé adheres to a 'lutte raisonnée' approach. He practices organic viticulture, using herbal infusions and essential oils that act as 'vitamins' for the vines. No pesticides, no chemicals, and minimal doses of copper are used. Cedric also uses a raw form of sulphur, which he burns himself. His new winery, completed in 2012 is completely self-powered. Solar panels power the cellar, the tasting room, and the two houses on the property, whilst geothermal energy moderates temperature throughout the winery. An underground spring provides enough water for irrigation on the farm. Everything is composted: what comes from the vine goes back to the vine, the beautiful cycle of nature. "Nature is our working tool, it is our duty to look after it" says Cedric. This carbon neutral approach has allowed them to divide their carbon footprint per bottle by 3 over the last 18 years. 
The Interview
Can you tell us a little about your background?
I've been working in the vineyards for 20 years, after completing my degree in agronomical and environmental studies. I worked in the wine industry all around the world, including at the Experimental Cuverie of the Comité Champagne (the legal body in Champagne).
Can you tell us a bit more about your 'lutte raisonnée' approach? What is your philosophy?
My whole production is very "raisonnee" (natural, organic) as I don't use any chemicals at all. No pesticides on the vines, no oenological products in the wine. The sulfur used in the wine comes from a mine in Poland, cleanly extracted, which I burn myself. The production center is autonomous. The carbon footprint per bottle has been divided by 3 over the last 18 years. Every detail of the production process is as close to environmentally neutral as it can get.
What are the challenges of being a Pinot Meunier dominant champagne producer?
Meunier has long been seen as the black sheep of the Champagne region. It doesn't withstand mass-production, as it turns it into heavy Meunier-dominant wines that do not age well. Today, with a more natural production approach, Meunier is giving us truly high-quality wines. Our real luck is in our soil. Our vines grow in Cuisles on green clay, which then conveys citrusy notes and yellow fruits in our wines. I absolutely love this cepage (grape)!
We've just come through such a challenging year, what impact do you think it will it have on your wines in the coming years?
Not a lot of changes for my wines to be honest. However, this global crisis will force the majority of the producers to turn to biological practices. The new generation of vignerons, who already made this switch 15 years ago, weren't impacted by this crisis. Probably giving ideas to others 😉
 The Cédric Moussé range
What would be your dream job if you didn't work in Champagne?
I would have been a vigneron in Saumur (Western France) or Corsica (an island south of France) to produce Chenin wines or from Vermentinu, my favorite white grapes!!
Describe one of your favourite food and Champagne pairings.
The best pairings are always when a prestigious chef show you his dish whilst a sommelier show you his best gem, blinded.
What's your drink when no one is watching?
Never a Moussé wine! White or red wine, or sparkling, but always blindly!
If you could choose one person (dead or alive) to share a bottle of your champagne with who would it be?
My Dad, who isn't of this world anymore.
What's trending in champagne right now?
It's a good surprise, that 2020 was not a catastrophe and 2021 starts very good!
Who is your 'winemaker to watch' at the moment? Someone who is up and coming.
A young winemaker from Châtillon sur Marne called Fabien Cazé of Champagne Cazé-Thibaut.
What's the biggest 'faux pas' you have come across with champagne?
In 2007, my Dad had given me some vines to handle on my own. I took care of them using no chemicals at all (a new approach for us). One morning after partying hard on the Saturday night, I did not wake up to go protect the vines with copper. The same day, at midday, there was a huge storm and I lost 90% of the harvest. A big mistake, but a great lesson. The following year, thankfully, I was lucky enough to be able to continue my trials on these 4 parcels. Since then, I have had beautiful grapes!!
Shop the Cedric Moussé range at Emperor.
Image credits: Moussé Fils