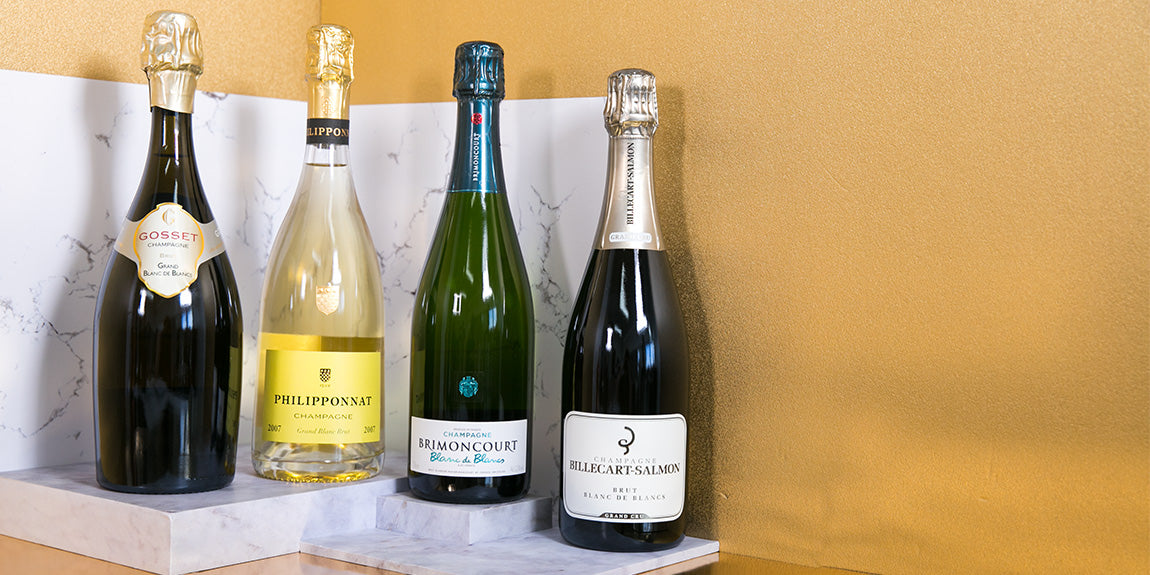 Are you elegant and refined? And only get better with age? So is a Blanc de Blancs!
A few pointers to understanding this style of champagne: Blanc de blancs
A blanc de blancs is a style of Champagne which is growing in popularity and it's easy to understand why. They are divine!
A 'Blanc de blancs' literally translates to 'white of whites' intimating that the wine maker has made a white wine from a white grape, most commonly in Champagne that grape is the chardonnay varietal.
Blanc de blancs is most famously realised in the Côte des Blancs, south of Epernay. Spanning 19 kilometres of chalk-rich soils, the Côte de Blancs is home to magnificent Chardonnay vineyards, with 6 of 13 village being Grand Cru villages.
The three grapes grown universally in champagne are chardonnay (white grape), pinot noir (red grape) and meunier (red grape). Chardonnay is considered one of the noble grapes of the region and offers finesse and elegance to the wine, she is the queen of the Champagne appellation and pinot noir is her trusty king.  
The chardonnay grape can be somewhat of a chameleon taking on the characteristic of the vineyard and region it is grown in, consequently chardonnay from Champagne offers up stunning chalky minerality and occasionally saline notes which makes it a superb companion for oysters and seafood.
Chardonnay is racy, mineral and has strong spine of acidity in her youth - when she has been aged in the cellar for only a few years – whereas a chardonnay over time ages gracefully and offers a more velvety texture on the palate with notes of cream, nuts and brioche.
A great Blanc de Blancs champagne can be simply ethereal and as heavenly as any wine from its neighbor Burgundy!
Characteristics of Blanc de Blancs
Color: Pale yellow with a green tinge.
Typical youthful chardonnay aromas: Citrus, lemon, grapefruit, white flowers, orange, mandarin, salty, chalky or mineral. 
Typical aged chardonnay aromas: Butter, baked bread, brioche, vanilla, nuts and cream.  
Texture: Racy acidity, energetic, silky texture on palate.
When to drink: As an aperitif, with oysters, caviar and other seafood.
Some fabulous Blanc de blancs champagne to try
- Billecart-Salmon Blanc de blancs Grand Cru Brut 
- Charles Heidsieck Blanc de blancs
- Perrier Jouet Blanc de blancs