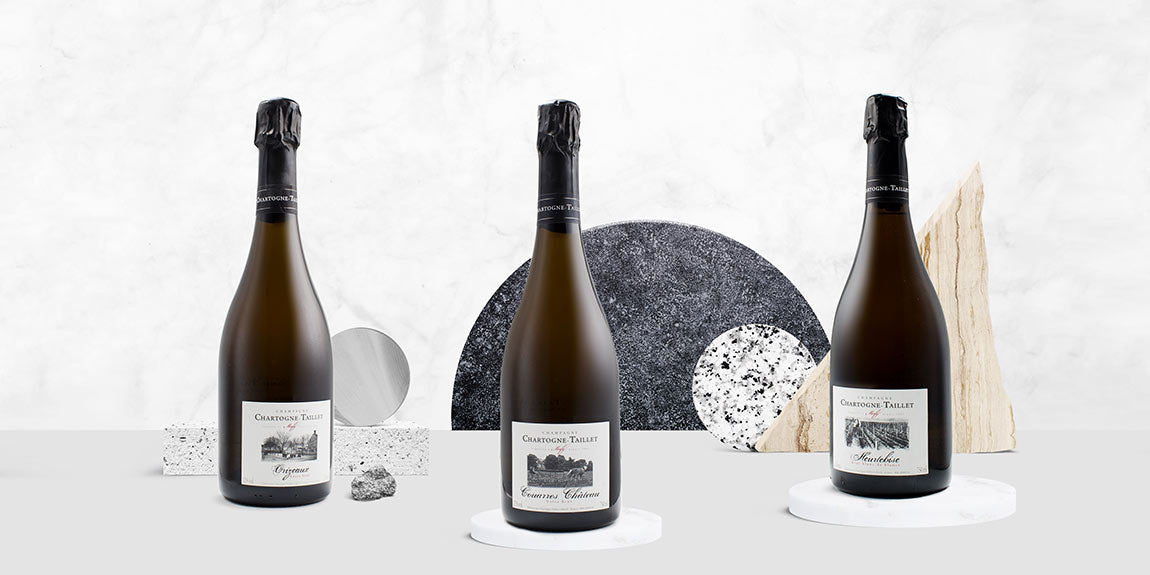 By Monica Sabbatucci
Tucked away just outside of Reims and home to only 630 inhabitants, lies the charming town of Merfy. Ever since the Middle Ages, the town of Merfy has been known for its winemaking. However, there is nothing medieval when it comes to Chartogne-Taillet's champagnes. Using the instilled old-world traditions fused in new world innovation, Alexandre Chartogne leads the charge in a vanguard approach to winemaking.
The house itself has been handed down through the Taillet family, generation after generation tending to the vines ever since 1683 when Chartogne-Taillet grounded its name in champagne history. At the heart of the house's philosophy is the search for the independent and individual identity of their souls – allowing the champagne to represent the uniqueness of the village.
A passionate, young vigneron, Alexandre assumed control of the entire estate in 2007 and has since then been a mover and shaker in artisan champagne. After years experimenting with different fermentation and production techniques, Chartogne found a perfect balance between practices of centuries past and modern, progressive winemaking. The wines are fermented across three different processes using mostly oak in the as well as stainless steel and large concrete eggs. Another example of tradition upheld is the use of horses to plough the vineyards in the harvest – a move that not only benefits the region environmentally but creates quite the romantic scene for consumers alike! This organically delicate work results in the trailblazing Chartogne-Taillet champagne which is extremely hard to find in the Australian market. 
Emperor however has secured a limited amount of these rare treasures including single vineyard vintage beauties to the drink me anytime, anywhere drop.
Get in quick, they won't last.
The Wines:
Chartogne-Taillet 'Heurtebise' '11 | Blanc de Blancs | 2011
'Heurtebise' is a single-vineyard 100% blanc de blancs with 4.5 grams residual sugar making this an extra brut. Loaded with minerality with waves of lemon-citrus-peel freshness. There is depth, volume and richness on the palate. The acidity dances on the tongue with plenty of energy and drive.
Chartogne-Taillet 'Couarres Château' '12 | Blanc de Noirs | 2012
The 'Courres Château' Pinot Noir vines were planted in 1987 where a rare, limestone soil occurs, 'tuffeau' that is more common in provinces such as Loire. The precise and mineral single vineyard is deep and produces powerful vintages dating from 2010. What really stands out is the soaring and fragrant red fruits alongside the spellbinding minerality and precision. A captivating product of innovation that is easily enjoyed for any occasion.
Chartogne-Taillet 'Les Orizeaux' '12 | Blanc de Noirs | 2012
Some like it rich and spicy! We love champagne that shows great expression and energy. This 100% Pinot noir is from a single vineyard site called 'Les Orizeaux' and displays all that oyster-shell like salinity, nervy citrus and overlaid with spice and vanilla. This cuvée is full-bodied and flavourful yet it retains a high level of finesse. Only 2200 bottles produced.
Chartogne-Taillet Cuvée Sainte Anne | Extra Brut | NV 
Using the fascinating fermentation process including concrete eggs, Cuvée Saint Anne brings with it notes of stone fruit like red cherry and yellow plum. A bright palate consisting of limey acids and chalky layers creates a savoury-almost-saline character on the mouth. Artisan Alexandre Chartogne's entry point cuvée is one masterpiece you do not want to miss out on.