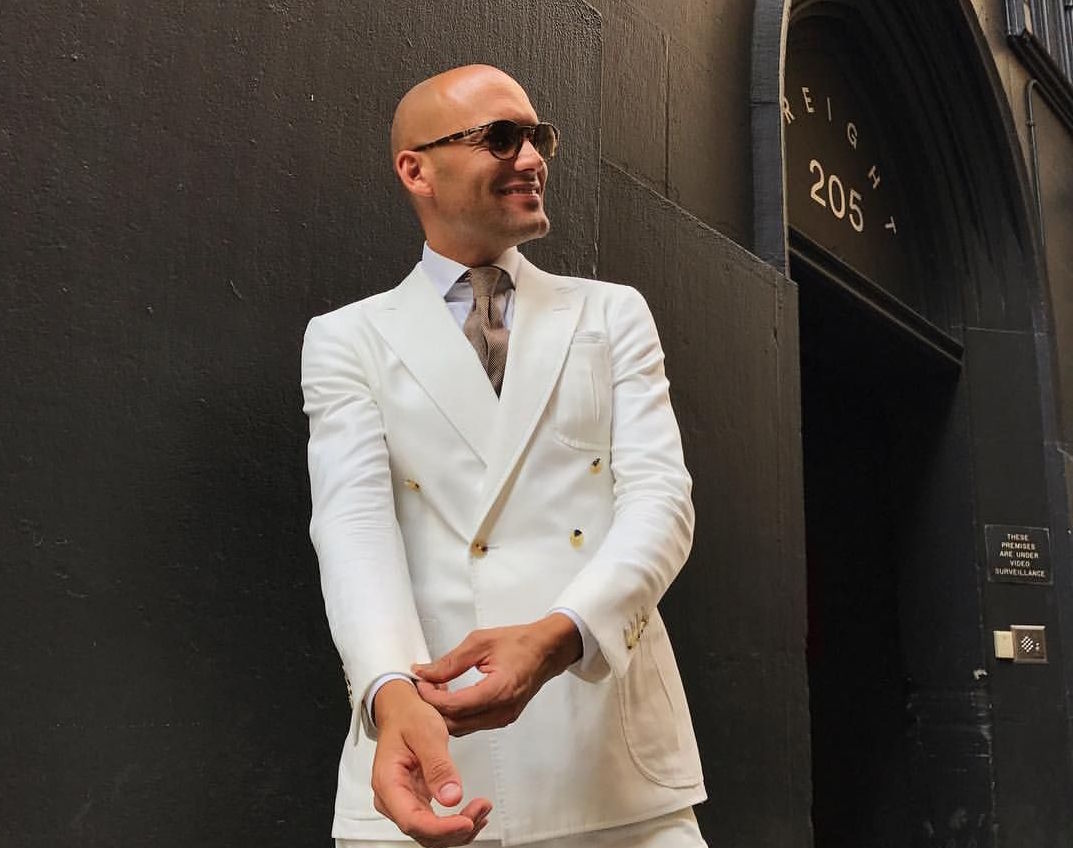 Kyle Ridingtons taste in attire is just as exquisite as his discrimination in fine wine. Mr Ridington (as he is known on social media) has earned sommelier certifications from The Court of Master Sommeliers and The International Sommelier Guild. He has worked primarily for Michelin star restaurants throughout his career, for top chefs such as Laurent Gras, Jean-Georges, and Mario Carbone. Along with Kyle's restaurant work, he became recognised as the most well-dressed sommelier by GQ, Departures, Men's Top Tens, and Le Pain. This month we feature the fantastic Mr Ridington as our Emperor Muse. 
What is your favourite city in the world and why? 

Cartagena. I love it for many reasons but first and foremost is the heat; it forces you to slow down and sink into the local pace of life. Simple things like beer, fruit, crudo, salsa dancing and straw hats have never made so much sense to me. It is a place with rich culture but obtains a rawness that reminds you this isn't gentrified utopia.

 

Who is your style icon?

Paul Newman...obviously, not the most stylish gent but he was comfortable in his own skin. He had this casual air to him that was f*cking spot on.


 

It's your last night on earth….what are you drinking?

Champagne without a doubt but something during the Nazi Germany occupancy during WWII in Champagne so between 1940-1945.  I've read in-depth about the horrid times the Champenoises had to bare and It would be incredible to connect to those years. I'm sorry if that comes off a little mournful or melancholy, but then again it is the last night on earth! 


 

If we were to ask a friend of yours to give us three words that describe you, what would they say?

Passionate, Vain, Private


 

You get to share a bottle of champagne with anyone in the world, who would it be?


Gianni Agnelli circa 1950s-1960s. The business tycoon that saved and expanded the Fiat brand. He was elegant and the very definition of style while he was greatly appreciated among his peers, as well as an international playboy, he had an appetite for reckless fun. Gentlemen like these could never exist in the world today.


 

Describe a champagne memory that blew your mind?


At the beginning of my wine education in 2007, I was lucky enough to be exposed to Dom P 1975, 1978 Rose and 1980. I couldn't completely comprehend what I was drinking but I didn't have too; it was emotionally and ethereal.  


What is your 'go to' drinking Champagne?

Over this past winter, it has been

Philipponnat

Grand Blanc 2008. It has given me a very solid reason to stay in my apartment in the evenings.