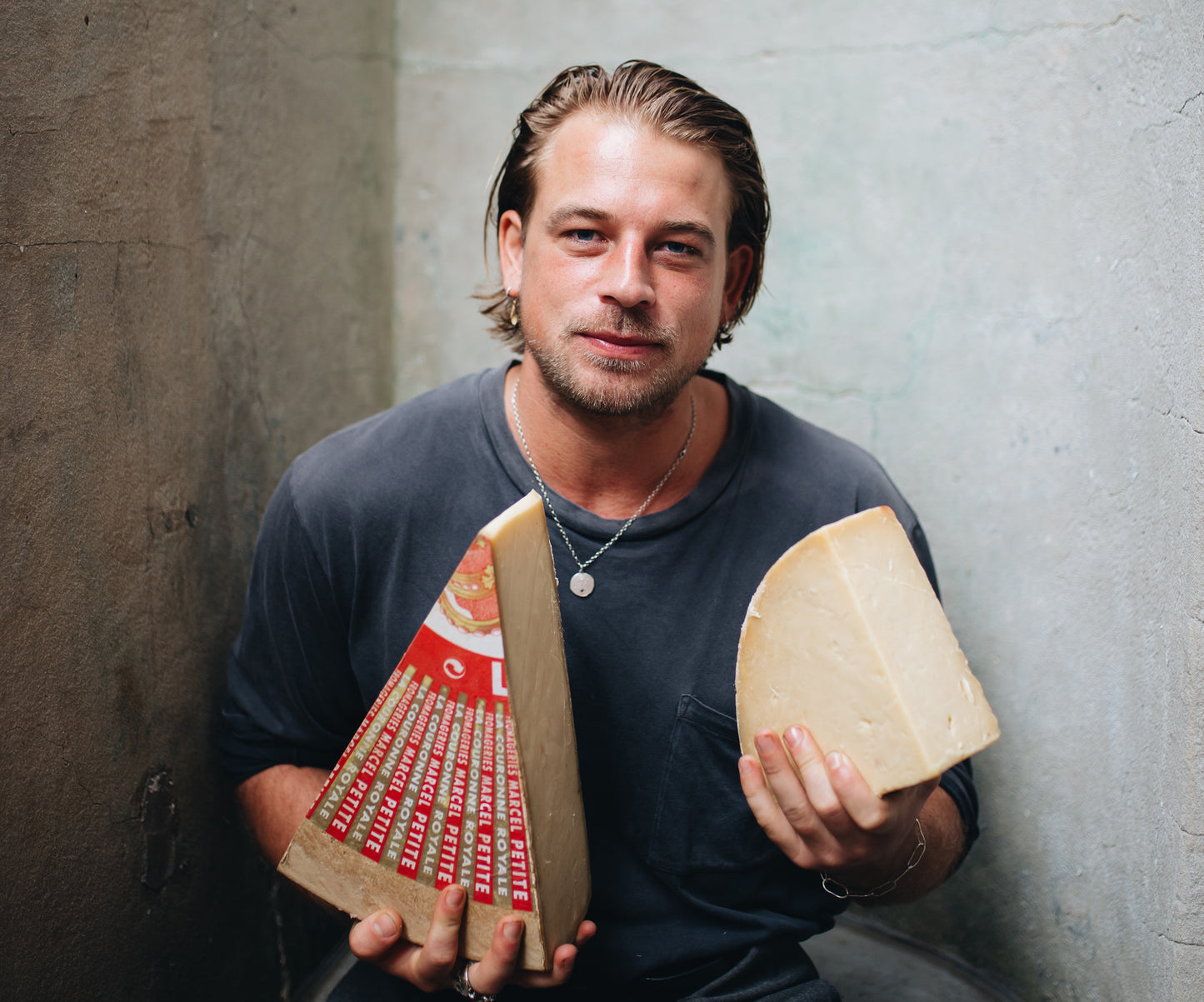 Will Studd is the executive producer and presenter of Cheese Slices and has been working with specialist cheese for over four decades. He has a range of cheeses imported into Australia under the 'Will Studd Selected' line, sold through specialist retailers. 
Ellie Studd and Sam Studd are the youngest of Will's three children. Both have traveled the world to study and work with celebrated cheesemakers and mongers.
We interviewed Sam Studd to talk all things cheese!
1. We understand you're a Certified Cheese Professional (CPP), which sounds like a job many of us would love! Can you tell us more about this and what your day as a professional cheese entails?
Yes! I love my job! I wear many hats for my role in cheese and changes every day. I travel around Australia and the USA spreading the good word of speciality cheese, doing masterclasses and making sales. I am also fortunate that I go to Europe a few times a year to visit our producers and select 'Will Studd Selected' line with my father and sister. The learning never stops, and neither does my routine.
In terms of my day to day, it changes all the time. I travel around Australia and the USA spreading the good word of cheese and making sales. I am also fortunate that I go to Europe a few times a year to help select the most exquisite examples for our on offer and visit our producers. The learning never stops, and neither does my routine.
My sister and I did do a Certified Cheese Professional exam, which is the only globally recognised cheese exam of it's kind and a beast to pass! It takes place in America, and is 3 hour exam that measures 'Mastery of cheese knowledge', similar to the sommelier exam. It had a lot of technical theory that I would normally skip over, but it was good to be forced to remember it! Feel free to reach out if you want to read a 64-page peer-reviewed article about the science of cheese meltability. It's bloody hard to pass (the only 3 successful CCP's in Australia work for Will Studd!) but I'm proud of my self for doing it.
2. You had us at cheese...but we know cheese is as varied as champagne. So what cheese would you pick to pair with a dry extra brut champagne vs a fuller-bodied rosé champagne?
Honestly, this is an easy question. The best cheese hands down with any good champagne is a triple cream called Brillat Savarin . It's an awesome cheese that was created in the 1930s and named after the esteemed 18th Century food writer, Jean Anthelme Brillat-Savarin. To be honest, the guy was a bit of pig and coined the saying, 'A meal without cheese is like a beautiful woman with only one eye'.
Anyway, what you need to do is look for a Brillat Saarin with a geotrichum mould (look for wrinkles or brain like appearance on top, as seen on the 'Will Studd Selected' Brillat ). Take a bite of it, let the cheese coat your mouth..... then take a sip of champagne and let the effervescence cut through the fat.... welcome to HEAVEN!
3. With so many people entertaining at home at the moment, what is your tip for the best 3-4 cheeses for a cheese platter to impress your guests.
This is a hard question, it is always changing depending on the occasion and mood. My dream cheese board for this weekend would be (from mild to wild)
La Luna Barrel- Holy Goat
Le Conquèrant Camembert – Will Studd
Raw Milk C2- Bruny island
Le Roi Roquefort (AOP)- Will Studd
4. France is obviously the source of so many fabulous cheeses. Are there any Australian cheesemakers to watch who are doing interesting things?
Australia has some fantastic cheese producers forging their own identity and pushing the boundaries in creating a 'new' style that genuinely reflects Australia's unique environment. In no particular order check out these dairies they all rock:
- Bruny island
- Holy goat
- Berrys Creek
- Section 28
- Shaw River
- Pecora dairy
5. Emperor is a family business and we understand you work with your family too. What do you think works well when working with your family?
So we are a family of 5 - My parents Will and Bonnie and my two older sisters Fleur and Ellie. As a family, good food has always been a centrepiece and has brought us closer together.
I work closely with my sister (Ellie) and my father (Will). I feel blessed to get to hang out with these two daily. We all have our strengths and weaknesses, but we always seem to work cohesively. To work well as a family and a business, you have a mutual understanding that you are on the same team and be willing to drop your ego at the door.
I used to work for Fleur at Market Lane, which was a great insight into a company that practices uncompromising quality and ethical and sustainable teamwork. I can't thank her enough for that.
6. When we're all allowed to travel again, which venues should we be visiting around Australia for great cheese...or, even better, great champagne and cheese?
Ah there are soo many- It really depends on where you are! I recommend supporting your local, ask them about the cheese, and if you unhappy tell them. A cheeseboard should be exciting, delicious and journey. Don't settle for sub-par cheese.. be vocal and explore!