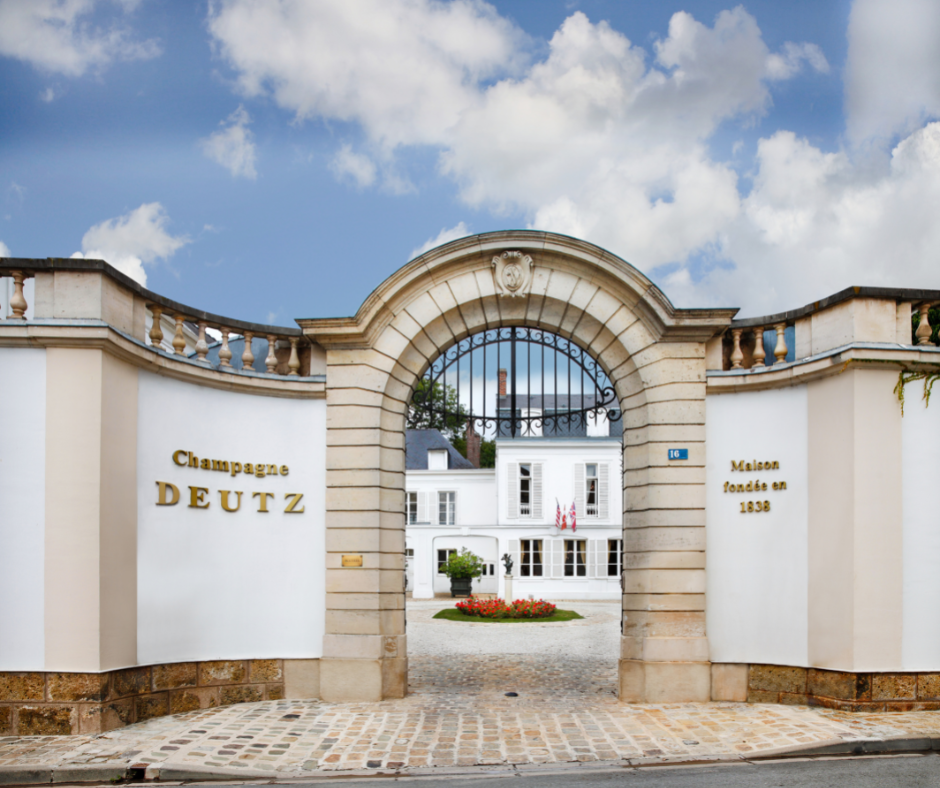 Like many great Champagne Houses, Deutz has a long and eventful history. Founded in 1838 by William Deutz and Pierre-Hubert Geldermann, today you won't find any descendents from either Monsieur at the helm. Instead an intriguing connection to one of our favourite House's - Louis Roederer.
Champagne Deutz experienced great success throughout the 19th century and remained within both families for many decades. The founders originally started out by selecting and trading bottled wines. They quickly discovered that fine grapes and vineyards were the future, that they were what made a truly exceptional wine. After this realisation Deutz and Geldermann combined their technical expertise and knowledge of the wine market, and started buying vineyards and making their own champagne.
Image supplied by Champagne Deutz
The House was internationally recognised and respected by all for some time. In 1882, during the Second French Empire, Deutz became one of the founding members of the Syndicat des Grandes Marques (an association of major brands). René Deutz and Alfred Geldermann eventually took over from their fathers in the 1860s and their son-in-laws followed suit in 1906. It was during this generation that Deutz started experiencing serious hardships.
The Champagne riots of 1911 destroyed the Deutz headquarters and most of their stock, a loss they would continue to feel the impact of for the next 50 years. Not long after, the First World War broke out which put the vineyards into disarray and significantly reduced the number of workers available. As a result Deutz failed to produce a vintage and suffered financially. The Great Depression only worsened this situation. Sales dropped from a considerable annual 600,000 bottles to a mere 80,000 by 1931. To avoid complete financial ruin and disaster, Marie Deutz was forced to reinvest a large portion of her personal wealth in order to keep the company operating.
Things started looking up for the House in 1938 when Jean Lallier (fourth generation) began expanding the vineyards and modernising their winemaking facilities. Times became difficult again with the German occupation of Champagne during the Second World War. Despite this, the House was committed to maintaining their philosophy: "to produce blends of constant character, bestowing the quality and style of the firm on all the wines adorned by the Deutz label". By the time Andre Lailler (fifth generation) became Chairman and Managing Director in 1972, Deutz fortunes looked promising and he began investing in wine ventures outside of Champagne, including New Zealand and the United States.
Deutz took another financial hit with the Champagne crisis of the early 1990s, seeking stability from a new investment partner in 1993. This partner was none other than the Rouzaud family, already owners of impressive wine estates, including Louis Roederer! Fabrice Rosset (Louis Roederer executive) was appointed President and CEO of Deutz in 1996. While he is independently minded and worked autonomously from Louis Roederer, the company invested close to 30 million Euros in state-of-the-art equipment, greater winery capacity, additional vineyards, and increased supplies of grapes from Grand and Premier Cru plots.
Image supplied by Champagne Deutz
Due to this amazing history of hardships and triumphs, what you see today is a comprehensive range of champagne of better and consistent quality, resulting in a dramatic, and much needed, sales increase. Every champagne has a certain delicacy, freshness and finesse, demonstrating great elegance and poise.
Check out the range of Deutz Champagne available on Emperor
here
.