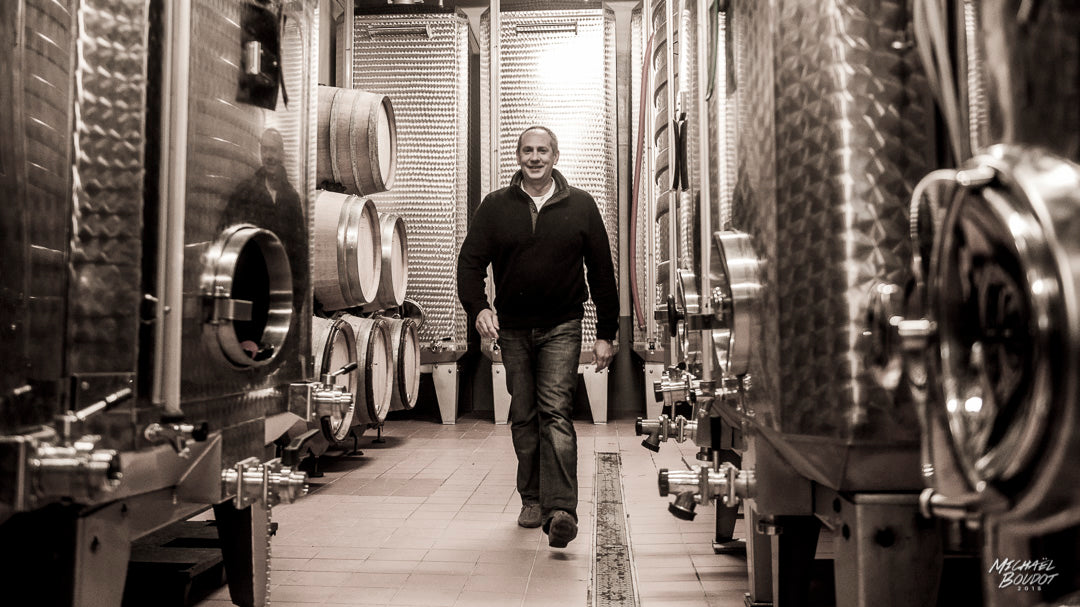 We welcome the quietly spoken yet confident winemaker, Arnaud Margaine to Emperor.
Arnaud took over this six and a half hectare estate from his father Bernard in 1989 and he represents the fourth generation of his family to work these vineyards in the Montagne de Reims. The estate was founded in the 1920s and was expanded by Bernard in the 1950s. 
The majority of Margaine's holdings are in the village of Villers-Marmery, a 95% village for Chardonnay, and the parcels here are old averaging about 32 years. Arnaud also has a small parcel of Pinot Noir in the village of Verzy.
The methods at this estate are not formulaic and Arnaud continues to experiment with new ideas in both the vineyard and the cellar. He prefers to make decisions in the cellar based on what he feels the wines need, rather than what was done in the previous year. Arnaud is preventing malolactic fermentation in a higher proportion of the wines, saying that he finds that non-malo wines have more freshness of fruit. "It's not just the acidity" he says, "but the fruit as well. With the malo you lose a little of that fresh fruitiness."
When we asked Arnaud our winemaker questions, these were his responses;
What would be your dream job if you didn't work in Champagne?
I would be a soldier in the army 
Describe one of your favourite food and Champagne pairings.
Sashimi and sushi and our cuveé Extra Brut Blanc de Blancs 
What's your drink when no one is watching?
White Beer
If you could choose one person (dead or alive) to share a bottle of your champagne with who would it be?
My wife
What is your favourite restaurant or bar for drinking champagne in?
The Crayères 
If you were going to seduce someone special with a bottle of champagne what would it be?
Vieille Vigne Française from Bollinger
What's trending in champagne right now?
Single Vineyard 
Who is your 'winemaker to watch' at the moment? Someone who is up and coming.
JB Lecaillon from Roederer
What's the biggest 'faux pas' you have come across with champagne?
That the Champenois never protected the Champagne bottle format
Where is your favourite place to be in the world?
Corsica